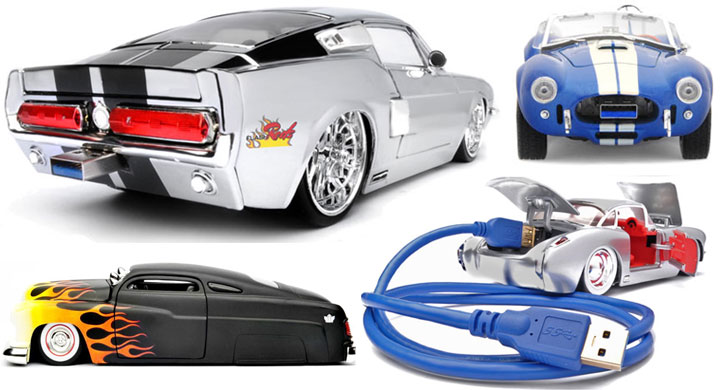 With their all new Midsize line, Flash Rods is back and better than ever. Instead of Delorean's or Mercedes' hard drives, they have set their sight on classic hot rod based memorabilia this time.
Everything from the classic 'lead sled' 1963 Lincoln Continental to the instantly recognizable Shelby Cobra and even the awe inspiring 1951 Mercury Coupe is covered. As with their other models, the new 'midsize' line-up that is now larger in size is made from die cast metal and has working wheels and doors with the USB port artfully hidden. Also, instead of USB 2.0, Flash Rods has opted for USB 3.0 and are reportedly 6 times faster than the USB 2.0 models. All of them are PC and Mac compatible, making them much more flexible than their real life counterparts.
What makes these new 7 vintage car models unique – or in Flash Rods in general – is that they are hand built to order. However, in all likelihood, each one starts life out as a Hot Wheels – or similar mass-produced die cast car – with an off the shelf flash drive hand fitted inside the chassis. While most handymen could replicate each for a lot less than the $110 (32GB model) to $140 (64GB model) Flash Rods is asking, getting it right without any trial and error would be difficult. In any case, they are built to a very high standard and we certainly wish the '51 Mercury was sitting on our shelf next to our PC.