31 March 2020, Comments: Comments Off on Best USB Gadgets for Die-hard Marvel Fans
March 2020 Ian Chiu
With every Marvel blockbuster inevitably comes a wave of movie tie-in merchandise.  Here, we have mustered a great number of USB collectible gadgets from flash drives to power banks that are definitely worth checking out.
Flash Drives by Tribe
---
Tribe, the retail brand of Italian promotional product manufacturer Maikii, has been rolling out Marvel-licensed USB sticks for a number of years.  Now it has quite a few as you can see in the featured image.  Its comical approach to the drives is a fun re-imagination of Marvel's superheroes by Tribe's incredibly talented artists.  So even though the novelty drives aren't exactly faithful to MCU's character designs, they should make fine additions to anyone's collection.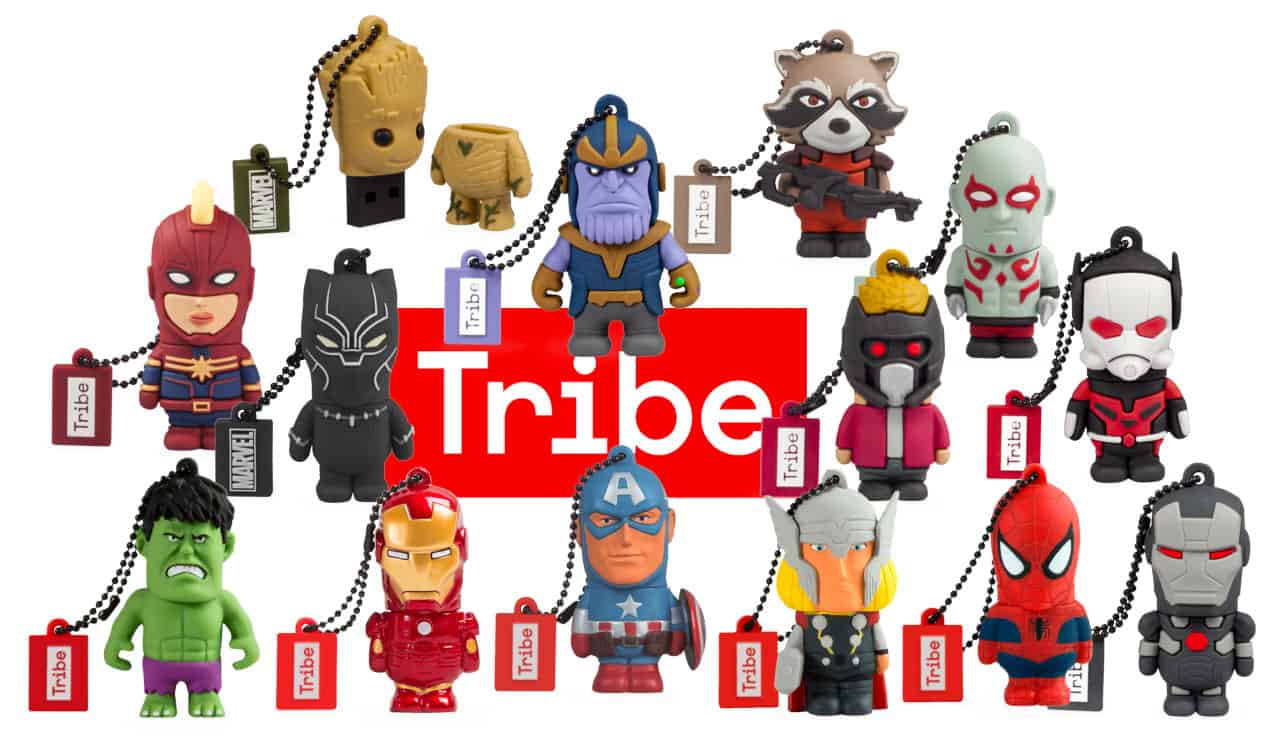 For those who like to bring home the original Avengers, Hawkeye and Black Widow are notably missing.  Not bringing other prominent characters (e.g. Dr. Strange, Falcon, Black Widow) to this series are also missed opportunities.  Thankfully, Thanos is reportedly to come out soon.  (Update: Thanos has come out along with War Machine as well as Ant-man.)  Each of Tribe's drives is approximately two inches tall and about an inch wide.  To reveal the USB plug, simply pull out the head so that makes the character's body the thumb drive's cap.  Tribe also thoughtfully includes a namesake brand tag that doubles as a cap saver.
Pricing is last updated by Amazon on 2023-09-25 at 11:52.  When you buy through Amazon affiliate links on our site, we may earn an affiliate commission.
Thanos' Choice of Power Bank
---
Finally, someone has put a power bank inside a miniaturized version of Thanos' trademark Infinity Gauntlet.  The officially licensed Marvel product from Hong Kong-based Camino has pretty much what you would want.  That includes individually articulated fingers but obviously don't expect unlimited flexibility.  The 125mm plastic gauntlet can also stand in an upright position so that it can convert into office desktop decor.  Most importantly, the gems on the gauntlet can light up to show the remaining battery level.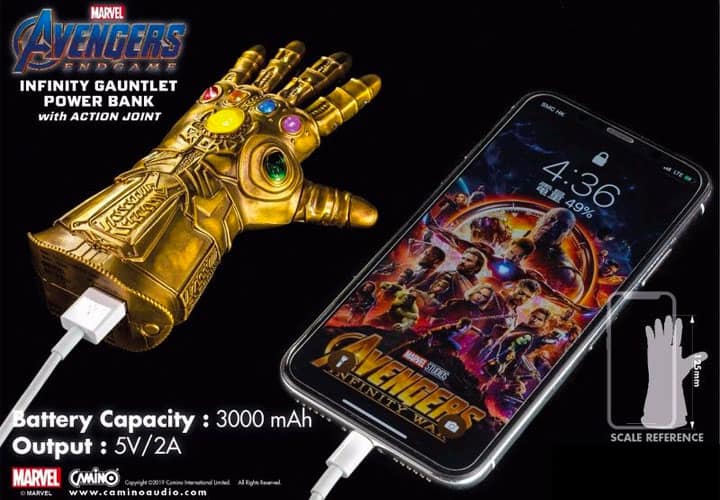 However, as a power bank, there isn't anything to write home about.  The 3000mAh capacity with an output of 5V 2A won't be able to fully recharge an iPhone. The pack doesn't even use USB-C.  Practicality aside, the $94 battery pack disguised as an Infinity Gauntlet still makes for an aesthetically appealing collectible for Thanos' hardcore fans.
Army of Superhero Mice
---
Hobby Box from China has got quite a collection of officially licensed mice inspired by MCU superheroes' helmets, masks and heads.  They have released five to date: Iron Man, Black Panther, Ant Man, Star Lord and Groot.  With the exception of the Groot model, all the other four have eyes with LED lights.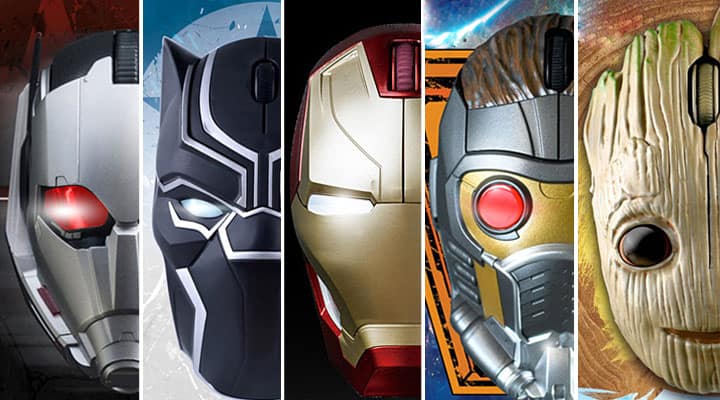 These 1200-dpi mice come with two buttons, run on a single AA battery and connect to PC or Mac wirelessly via a 2.4Ghz USB dongle.  Even if they are somewhat lackluster in terms of specs by today's standards, you have to give them points for making these as artistically accurate as they could.  Nonetheless, these will serve well as a backup mouse as well as something to spice up your desktop.
Superhero 3D Lamps
---
These Marvel character-inspired USB lamps from Infothink are genuinely impressive.  Each one is comprised of a trio of light guide plates that create a nice 3D illusion when stacked together.  You also get three different lighting options: all out, slow glowing, and special mode.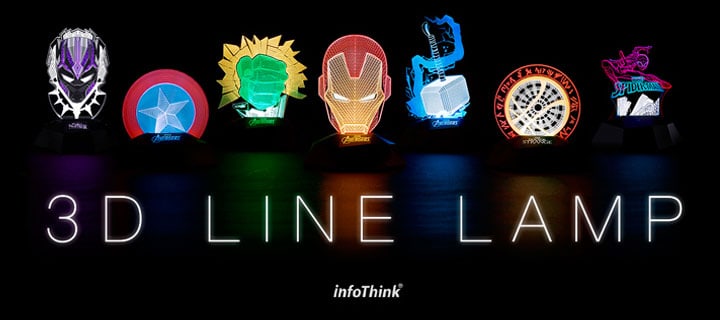 All of them are quite well thought out.  The Iron Man, Black Panther, Thor and Captain America version are modeled after their trademark armored helmet, Mjolnir hammer and vibranium shield respectively.  Similarly, the Hulk version takes the form of beast's fist and Doctor Strange's circular disk reminds us of his signature magical shield.  Their size – 8″ high by 6″ wide for the Iron Man – hits a sweet spot but that depends on how much desktop estate you have at disposal.
Flash Drives by Infothink
---
Infothink has periodically rolled out flash drives inspired by Marvel's army of superheroes to coincide with the release of MCU movies.  The first batch was launched the release of The Avengers in 2012, and comprised of four USB 2.0 drives that resemble Captain America's trademark shield; Hulk's first; Iron Man's Mark VII helmet; and lastly, Thor's Mjolnir.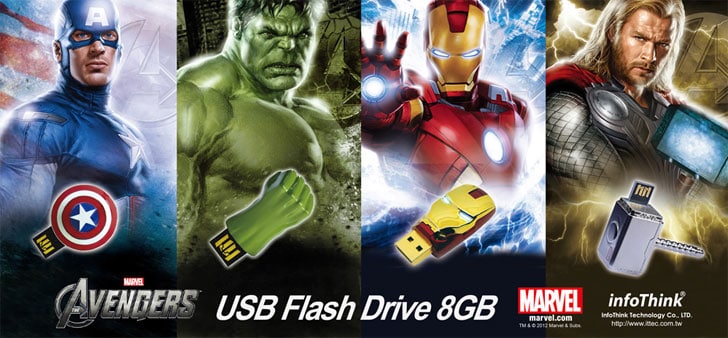 During the release of Iron Man 3, there was a complete overhaul of Iron Man flash drive line-up.  The miniatured gauntlets – available in the left and right-hand versions –  are particularly interesting as the fingers have movable joints so you can enjoy some extra fun with sign language.  When plugged in, the palm's repulsor lights up.  The other two models – Mark 43 helmet and arc reactor core – can also light up as soon as it's inserted into a USB port.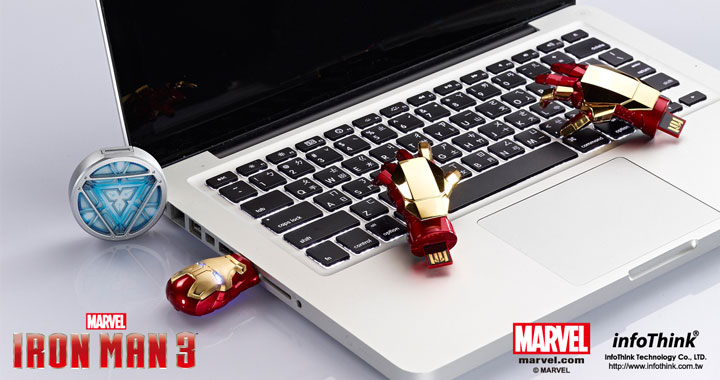 In addition to Mark 43, we also saw flash drives available in the form of War Machine's and Iron Patriot's helmet.  They are made in metal alloy and are waterproof as well as shockproof.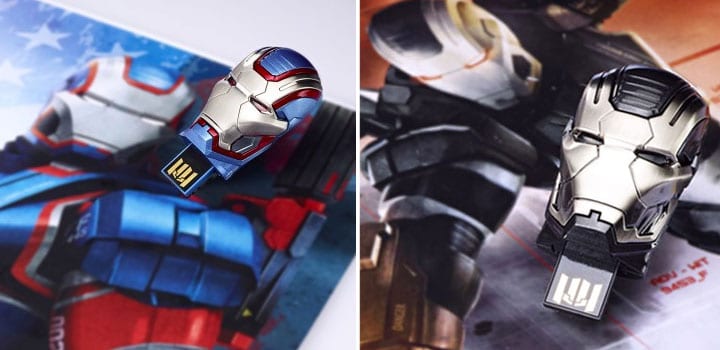 When Civil War hit the big screen, Infothink followed up with the third generation of Cap's flash drive.  While it continues to be modeled after the Cap's signature shield, the circular drive now has a slimmer profile and more refined details.  Furthermore, it has received a better paint job in the familiar red, white and blue pattern.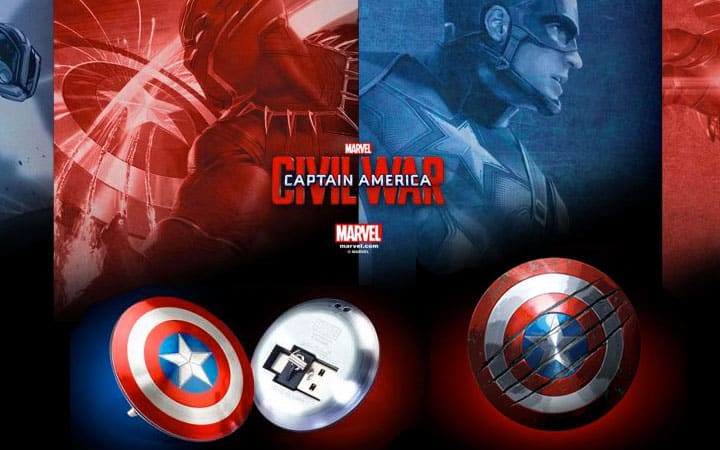 USB-C is also introduced for the first time to this line-up as a future-proof feature, and there's a regular USB 3.0 Type-A for speedy file transfer (up to 120MB/s).  The drive is tethered to a retractable cable that is attached to the back of the shield.  This design is in contrast to the retractable USB mechanism seen in the last model.  There's even a battle-damaged version with claw scratches on the shield inflicted by none other than the Black Panther.
The Awesome Mix OTG drive is easily recognizable as the old fashion cassette tape seen in Guardians of the Galaxy Vol. 2.  It serves as a regular USB flash drive in addition to mini-USB storage for Android phones.  Granted, most modern handsets have already dropped mini-USB in favor of USB-C but the drive should remain as a collectible item for years to come.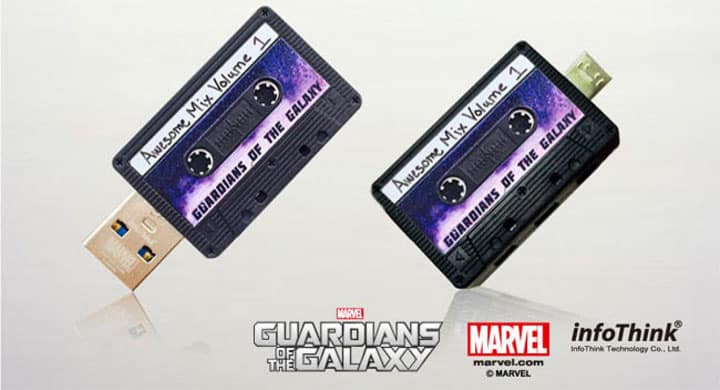 As for fans of the Marvel TV series, Infothink has two USB OTG drives that are the insignias of Marvel's S.H.I.E.L.D. and HYDRA organization respectively.  The HYDRA with its serpent-like creature with a skull head stands out a lot more than S.H.I.E.L.D.'s version that is often seen in the title card of ABC's TV series Agents of S.H.I.E.L.D.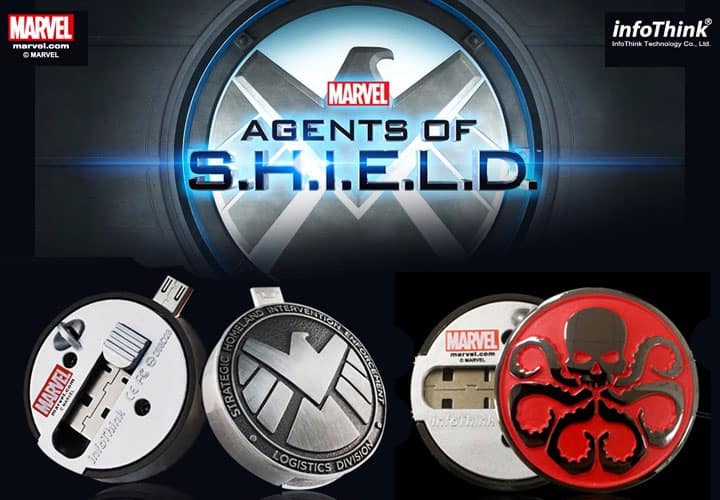 Saving the best for last, it's a no-brainer for Infothink to release a thumb drive that takes form of the Thanos' Infinity Gauntlet – especially with all six Infinity Stones filled.  This eye-catching drive completely dwarfed all the other Marvel flash drives we've seen in every possible way.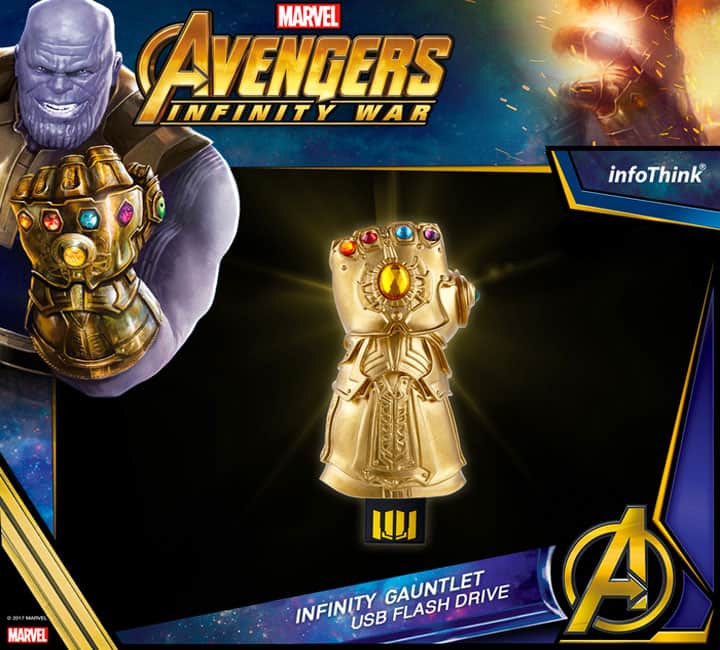 No products found.
Cap's Choice of USB Fan
---
The Cap doesn't do desk jobs. So it's hard to imagine the patriotic superhero, who has now gone rogue, has his own branded desktop USB fan.  We can see why after laying eyes on the Infothink's.  This officially licensed fan shows great attention to details.  It also gives you a nostalgic feel as the design shares some similarities with an old-fashioned metal fan.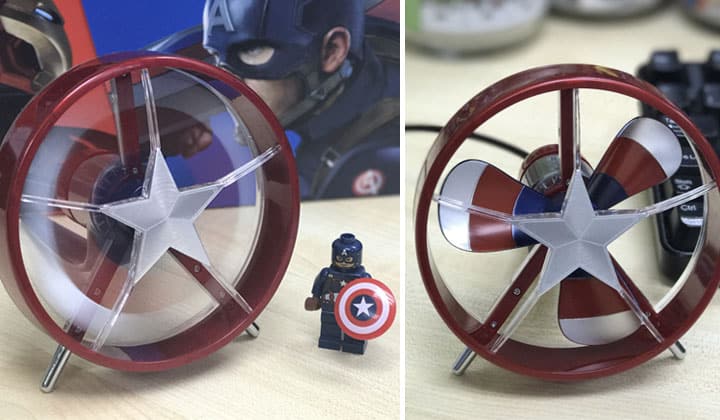 The three blades have been spray painted so that the image of Cap's shield appears when the fan is turned on.  Additionally, a multi-angle adjustable steel stand and a three-speed fan control make sure you enjoy a refreshing – albeit somewhat weak – breeze. It will be two years before we see Captain Rogers again (hopefully not for the last time) in Avengers: Infinity War.  Die-hard fans who miss him already may want to grab this USB fan.
Stark's Favorite Headset
---
In a never-ending desire to monetize every possible avenue of the Marvel franchise, this Iron Man-themed gaming headset shouldn't be a surprise to anyone.  Fans should immediately recognize its iconic hot rod red and gold color scheme as well as the prominent Arc Reactors built into the side of each earcup.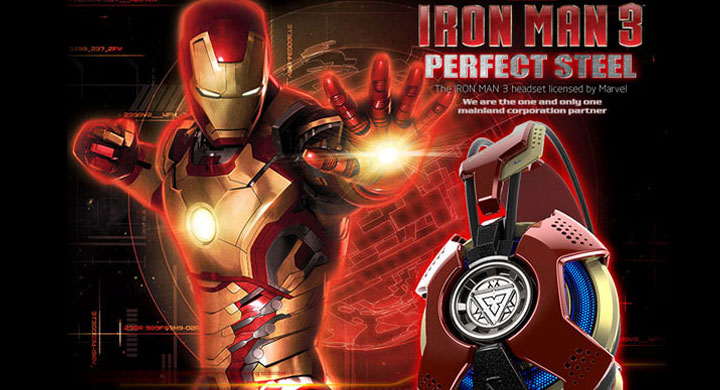 This combination of a high-tech superhero and a gaming headset appears to be a perfect match.  Most hardcore gamers not only want to use high quality gadgetry but they also want to look good while doing it.  In this respect, this headset does a fantastic job as gamers and comics fans alike can immediately associate the USB-only headset with something conceived by Stark.
With large 50mm stereo drivers and 117dB impedance specifications, these cans from e-Blue should have you covered in even the most demanding of audio environments.  Add in the special collector's box and the limited edition nature of the Stark Industries headset and we can see many fans wanting one; or at least until they realize it will set them back $240 plus shipping.
Tony's Arc Reactor Doubles as Power Bank
---
The idea of charging an iPhone from a portable fusion cell battery only exists in a dream but what better way is there to sell a power bank than to package it as Iron Man's Arc Reactor. This one from Infothink has its limits, however. Inside the 3.2" Arc Reactor circular chassis is a 5200mAh battery, manufactured by Sanyo. There's also only one USB port that supplies 2.1A current.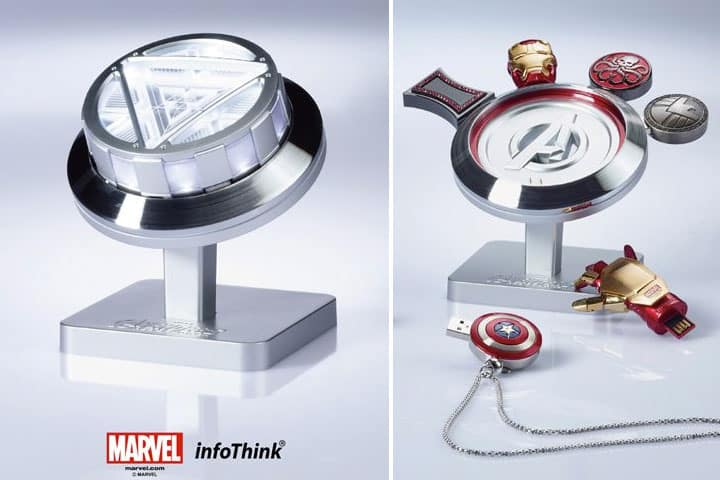 What makes it interesting are the lighting and sound effects. They are obviously just for show and in fact, do draw quite a bit from the battery. A nifty-looking charging stand that doubles as a 4-port USB hub is included in the limited edition. If you are going for it, make sure to get this deluxe version which ships with an Avengers-branded flannel bag.
Cap's Choice of Power Bank
---
As superheroes tend to be always on the go, they need a power bank every now and then to recharge their mobile devices. Given the Cap's fashion sense, we doubt he would settle for anything less than this juice pack from DGPower.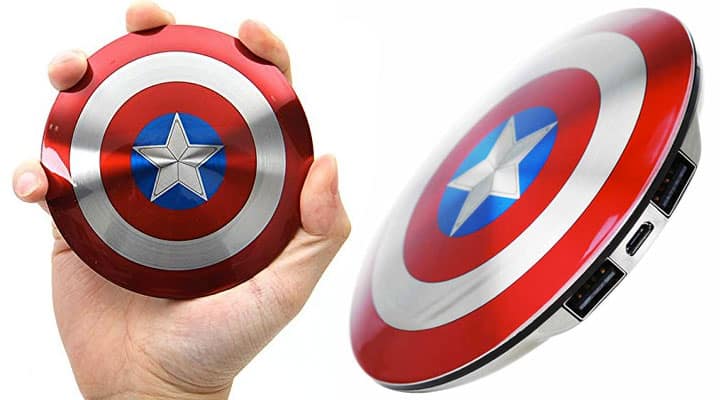 For a themed portable battery, we would say it is quite featured-packed. The 4-inch shield-shaped juice pack in its hardened aluminum casing offers 6800mAh capacity. It should be enough juice to fully recharge an iPhone 6 from empty to full twice. There are two USB ports onboard. One of them has a maximum output of 2.1A while the other can charge at 1A.
Thor's Very Own Power Bank
---
It doesn't come as a surprise that Thor's trusty hammer, Mjolnir, gets turned into a branded product. What makes this special (and practical) is that it's actually a power bank. The battery itself is massive; when we say massive we meant massive as the aluminum, zinc and plastic-clad power pack tips the scales at 450g and is 13 x 8 x 5cm in size. In spite of that, the hammer's handle does make it easy to carry the battery around.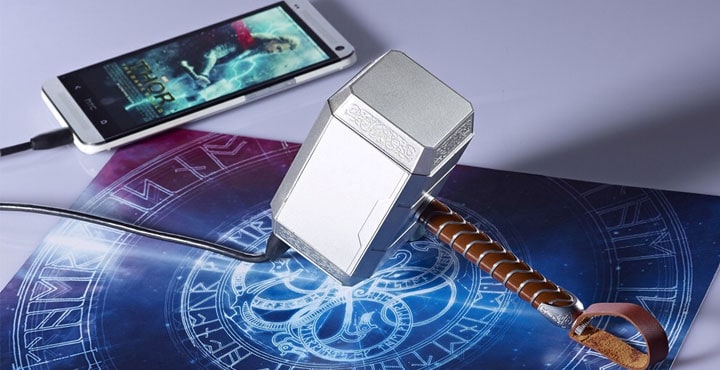 There's a micro-USB charging port as well as a full-sized USB 2.0 that output at 2.1A for anything up to a power-hungry iPad. Better yet, this device uses high-quality Sanyo rechargeable batteries and comes in three versions a 2600mAh, 5200mAh, and downright godly 10400mAh version – that is 52 watts of power. Though, the 10400mAh model will take ten full hours to recharge. Being a novelty item, perhaps the coolest feature is the fact that the battery with its LEDs and built-in speaker mimics Mjolnir's effects when you swing it. The only catch – besides the size – is this model is only available in Asia right now so along with its $125 asking price you will have to source out special shipping.
If you enjoy this, make sure to check out other USB gadget round-up for DC Universe, Star Wars, Star Trek and Transformers.

USB Duplicators By Nexcopy
Nexcopy manufactures a variety of PC-based and standalone
USB duplicator
solutions.
PC based systems support advanced USB functions such as write protection, CD-ROM partition and multi-partition creation, while standalone systems are ultra-fast, high speed USB copiers duplicating gigabytes of data quickly and accurately.