6 August 2022, Comments: Comments Off on These Aren't Your Average USB Dongles…
August 2022 Ian Chiu
Dongles (a.k.a. adapters) have been with us since the inception of USB.  They are pretty handy in expanding our PC functionality and can be shared between users. You may have a few of those lying around on your desk, but you may not have seen them all. Below is a list of rare USB dongles yet quite handy for some use-cases.
Plugable USB-C Power Meter
---
A compact multimeter monitors USB-C charging up to 240W
With the advent of USB Power Delivery 3.1, even power-hungry gaming laptops will soon be powered entirely over USB-C 2.1 cables. The new 140W, 180W, and 240W power levels introduced by the new PD protocol's 28V, 36V, and 48V voltage support respectively will demand even more powerful, eh, power meters to monitor USB-C charging performance. To that end, Plugable has updated its USB-C Voltage & Amperage Meter to meet the new standards.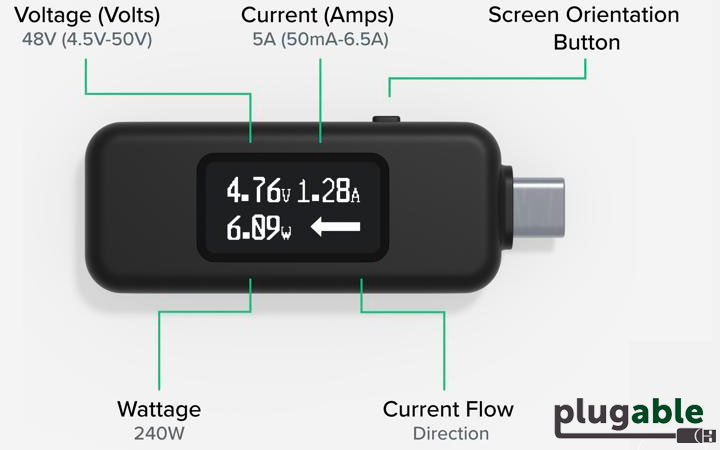 This nifty USB dongle is a handy little tool to diagnose charging issues or simply to check the power draw from a USB-C device. The third generation USB multimeter from Plugable now reports back amperage, voltage, and wattage up to 6.5A, 48V, and 240W respectively. Real-time data, as well as directional flow status, is displayed on the Plugable meter's now improved OLED display with an even brighter than the previous version.
Equally important is the dongle's ability to allow data passthrough (up to USB 3.1 Gen 2) and USB-C alternate video. Having these makes it possible to diagnose issues for USB-C docks, often equipped with video outputs. The Plugable USB-C Power Meter is by no means a replacement for professional test equipment, not by a long shot. It does give you a start on pinpointing the source of the problem.
Plugable USB C Power Meter Tester for Monitoring USB-C Connections up to...
At a Glance - USB C Tester monitors USB-C power and charging up to 240W. Measure voltage and...
Bidirectional - USB power meter can be connected in either orientation, allowing for the full...
Broad USB Support - Used as a data and power quality meter, device allows USB data pass...
Creative BT-W4 Bluetooth Dongle
---
Dongle marries USB audio and Bluetooth 5.2 for AptX Adaptive wireless audio streaming
The classic AptX and AAC have been the cornerstone of Bluetooth wireless audio for more than a decade. Recently, quite a few premium wireless headphones and earbuds ship with AptX Adaptive which unfortunately hasn't been widely adopted yet on smartphones and tablets. As such, if you have bought one of those (e.g. B&O HX, B&W P7 S2), it's likely you aren't getting the best sound quality available. This is where the Creative BT-W4 comes in.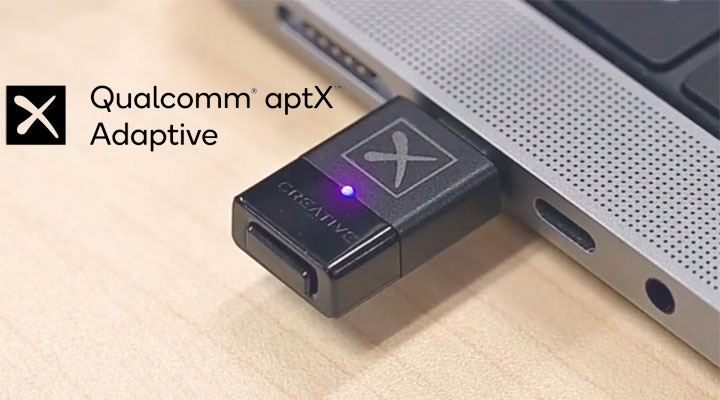 The USB-C dongle from Creative is an external Bluetooth 5.2 transmitter recognized by iPadOS, MacOS, Windows, or Android just as a regular USB audio device. When you pair your headphones with the BT-W4, the two connect directly on a separate Bluetooth channel and operate independently of existing Windows drivers and Bluetooth hardware.
As long as you know which audio codec works best for you, you can simply toggle between SBC, classic AptX, and AptX Adaptive. This plug-n-play solution provides a clear advantage of allowing more audio codec selections for different audio applications instantly.
Despite the fact that the dongle is natively USB-C, it also works with included USB-A adapter. As for other platforms, Apple iPads and Nintendo Switch will benefit from BT-W4's AptX Adaptive's low latency performance to deliver sound in sync with gameplay. Android smartphones coupled with AptX Adaptive can stream music at 24-bit/48kHz HD audio in dynamic bit-rate provided you have compatible earbuds or headphones.
Creative BT-W4 Smart Bluetooth 5.2 Audio Transmitter with aptX Adaptive,...
NO BREAKAGE, NO LAG WITH APTX ADAPTIVE - Enjoy undisrupted media on your devices without random...
24-BIT AUDIO OVER BLUETOOTH 5.2 - Enjoy high-definition audio for your movie, music, and games...
EASY DEVICE SWITCH - Easily switch the output device you are connected to without the hassle of...
Luna Display Wireless Video Adapter
---
USB-C video dongle wirelessly extends or mirrors desktop on iPad
Astro HQ's Luna Display is a tiny USB-C dongle that lets you make use of your iPad as a secondary screen over WiFi.  By taking advantage of iPad's screen, the Luna Display brings multi-touch capability to the already familiar Mac interface.  There's also particularly a strong use case if your iPad supports Apple Pencil.  This opens the door for creative professionals and power users alike to tap into the potential of working with desktop apps on their iPads, particularly the more powerful ones.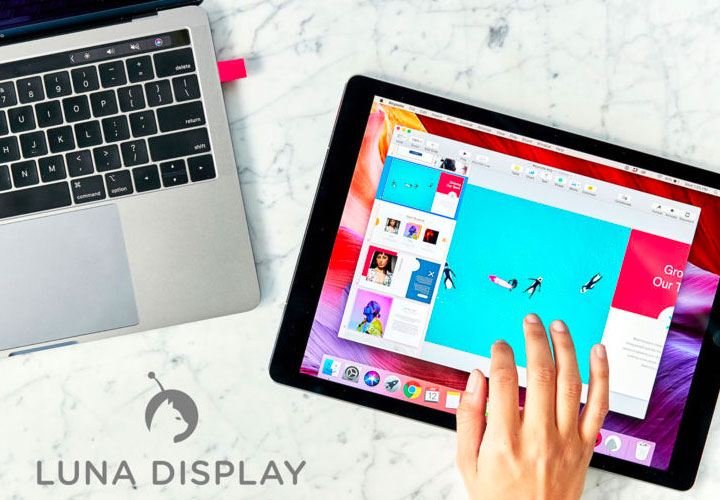 For Mac version of the Luna Display, its accompanying software takes advantage of Metal hardware acceleration of Mac's GPU to boost performance so that Luna Display adapter has a better chance of delivering 60fps video to your iPad.  (Windows version is also slated to ship in the first half of 2021.) Having said that, decent refresh rate and optimal image quality are largely dependent on having strong and consistent WiFi coverage throughout your place.  Luna Display's app also seems to work on a wired (USB-C or Lightning) connection but you would be confined to the length of the cable connecting from your tablet to Mac.  Given the popularity of the iPad, the $80 USB-C dongle might be what you need to breathe your laptop a new life.
Sale
Astropad Luna Display - Laptop Screen Extender, Turn Your iPad or MacBook...
Double Your Screen Space: Turn your iPad or Mac into external wireless secondary display and...
Multiple Modes: Make the most of your devices with Luna's many modes including Mac to iPad...
Easy Set Up: Plug the Luna Display USB-C unit into your computer, launch the free Luna apps on...
Vaydeer Mouse Jiggler
---
USB dongle that fakes mouse cursor movement, perfect for WFH environment
A lot of us have been confined to working from home during the height of the pandemic. (Well, some of us have chosen to work remotely going forward when given a choice.) For bosses, there aren't many tools at their disposal to check whether or not their employees were actually working. For some companies, a rather primitive way is monitor changes in online status of co-workers. Whenever mouse or keyboard is idle for a few minutes, MS Teams, Zoom or whatever collaboration tool being used would show that person as "away".
There are free apps that can keep pointer cursor active. It's all good except most work-issued laptops inherently block unauthorized installations of any programs unless you get permissions from IT department. To that end, there is something called a mouse jiggler that plugs into a USB port.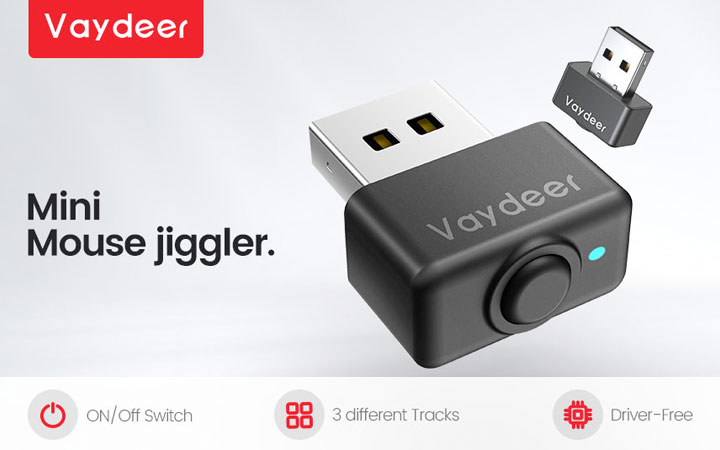 The ones from Meatanty and Vaydeer are virtually detectable by monitoring software as they will appear as a USB HID by Windows, Mac or Linux. They also don't require driver nor software installation. The tiny dongle only has a power switch. When turned on, the mouse mover fakes cursor movement in different amplitudes and trajectory. These will come in handy when you need to sneak away for a short break during office hours without triggering an alarm.
Vaydeer Mini Metal Mouse Jiggler, Made of Premium Aluminum Alloy, Longer...
Upgraded Metal Shell for Longer Lifespan: This upgraded USB mouse jiggler is equipped with...
Plug and Play with ON/OFF Switch: This metal mouse jiggler doesn't require any driver to work,...
100% Undetectable: This USB mouse mover will be recognized as a USB composite device by your PC...
YubiKey U2F Security Token
---
USB dongle stays semi-permanent on PC for hassle-free two-factor hardware authentication
Two-factor authentication has always been at our disposal, but most of us don't really bother unless we are forced to comply with online banking requirements. There has been a solution called YubiKey; it works with U2F, an emerging open authentication standard hosted by FIDO Alliance whose goal is to add an extra layer of security for browsers and mainstream web services, such as Gmail, Facebook, and DropBox.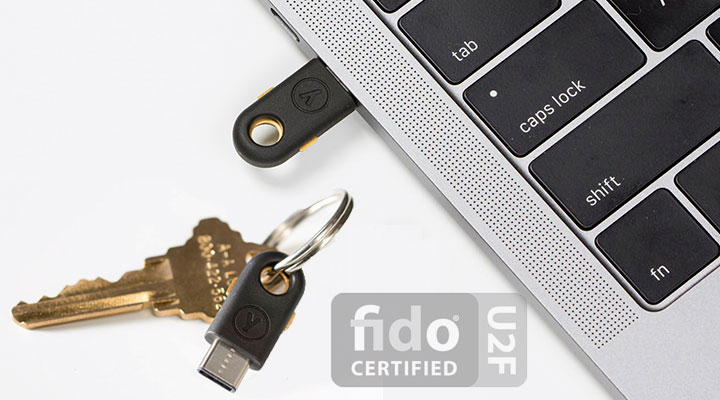 The YubiKey neither requires drivers nor client software. Since it is recognized as a USB HID device, the platform-independent token works seamlessly with Windows, Mac, and Linux. The keys themselves are manufactured in Sweden and USA in ways that reportedly make them tamper-proof. The fourth generation of YubiKey now offers even faster and stronger crypto. Out of the three models, one ($50) supports the new USB-C connector while a nano version with regular USB-A plug allows you to flush mount it on your PC.
Yubico - YubiKey 5C Nano - Two-Factor authentication (2FA) Security Key,...
Keep your online accounts safe from hackers with the YubiKey. Trustworthy and easy-to-use, it's...
CONVENIENT: Connect to your your device via USB-C - The "nano" form-factor is designed to...
VERSATILE COMPATIBILITY: Supported by Google and Microsoft accounts, password managers and...
PQI My LocKey Fingerprint Reader
---
USB-A dongle brings fingerprint security with Windows 10 Hello compatibility
Fingerprint authentication is also an integrated part of Windows Hello that replaces passwords with biometric recognition.  Though, generations of older PCs wouldn't have the hardware sensors required by Windows's new bio-security system.  If you have a spare USB port, then the unobstructed PQI dongle might be what you are looking for.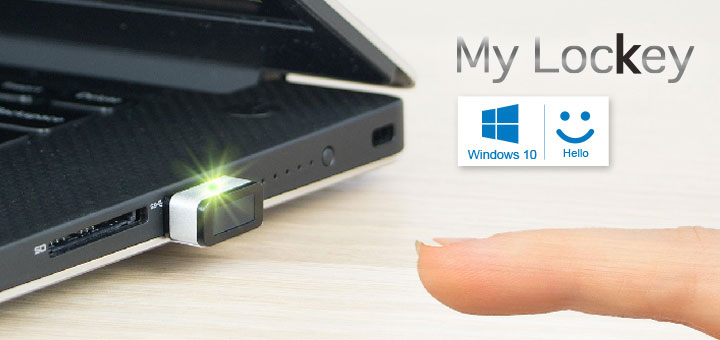 The PQI's My LocKey fingerprint reader is powered by a Synaptics-powered Natural ID fingerprint sensor that works with Hello.  The engine is reportedly fast enough to finish authentication in 0.15 second.  Everything is housed inside a USB dongle whose size is comparable to that of a mini flash drive so the PQI can stay connected to your laptop at all times.  Getting this ready only requires that you follow several steps of simple registration procedures before you can start logging into Windows with a single touch of a finger.

USB Duplicators By Nexcopy
Nexcopy manufactures a variety of PC-based and standalone
USB duplicator
solutions.
PC based systems support advanced USB functions such as write protection, CD-ROM partition and multi-partition creation, while standalone systems are ultra-fast, high speed USB copiers duplicating gigabytes of data quickly and accurately.