January 2016 Ian Chiu
CES 2016 has seen a number of firsts for USB-C standard. The new connector makes it possible for delivery of power, video and data over the same type of cable. Most importantly, it allows for reversible plug orientation. Together they marked the beginning of the connectivity revolution that will see most of the existing wired interfaces that we've come to know and love being replaced by USB-C.
Without further ado, here's a round-up of USB-C devices that made debut in CES and that are expected to hit retail shelves in upcoming months. Early adopters of the new connector – predominantly MacBook users – can check these out to see how USB 3.1, USB Power Delivery and USB-C complement each other.
First USB-C Monitors – One Cable to Connect Them All
---
For the first time, we saw the industry's first USB-C monitors. They come in different varieties and prices, ranging from $199 Asus' 15.6″ IPS portable display to $4999 Dell's 30″ 4k OLED panel. The said Asus monitor, named MB169C+, adds a USB-C so any tablets and laptops with a compatible connector can power this 1080p screen thru USB-C's DisplayPort alternate mode.   The display's contrast ratio is rated at 220 cd/m2 and response rate at 5ms.  It also comes with in-house Blue Light Filter with 4 different settings to lower blue light emissions by as much as 70%.


The Dell's mammoth monitor – UltraSharp UP3017Q – delivers almost everything money could buy. The 30" display is rated 100% AdobeRGB with 1.07 billion color depth. Being OLED, the Dell is exceptionally good at black reproduction in addition to delivering an incredibly quick response time at 0.1ms. Even though the UP3017Q runs on USB-C, there are numerous adapters that connect display to HDMI, DisplayPort or Thunderbolt 3-enabled USB-C.
Both USB-C monitors are based on USB Power Delivery standard with the Asus MB169C+ as the one drawing power needed from the host and the Dell UltraSharp UP3017Q being the one that supplies ample of power to recharge a laptop.
USB-C Storage – Teach Old Dogs New Tricks
---
The transition to USB-C in the DAS market isn't particularly exciting. It isn't like storage form factor will improve dramatically by switching to the new reversible connector. However, when a USB-C drive like the new LaCie Porsche Design Drive works in tandem with USB Power Delivery, you may begin to realize it's a killer app that everyone has been waiting for.
With the LaCie, you are no longer stuck with stock laptop chargers as the drive also charge your laptop (up to 30W) while doubling as a multi-terabyte external storage. The all-aluminium designer drive is available up to 8TB with speed up to 5Gbps (USB 3.1 Gen. 1). You would need a laptop or tablet with USB-C charging capability, yet only a handful are available for you to choose from as of this writing.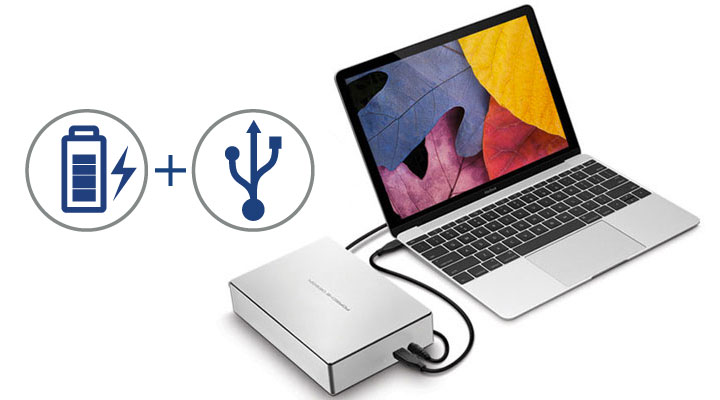 Samsung has also brought the new USB-C connector to their high-end solid-state series. Its Portable SSD T3 is touted as a USB 3.1 device although it is limited to Gen. 1 mode – the same as USB 3.0. Internally, the T3 is likely upgraded with a better SSD controller that pushes performance to 450MB/s, provided your PC has UASP enabled. Samsung now offers a 2TB option in addition to 250GB, 500GB and 1TB but brace yourself for the price tag if you opt for the terabyte models.
Thumb drives featuring both USB-C and regular Type-A USB connector have been popping up left and right since the release of MacBook in April 2015.  They are future-proofed while maintaining perfect backward compatibility with older PCs and Macs.  For this reason, dual-plug drives will certainly be part of every thumbdrive manufacturer's product portfolio for years to come.  Keep in mind none of them is USB 3.1 Gen. 2 as there's no need for these to operate at 10Gbps.
Drobo now offers USB-C version of its proprietary data redundancy solution.  Interestingly, the latest model neither supports bus-powered operation nor offers laptop charging capability.  Yet the whole point for a desktop external storage to upgrade to USB-C is to take advantages of USB Power Delivery – just like what LaCie did with their Porsche drive.  However, a closer look reveals the Drobo – now at its fourth generation – has received some other upgrades.  It now has five drive bays that handle up to 64TB of volume size, and can recover data even in an event of a dual hard drive failure.  A built-in battery is also present to keep data in cache so data in transfer won't be corrupted in case of an abrupt power outage.
USB-C Hubs & Adapters
---
By the looks of things, PC makers will follow Apple's lead in adopting the vastly improved connector, and this move hints we will necessarily rely on hubs, docks and adapters on USB-C only convertibles and wafer-thin laptops. At CES 2016, it's evident dozens of manufacturers were ready to meet demands of this emerging user base.
To begin with, Griffin showcased BreakSafe – a breakaway cable that blends the functionality of Apple's MagSafe and USB-C into one cord. The USB Power Delivery-compliant cable, rated at 60W, is intended to bring safety and convenience back to MacBooks; it will also work with Chromebook Pixel as well. The BreakSafe, retailing for $41, does come with two caveats: its the magnetic connector protrudes about 13mm from the side of a laptop; and the cable itself can only be used for charging power only.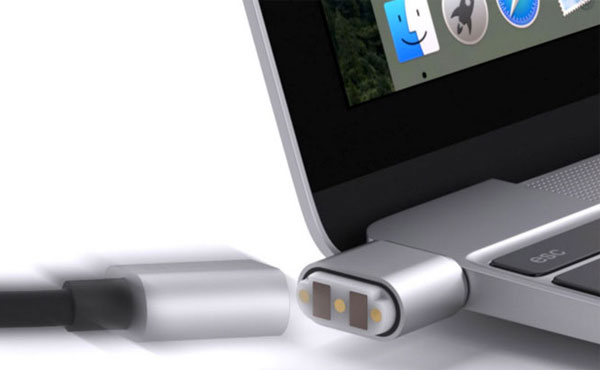 Satechi From California has unveiled an oversized USB-C dongle that focuses primarily on substance over style. The $51 multi-functional hub comes equipped with a pair of Type-A ports; a full-sized SD card slot; a micro-SD slot; and most importantly, a USB-C port for charging. There's no word whether or not the pass-through can also be used for display. Satechi didn't give this hub a proper marketing name but at least the hub comes in all three colors (i.e. gold, space grey and silver) to match your MacBooks.
What you saw reveals only the first wave of USB-C devices. Going forward, we might easily find a bewildering choices of USB-C hybrid devices that cater the needs of every user.
USB-C Accessories on Amazon
---