August 2011 Anthony Garland
About two years ago, Razer introduced the original Mamba mouse and it took the PC gaming world by storm. The amazing success of that mouse was thanks in no small part to its wired and wireless abilities; however, its sensor, software suite, and overall ergonomics are what made it a perennial favorite for many hardcore gamers. Recently, the same mouse is upgraded with Razer's latest 4G sensor technology. Today, I'm going to find out how good this new Razer Mamba stands up against some of today's cutting-edge mice. Now, read on for my full-featured review.
Mouse Design & Ergonomics
---
Unless you have held a Razer Mamba in your hands, it is actually very hard to describe the ergonomics and make what is mainly intangible tangible. Ergonomics is one of the things that made Razer the darling of the professional gaming world and the Mamba is no exception. While most companies take a more "universal" approach that is 3 parts palm grip, 3 parts finger grip, and all parts boring, Razer has taken a different approach – one that is not only ergonomic but actually very intriguing.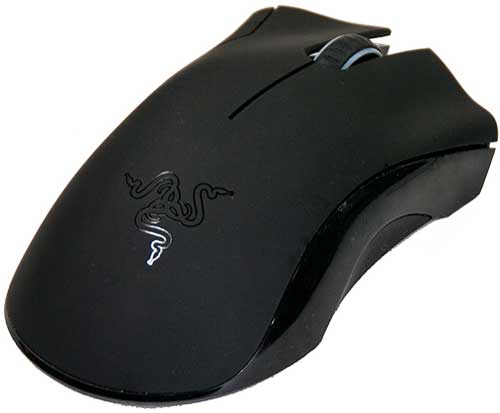 If you were to just look at the Mamba, you would think that it was a slightly odd-looking "finger grip mouse". In some ways, you're right and completely wrong in some respects. You would be right in that the rear palm swell is shallow compared to many palm grip mice (as the palm swell is one of the main contact points between your hand and the mouse with this grip). The main left and right buttons look like they are made for finger gripping. This is in fact the case and the Mamba is first and foremost a finger grip mouse. Razer has done what was considered almost impossible before they came along: this finger grip mouse is also very comfortable in a palm grip.
To make it fit like a glove in a palm grip, you simply raise your hand up the palm swell slightly so that your hand rides higher on the Mamba. When you do that, the ergonomics radically change and it goes from being a finger to a palm grip mouse. Helping to further these chameleon-like abilities along is that the left and right main buttons are not flat, nor slopped like many mice; rather they are concave in shape. When gripped with a finger grip, your fingers (unless they are very long) sit further up these built-in ridges and seem to nestle your finger into the hollows. When you hold it in a palm grip, the forward lip on the buttons seems to also give a firm and reassuring grip.
The sides of the Mamba also get this dual ergonomic treatment with the lower half of each side grip having distinctly different angulations than the top half. This too makes the overall feel of the mouse completely different – and almost perfect – for either a palm or finger grip.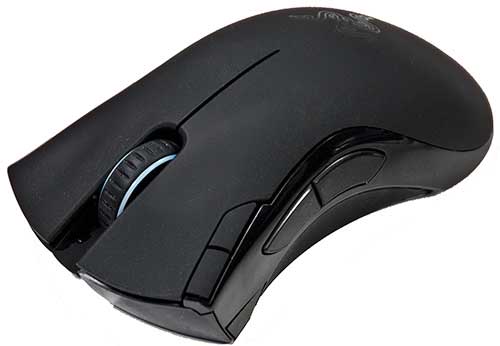 When you add in all the little refinements, the net result is that this Mamba is going to be comfortable for both finger and palm grip users. If you have never used more than one style of holding your mouse, you will think its ergonomics were tailor-made just for your style grip. Even if you are one of the minority of gamers who use what is called a claw grip, this mouse will a better than average fit. It may be a touch long for your needs – and a Cooler Master Storm Spawn will be even more comfortable – but the Mamba is more than adequate even when used in a claw grip. The only issue we have with the ergonomics is that the location of the thumb buttons is a touch-off for both palm and finger grip styles. It may not be perfect for either, but it still is more than adequate. I assume the design and location of these two buttons was the best compromise Razer could find.
As a Wireless Mouse
---
Where this is a hybrid design that can be used in wired or wireless modes, the underside of the mouse is s tad cluttered. This is especially true of the front quarter where you not only have a power button (which would be unusual for a wired-only mouse) but also a wireless connection button as well as a cord release button. To release the USB cable, you simply hold the locking mechanism open and gently tug the cord out.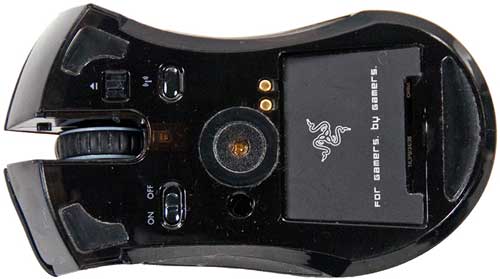 This actually brings us to our only real gripe of this design: going from wired to wireless is slow and hassle-prone. The reason it is slow and hassle prone is Razer only includes a single USB cable which has to do double duty for both the mouse and the wireless base station / charging station. This means that once you have unplugged it from one part you then have to plug it into the other. It really would have been much simpler if Razer had included two of these cables; then you could simply leave the charging station plugged in and only plug in the Mamba directly when you need to use wired mode.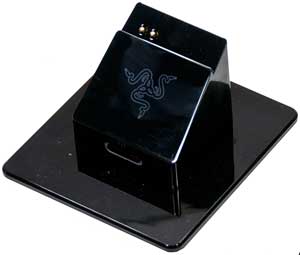 Like the overall dimensions of the base station, this single cord issue is not a big deal. The idea behind the hybrid setup is to give you a wired backup option, for when the lone lithium-ion battery goes dead and you need to recharge it; or you want to make sure you have zero lag issues. In either case, this is more a backup solution and this is first and foremost a wireless mouse that can recharge and be used at the same time via wired mode.
The Mamba's battery is rated for 16 hours of continuous use and in testing, I managed to get a bit more than 15 hours from it (from 100% to dead). This is more than adequate as this is longer than most gaming marathon sessions go. It is, however, still a tad low as you only get one battery. I really wish Razer had not only included two USB cables, but two batteries. This way when one was dead you could swap it out for the second without having to resort to wired mode.
Before I move on to the testing stage, the main claim to fame of this new and improved mouse needs to be addressed: the sensor. For most mice – even gaming mice – the sensor suite is either laser or optical based; yet this new model is not like "most mice". The Mamba is equipped with both a laser and optical sensor. This dual sensor setup is what Razer calls their 4G sensory technology. By combining types of sensor, you not only get more accurate response rate (in this case the Mamba is good for 100 to 6400 dpi) but also less tracking issues. In fact, tracking issues and lift off issues should not be issues at all.
I tested this device on everything from cloth to wood and plastic surfaces. It not only was able to properly configure itself for optimum precision, it knew how high to set the lift-off height. This last is crucial for FPS gamers who like to lift and slam their mouse repeatedly to move quickly left to right. As mentioned previously, I never once noticed an issue and it worked flawlessly.
Software
---
When using the bundled software, Razer's motto "For Gamers, By Gamers" does come to mind. To be blunt, this software's main goal is to get your Mamba setup and customized to enhance your gaming needs. Everything else is of secondary concern. This is not to say both the basics and advanced features are not covered, as they are; but you really do get the feeling that if anything were to conflict with improving your gaming performance it was removed. What I mean is that the main page deals with button configuration and while the dropdown box for each button has many options, nearly all related to gaming enhancements. You will not find any options that are more work related or even day to day Internet viewing related. If it does not help tweak the mouse to more precisely cater to your gaming needs, it is not included.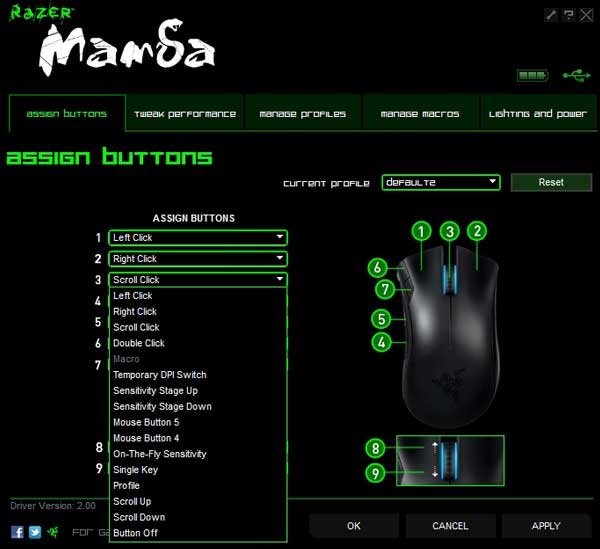 Luckily, while there are no pre-configured options for improving your Excel spreadsheet-fu (for example), there is a very robust – yet surprisingly easy to use – Macro editor. Since every button can have a macro assigned to and there is five onboard profiles to configure, this does negate this minor negative of the Mamba.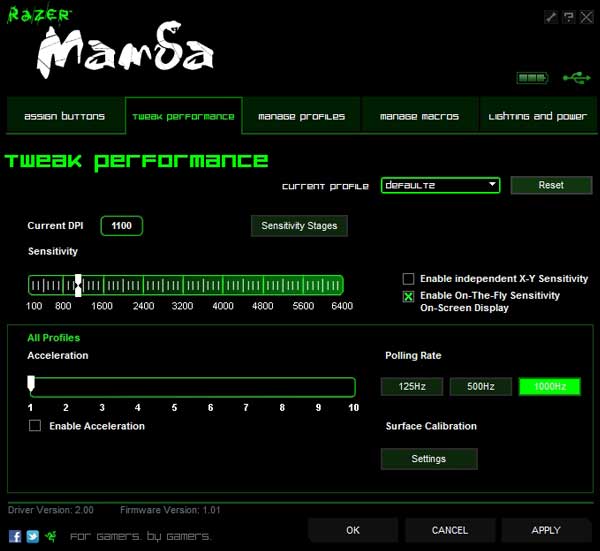 Those are the basic features of this mouse but the real claim to fame of this new and improved Mamba is its 4G sensor. It is for this reason that it was not surprising in the least to see a full entire page dedicated to it labeled "Tweak Performance". On this page, you not only get the typical X and Y DPI customization, acceleration, and other similar abilities found on most mice. Instead, you also get a very powerful feature found only on a few gaming mice: surface calibration. Even better is while this is not the first mouse I have seen to have customizable lift-off range (i.e. the distance from the surface at which the sensor stops sending X and Y movement changes) but it also has the built-in ability to calibrate itself and then have you over-ride that level if you want. This is a feature that we are sure many a Cyborg RAT 7 owner wishes they had.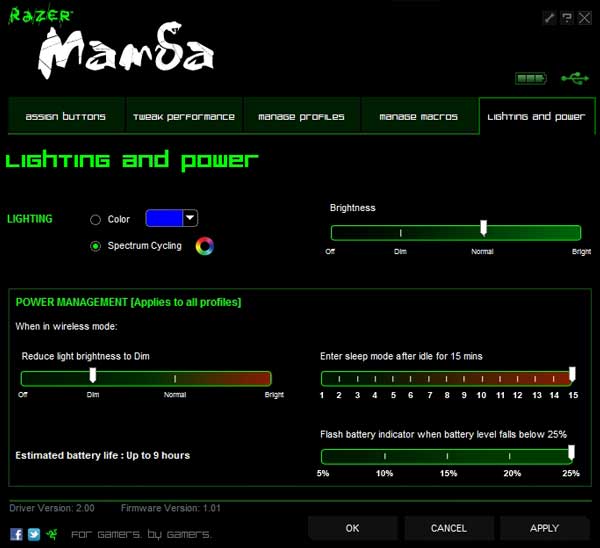 The only other noteworthy feature of the software is the light and customization page. Where you can not only run this mouse in wired but also wireless mode, the amount of power used by the built-in lighting can noticeably impact battery life. On this page, you will be able to not only change the color (or have it cycle through all potential colors) but set how bright the glow is (or even set it to off). This coupled with the other power management features should allow you to get the most out of the battery and allow you to intelligently decide how important the glow from the light really is.
Before I move on, there is one major issue worth pointing out. The software can crash on you if you try to open it up while the Mamba is in the charging cradle. While there is no reason to load the program when the mouse is not in use, if you accidentally click on the taskbar icon, a small window will pop up and basically say loading, and stay that way forever. The only way to get this floating always-on-top window to go away is to either remove the mouse from the charger to let it connect, or terminate the program via task manager.
Gaming & Real World Usage
---
This mouse was built for gaming and it came as no surprise that it out and out dominated in this arena in overall performance and usability. When compared against a Cyborg RAT 7, a Logitech G700 and even a Cooler Master Storm Spawn, the Razer Mamba was in a league all its own. It may not be as customizable as some (i.e. Cyborg RAT 7), nor have as many buttons as others (i.e. G700) or even have as long battery life (i.e. M8600). The overall gaming experience was simply better with the Mamba. To be blunt, when coupled with five profiles, the number of buttons is more than enough for most games and the same can be said of the overall ergonomics. It may not change its shape like a transformer but it doesn't need to, it just feels comfortable as it is.
With that being said there was two areas where the Mamba did not dominate. The first is battery life; I was able to get about 12 hours of non stop gaming out of the batter before the low battery warning light went on. This by itself is more than adequate when compared to most, but the Aivia M8600 comes with a battery pack that not only lasts longer (good for 50 hours) but also comes with two batteries. When the Mamba's lone battery gets low, your only recourse is to plug it in and use it in wired mode; whereas the M8600's battery can be swapped out in seconds flat.
The other minor issue is if you are claw grip gamer, the Cooler Master Storm Spawn will be more comfortable. This is because the Spawn is a claw grip only mouse and as such is perfectly suited to this niche grip style. With all this being said, I still would opt for the Mamba over any of these mice as its performance abilities – thanks in no small part to the new 4G sensor – and its overall weight and ergonomics are second to none. This mouse is not nearly as heavy as a M8600 or G700 and this makes it easier to use for longer periods of time. The fact that its sensor never gets confused on lift-off is just icing on the cake.
In real world tasks, the lack of pre-built options really was not a big issue. It only takes a moment to create a custom macro to cover off any missing feature. Unfortunately, the lack of horizontal scroll can be an issue if you use Excel often. This however is also not a huge disadvantage and the overall real world usage of this mouse is excellent. It may not be the best "mundane use" mouse we have ever used, but it certainly is above average. This is not something that many gaming mice can claim.
Recap
---
While the Razer Mamba is not going to be perfect for all people and all scenarios, overall it is a very good mouse. The combination of years of research and refinement by Razer's engineers really has created one very comfortable mouse. The Mamba only has one main goal: be the best gaming mouse you have ever used. In this task, it's a success. The battery life is still not exactly great, but in return for shortened battery life, you get something that is not as heavy as nor tethered to your system like a wired mouse would be.
When you wrap all that technology up in a ergonomic package, the end result is one fine mouse that not only help improve your gaming enjoyment but can also pull double duty as a day to day peripheral. As long as you can live with the less than stellar wired to wireless conversion process, you will be very happy with your new purchase. More importantly, Razer really has created a new mouse that is not only as good as the original but is actually better.
Razer Gaming Mice on Amazon
---

USB Duplicators By Nexcopy
Nexcopy manufactures a variety of PC-based and standalone
USB duplicator
solutions.
PC based systems support advanced USB functions such as write protection, CD-ROM partition and multi-partition creation, while standalone systems are ultra-fast, high speed USB copiers duplicating gigabytes of data quickly and accurately.