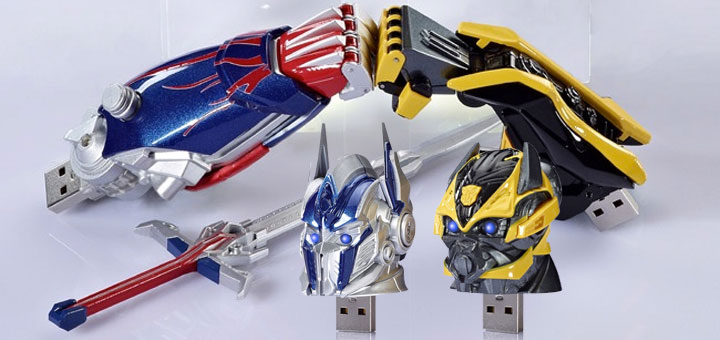 A gust front may not be all that impressive but it may signify the approaching storm, so too does infoThink's Transformers Age of Extinction thumb drive series hints that this year's movie tie-in merchandising will be especially overwhelming.
These four new Transformers flash drives actually tie in closely with the theme of the movie itself. A good portion of the nearly 3 hour snore-fest deals with humans cutting up Autobots for parts, so having these drives shaped like either the head or arm of Optimus Prime or Bumble Bee actually makes twisted sense. Of course, by the same token, they are as creepy looking as an uninvited clown at a ten year olds birthday party.
Besides the odd aesthetics, the other issue these drives have is their performance is as bad as the movie they are based upon. Since they are only USB 2.0 (25/12MB/s read & write speeds), these 3 oz. novelty drives are downright slow by modern standards. On the positive side, the drives' chassis is made out of metal alloy and is both dust and waterproof.
Equally important is they start at a moderately reasonable price of $40 for the 8GB capacity and go up to only $66 for 32GB. So if you always wanted to own the heads of Autobot iconic characters, these maybe just be up your alley. For everyone else, save yourself some time and skip both the movie and these drives.