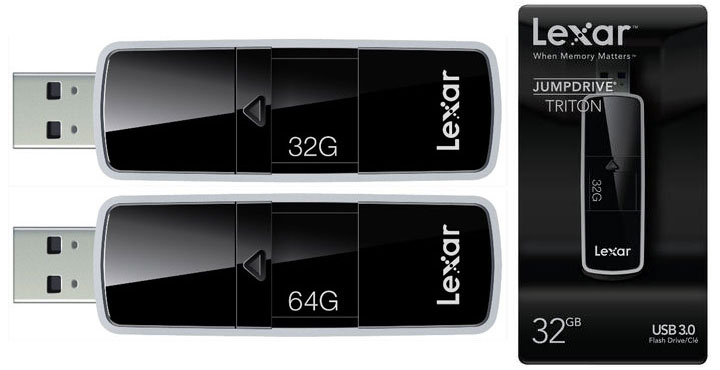 Now that USB 3.0 flash drives are beginning to reach mass adoption, Lexar has finally jumped into the bandwagon with its JumpDrive Triton. Slated to ship anytime now for $69.99 (16GB) and $109.99 (32GB), the USB 3.0 drive offers an above average speed at 155MB/s read and 150MB/s write.
This compares favorably to other major players within the same price range such as the Corsair Flash Voyager GT 3.0 and Kingston DataTraveler Ultimate. None of the aforementioned competitors were able to manage write speed near 100MB/s so the Triton might be something to look forward to.
The JumpDrive Triton is enclosed in a metal alloy case with high-class mirror finish. There's also a convenient thumb slide to reveal or hide the retractable USB plug. It remains to be seen how the Triton can do in the small file performance tests in which quite a few USB 3.0 drives without a well-optimized flash controller fail to impress. No other software comes with the Triton as far as we know but at least the drive is backed by lifetime (of the company) warranty.