October 2018 Ian Chiu
We put eight 128GB USB 3.1 drives from Corsair, Kingston, Samsung, and Sandisk to test.  These drives are designed to be great at sequential read and write – essential for portable backups and large file transfers.
What are the Best Drives?
---
We've picked eight 128GB flagship USB 3.1 flash drives from first-tier manufacturers for this round-up.  Performance-minded users have a choice between Corsair Flash Voyager GS and Kingston HyperX Savage.  Both are equally good at what they do: sequential read and write.  They are also the only models to offer capacity up to 512GB among our selected drives.  However, between the two, the Kingston is much lighter while offering more or less the same level of physical protection as the Corsair.
The other we picked is the Sandisk Extreme Pro 3.1.  While this drive didn't quite match the sequential read speed of the aforementioned models, it wasn't far behind in other benchmark and it actually managed to excel in small file writes.  The Sandisk additionally comes with a retractable USB connector; aluminium casing; data recovery software; and lifetime warranty.
Feature Comparison
---
Corsair
Flash Voyager GS

Corsair
Flash Voyager GTX

Kingston
HyperX Savage

Kingston
DT Elite G2

Samsung
Bar

Samsung
Bar Plus

Sandisk
Extreme PRO

Sandisk
Extreme Go

UASP?
No
Yes
No
No
No
No
No
No
Movie Read:
(10GB MP4)
365.98MB/s
383.94MB/s
354.52MB/s
251.03MB/s
145.31MB/s
286.44MB/s
283.76MB/s
182.98MB/s
Movie Write:
(10GB MP4)
254.74MB/s
129.19MB/s
270.33MB/s
98.22MB/s
32.78MB/s
41.75MB/s
224.88MB/s
132.38MB/s
Photo Read:
(5GB JPEGs)
236.79MB/s
239.17MB/s
249.93MB/s
154.55MB/s
108.12MB/s
177.72MB/s
213.04MB/s
131.91MB/s
Photo Write:
(5GB JPEGs)
95.96MB/s
89.23MB/s
98.88MB/s
50.73MB/s
24.82MB/s
36.41MB/s
121.81MB/s
65.54MB/s
Storage:
64 - 512GB
128 - 256GB
64 - 512GB
32 - 128GB
16 - 128GB
32 - 256GB
128 - 256GB
64 - 128GB
Dimensions:
78 x 26.4 x 10.8mm
78 x 26.4 x 10.8mm
76.3 x 23.5 x 12mm
59.4 x 19 x 11mm
40 x 12.2 x 10.92mm
40.5 x 15 x 13mm
71 x 21 x 11mm
71 x 20 x 11mm
Color(s):
Black
Black
Black with red accents
Black
Gray, silver
Gray, silver
Black
Black
Interface(s):
USB 3.0
USB 3.0
USB 3.1 Gen 1
USB 3.1 Gen 1
USB 3.1 Gen 1
USB 3.1 Gen 1
USB 3.1 Gen 1
USB 3.1 Gen. 1
Retractable Connector?
No
No
No
No
No
No
Yes
Yes
Build Material:
Zinc alloy
Zinc alloy
Rubberized plastic with aluminium support
Zinc alloy die-cast metal body with plastic cap
Metal unibody
Metal unibody
Plastic body with aluminum alloy
Plastic body with aluminum alloy
Software:
None
None
None
None
None
None
Drive encryption, data recovery
Drive encryption, data recovery
Release Date:
Jan 2015
Jan 2015
Nov 2015
Sept 2017
Sept 2015
July 2018
Jan 2017
Jan 2017
Warranty:
5 years
5 years
5 years
5 years
5 years
5 years
Lifetime
Lifetime
Featured Drives on Amazon
---
Everything USB is reader-supported. When you buy through Amazon links on our site, we may earn an affiliate commission.
Benchmark Analysis
---
From our tests carried out on Nodesoft's DiskBench, both Corsair Voyager GS's and Kingston HyperX Savage's impressive file read transfer speeds clearly put these drives ahead of the competition in our 10GB MP4 file benchmark.  Overall, they were in neck and neck race, offering similar real-world performance.  If exchanging multi-gigabyte files is part of your daily routine, these two will not disappoint.
The next test was involved copying a thousand JPEGs totalling 4.7GB.  This benchmark confirmed the level of performance you can expect when transferring small files in bulk.  Keep in mind manufacturers usually don't advertise benchmarks for small file-sized operations so your mileage may vary.  So, for our test units, we saw the Voyager GS and HyperX Savage continued to lead by a fair margin except for write operations in which the Sandisk Extreme Pro surpassed its rivals by 25 percent in speed.  Still, the Sandisk still lagged behind in read speeds but not by a whole lot.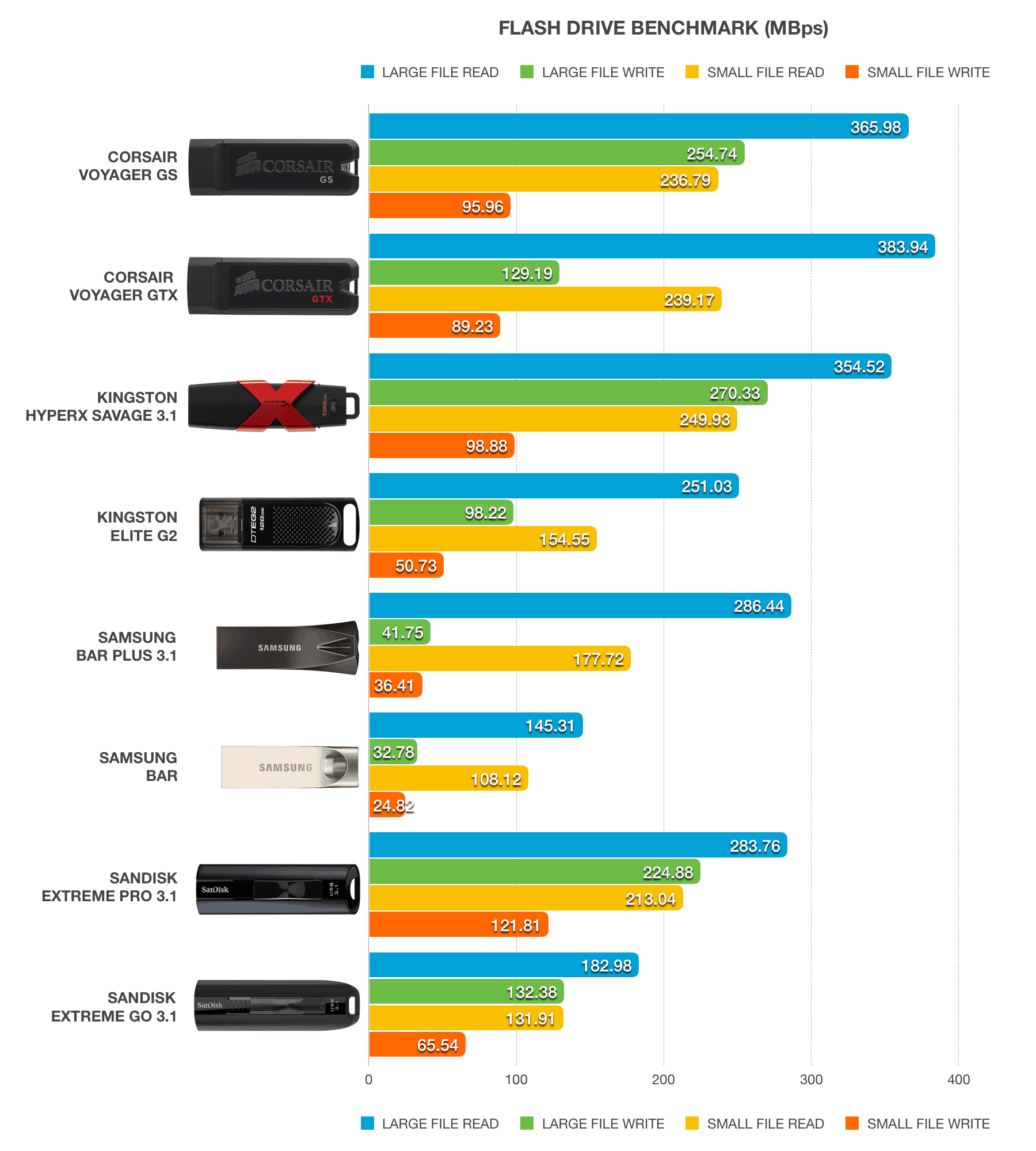 And there's also Corsair's Flash Voyager GTX, which we didn't directly compare with other drives in this round-up.  The reason was that the drive has received a long-needed update to its internals and as of October 2018, we were still waiting for benchmark updates.  It's also worth noting that the GTX is USAP- and TRIM-enabled, meaning the drive is basically an SSD in thumb drive form factor and should excel in IO intensive tasks.  If you don't mind the size (same as the GS), the Corsair's GTX should stand head and shoulders above nearly all competitors.

 Design & Build
---
Design-wise, both Corsair Flash Voyager models are physically identical whose zinc alloy body adds to their toughness as well as weight.  The GS and GTX are clearly built to take a beating, suffice to say.  They should be able to easily survive after a drop or after being run over by a vehicle occasionally.  Our only gripe with the chassis is that it's very prone to scratches which make the drives lose some of their appeals over time.  It's worth mentioning that the Corsair has a wider-than-normal profile which poses a problem to accessing horizontally adjacent USB ports.  Corsair opts for a removable metallic cap that fits snugly with the drive's USB plug – thanks to the cap's rubber seal interior.
Moving on to Kingston, its HyperX Savage 3.0 is more trendy in design with its metallic red X-shaped emblem, which also adds considerable strength to the drive's rubberized body.  We did end up wishing for a better cap.  While it stayed on during our stress tests, it didn't feel very secure.  It could be only a matter of time before the cap slips off.  The other Kingston – DataTraveler Elite G2 – also feels very solid, despite having a rather pedestrian design.
In contrast to Corsair and Kingston, Sandisk's Extreme line-up goes with its the company's tried-and-true USB slider mechanism.  Both Extreme drives appear identical but the Go version is all in plastic whereas the Pro model's outer shell is made with aluminum alloy to improve its durability.  However, the Pro's plastic slider might not be as pressure-resistant as the chassis and could break if it's stomped on.
Lastly, Samsung opts for a unibody for both of its BAR drives.  Going for a minimalist design makes either model only one-quarter the size of the Corsair's Flash Voyager.  The two low-profile drives are largely the same except the Plus model has brushed aluminum and a different keychain hole.  Samsung didn't provide a cap, leaving the USB plug exposed.
 What Else You Need to Know
---
Kingston HyperX Savage is being sold as USB 3.1 Gen. 1 but keep in mind that this mode technically defines a maximum transfer rate of 5Gbps under the new 3.1 specs.  There's actually nothing wrong with that.  Just don't be glamoured by that USB version number since there's no speed improvement by "upgrading" to USB 3.1 Gen 1.
Should you need a thumb drive that can also run Windows or large desktop applications (e.g. games) efficiently, you need something like the Corsair Flash Voyager GTX that supports TRIM and UASP to maximum SSD optimizations and performance.  The other drives still work great as supplemental storage for production system's high-speed SSDs.
While conventional wisdom suggests you buy the fastest drive available, it's best to pick one that matches the speed of system's primary drive.  Otherwise, your primary drive would just become the bottleneck to the flash drive.
If you value smaller drive dimension over speed, mini USB drives are another category of flash drives that doubles as a semi-permanent storage for your laptops.  They are fact an effortless and a much more elegant way to expand space.
For data exchange between a USB-C and legacy USB PCs, dual-headed flash drives are just what you need but speeds don't match the ones featured here.
Featured Drives on Amazon
---

USB Duplicators By Nexcopy
Nexcopy manufactures a variety of PC-based and standalone
USB duplicator
solutions.
The PC based systems use our exclusive and feature rich Drive Manager software with advanced functions while standalone systems are ultra-fast, high speed copiers duplicating gigabytes of data quickly and accurately.