1 September 2021, Comments: Comments Off on Best USB-C Flash Drives with USB-A Compatibility
September 2021 Ian Chiu
We tested five 64GB dual flash drives from Kingston, Samsung, and Sandisk.  These USB 3.2 Gen. 1 drives serve as a bridge between USB-C and legacy USB-A PCs, offering you the best of both worlds. However, if you are looking for single-connector flash drives (either USB-A or USB-C), then this round-up of the latest USB 3.2 flash drives might have what you are looking for. Those drives are mostly faster and more durable.
 Our Picks
---
Out of the five dual-headed drives we tested, the Samsung's Duo Plus and the Sandisk's Ultra Dual are our choices.   The Samsung excels in performance whereas the Sandisk is better suited for everyday use with its solid build quality and USB slider.  You'll notice the write speeds are on the low side.  Having said that, consider these drives to be best for light-duty use.
 What are Dual Flash Drives?
---
Dual flash drives – having USB Type-A and USB-C connectors on opposite ends – are becoming more relevant as more computers and smartphones ship with the reversible USB port exclusively.  They make sure you have readily access to your data on your future-proof USB-C devices as well as giving you backward compatibility on PCs and Macs with good old USB Type-A.  For this reason, it will never hurt to have at least one of these dual-headed flash drives in case you need a quick and easy file transfer solution.
Feature Comparison
---
Pricing is last updated by Amazon on 2022-05-20 at 04:00.  When you buy through Amazon affiliate links on our site, we may earn an affiliate commission.
Benchmark Analysis
---
We carried out our drive benchmarks on two different platforms – Windows 10 Pro running on MacBook Pro (2018) and Android running on Samsung S8 Plus (2017).  Samsung proudly advertises the read speed of its Duo Plus can hit 300MB/s whereas Kingston claims read speed of 100MB/s for its MicroDuo 3C.  Lastly, both Sandisk Ultra Dual and Ultra Dual Go can deliver speeds up to 150MB/s under ideal conditions.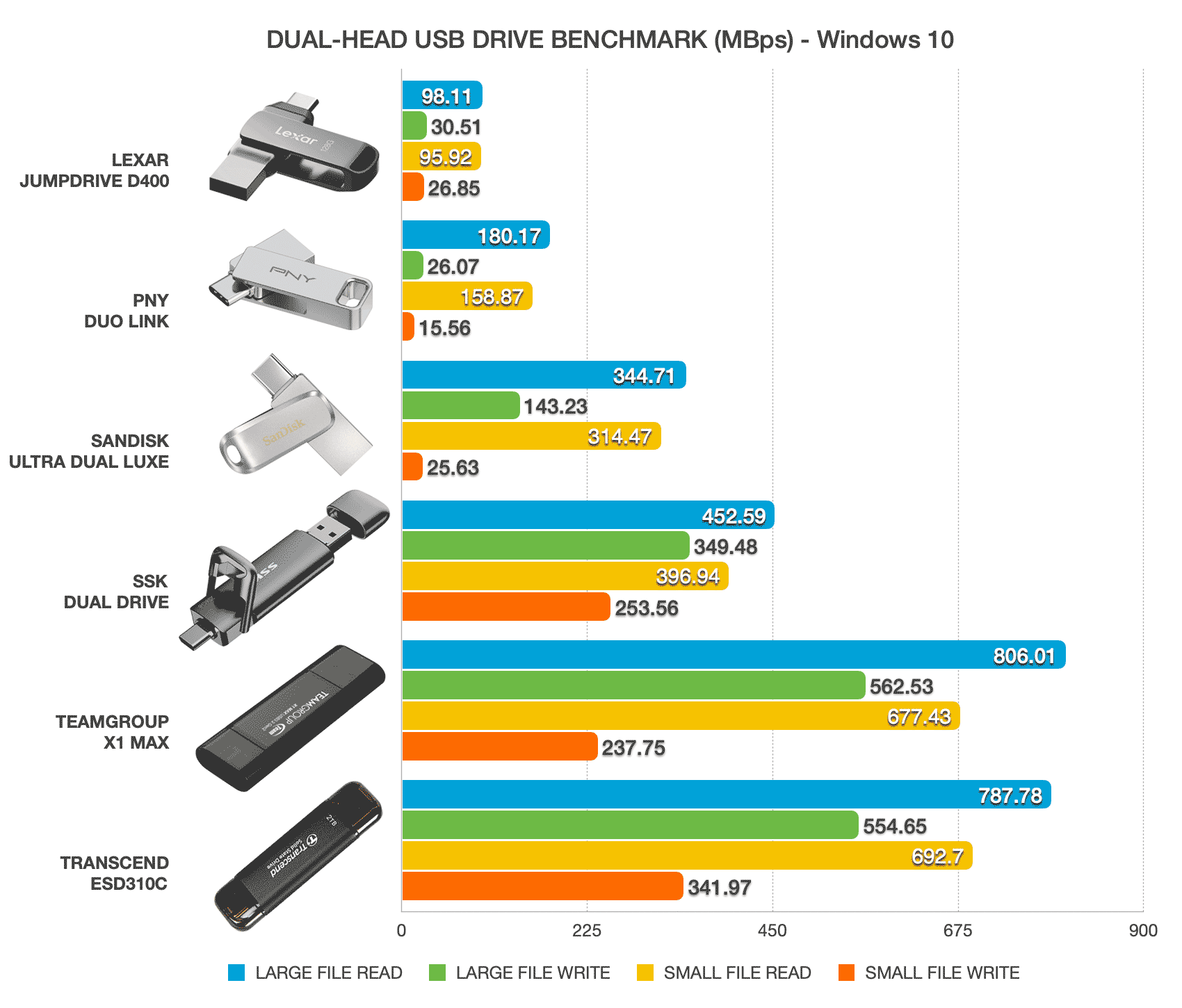 For our PC benchmark, our testing with the USB-C interface involved transferring a 9GB MP4 file back and forth between our MacBook Pro and the drives.  We then repeated the process with a 5GB folder containing 1000 JPEGs.  Tests were carried out on Nodesoft's DiskBench.  From the graph above, the Samsung Duo Plus was clearly ahead of the competitors but the advantages greatly diminished during write operations.  There's also something peculiar to the Kingston DataTraveler Duo as the drive consistently fell short of expectations by today's standards.
Next, we looked into the kind of performance you can expect if you plan on using these dual flash drives for regular photo backups and large video imports on a Galaxy S8.  The Samsung flagship smartphone is equipped with USB-C capable of delivering 5Gbps; though, keep in mind not every Android handset released since 2017 is USB 3.2 Gen 1.  For this set of benchmarks, we repeated the same copying procedures with the same files we used on the MacBook Pro earlier.
From the graph above, the Samsung Duo Plus led by a fair margin across the board, and the Sandisk Ultra Dual is a distant second. It's, however, important to note that all these drives were on the low end of expectations in terms of write speeds by today's standards.
For the record, we did try these drives on our 2021 iPad Pro, but it's a lost cause.  While copying from the flash drives to the iPad was completed in a timely manner, going the other way around was pitifully slow to the extent that we had to unplug the drives prematurely before the transfers were even finished.
Drive Design & Software
---
For heavy use, the Kingston, Sandisk, and Samsung with their all-plastic body are better as we didn't have to wait for the drives to cool down before pulling them out from a USB port whereas, in the case of Sony, we had to wait half a minute or so because these bare drives might get too hot to handle after several minutes of intense I/O operations.
Design-wise, size, and build quality definitely come into consideration.  Kingston, Samsung, and Sandisk are more compact and durable in that respect.  It's worth noting that Samsung's Duo Plus is technically USB-C only as it is bundled with a USB-A adapter that can be pulled out from the opposite end.  There's also a removable cap for the USB-C plug. So you end up with more parts to keep track of during daily use.
Kingston's DataTraveler microDuo 3C, on the other hand, opts for a swivel cap that only protects the USB-C plug while Sandisk's Ultra Dual and Kingston's DataTraveler Duo both pick a retractable connector design, which keeps the drives' razor-sharp edges from puncturing your jean pockets.
Keep in mind only Kingston's microDuo 3C and the Sandisk's Ultra Dual Go are compatible with Android smartphones in a protective case.
On the software side, the Sandisk provides its own Android backup and file management app.  We didn't have any luck getting our Sandisk Ultra Dual recognized by the company's Memory Zone app on our Samsung S8+.  Since there's already an abundance of third-party file browser apps on the Google Play Store, you should have plenty of options when it comes to managing files on your USB drives on an Android smartphone or tablet.
 Best Deals Online
---
Pricing is last updated by Amazon on 2022-05-20 at 04:00.  When you buy through Amazon affiliate links on our site, we may earn an affiliate commission.

USB Duplicators By Nexcopy
Nexcopy manufactures a variety of PC-based and standalone
USB duplicator
solutions.
PC based systems support advanced USB functions such as write protection, CD-ROM partition and multi-partition creation, while standalone systems are ultra-fast, high speed USB copiers duplicating gigabytes of data quickly and accurately.