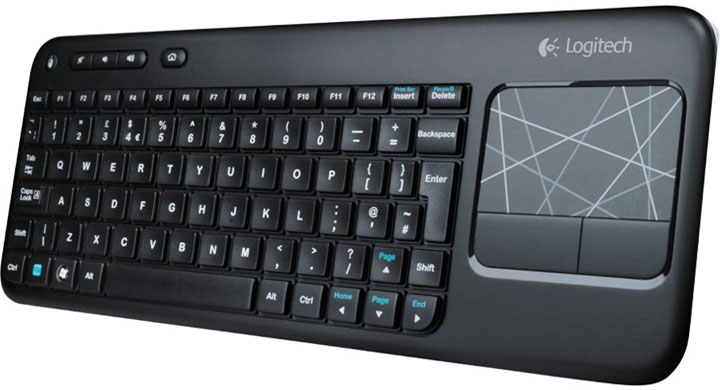 In Logitech's continuing quest to provide as many possible solutions for all your HTPC needs comes word of the all new Logitech K400 Wireless Touch Keyboard. This all new keyboard is not only compact and stylish, but also stores standing up so as to not take up as much room as it would otherwise in your cluttered living room. To help make sure that you can actually use the Logitech K400 when not even remotely close to the Unifying USB receiver and system, the keyboard has a wireless range of 10m. Add in a one year estimated battery life and you do have a keyboard meant for the living room and not your typical workstation environment.
Helping to reinforce this notion of it being a HTPC keyboard first and foremost, Logitech has also included a large 3.5″ multi-touch capable touchpad. This coupled with the K400's built-in multimedia keys makes a wireless mouse or trackball redundant for your HTPC setup. The only area where the K400 may not be perfect is the fact that while the keys have large and bold lettering, they are not illuminated, unlike the IOGEAR and Lenovo N5902. In a darkened living room, the bold white lettering will not do you all that much good. So, the K400 isn't exactly ideal for using under low lighting conditions.
Though with a reasonable price of only $49 MSRP and a three-year warranty, we think the K400 may just be appealing in times like these. No word on exact North American release date is known at this time.