July 2009 R. Scott Clark
Retractable Plug Design
---
After being subjected to criticism over the Cruzer Contour's bulky design, SanDisk has opted to revert back to a slim form factor for the new Ultra Backup. In many situations the drive will no longer block adjacent USB ports from being used, although some tightly packed configurations such as the front USB ports on my SilverStone TJ05 computer case or Belkin 7-Port Plus Hub make it so that I may only plug in the smallest of plugs next to the flash drive without fear of breaking the ports themselves. In vertically-stacked configurations the Ultra Backup drive poses no hindrance so long as it's using the topmost port.
The Ultra Backup's matte black paint is contrasted by an aesthetically pleasing glossy trim with smooth curving lines, but is ultimately marred by fingerprints and light scuffs from so much as a fingernail. Accenting the design is a dark orange pulsating activity light and a bright USB connector insert. Compared to SanDisk's Cruzer Micro drives, the lightweight casing feels rather hollow, even moreso compared to the Cruzer Titanium, so I wouldn't imagine that it'd hold up against the crushing forces of my SUV particularly well.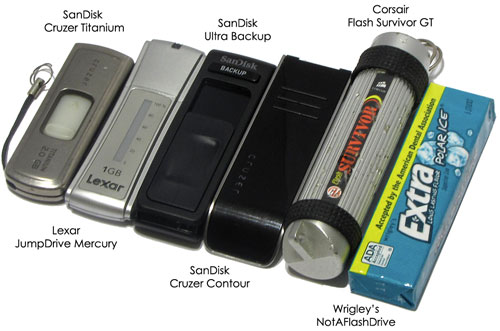 Improvements over SanDisk's flagship Contour line include the return of the lanyard hole for strapping on to necks and keychains, and a sliding retractable USB connector that can be operated with only one hand. The packaging is devoid of any lanyard, pouch or keychain attachments, a major disappointment considering the price of the drive. One might then argue that the pricing premium is better spent on the drive's sole distinguishing feature: an actual backup button located just above the slider. I say give us both.
U3 – Love It or Leave It
---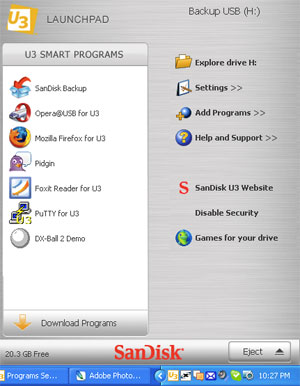 Like most of SanDisk's flash drives currently on the market, the Ultra Backup features their proprietary U3 portable application platform – a brilliant idea that has been riddled with stagnation and some criticism for being considered intrusive. We host a U3 primer for newbies here at Everything USB, but in a nutshell the flash drive pretends to be a CD-ROM in order to jump-start Windows' Auto-Run feature. From there the U3 LaunchPad is loaded, acting as a host to portable applications meant to be ran off the drive rather than installed on the host computer.
Ideally, these portable U3 apps should leave no traces with personal information behind in the file system or Windows registry, though non-identifiable traces do remain. For students, library members and cyber cafe patrons, U3 was seen as a breakthrough technology; one that I have heavily advocated in the past. Road warriors can hop from one computer to another, keeping their productivity suites, games and various utilities with them at all times.
Innovation aside, many have complained that U3's use of two drive letters, potential incompatibility with embedded devices, and use of the Auto Run function make U3 more of a nuisance than it's worth compared to newer competing platforms like John Haller's PortableApps freeware suite. To be fair, not all embedded devices are dumbfounded when presented with a U3 drive; though photo kiosks are often incompatible, a Sony Xplod car stereo reads U3 drives just fine. What really hurts the U3 platform though is that many applications still on the U3 portal haven't seen any updates in years! For example, at least four of the top ten U3 apps – Firefox, Thunderbird, Skype, and OpenOffice – were last patched in 2007 and are left wide open to a number of security flaws that have since been addressed. The delivery of some of these applications through the U3 Software Portal is also a joke since many are hosted on RapidShare; nothing quite surpasses the joy of waiting for my downloads to start.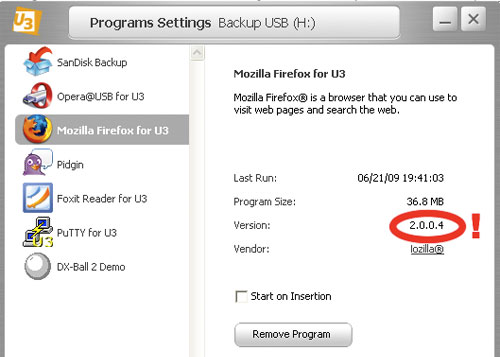 Currently I'm of the opinion that the only saving grace of U3 is its ability to prevent the data partition from being mounted until a password is entered, and even that can be a bit of a hassle. The secure-all or secure-none approach taken by SanDisk is ham-fisted compared to dual-partition or encrypted file volume setups, rendering the drive inaccessible on Linux computers, embedded devices and more if left protected. Macintosh users are no longer excluded from accessing the secure volume, however, having finally received password utilities and an uninstaller for U3 that work on OS X 10.4 and 10.5, though these do require installation on the host machine and aren't ideal for a Mac computer lab. At least Windows users will enjoy being able to secure data on the go without administrative rights.
Data stored on the Ultra Backup drive is protected by more than just a password though; according to SanDisk, each drive generates a unique key used to secure each and every file with 128-bit AES encryption. The entire process is transparent to the user and handled by the drive's hardware controller, not affecting read or write speeds in the slightest. This layer of encryption means that one cannot simply take the flash memory and solder it onto a non-U3 drive to bypass the protection.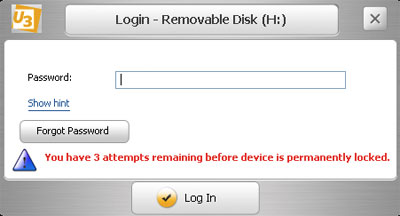 Most importantly, the U3 flash drive will self-destruct if an invalid password is entered 5 times in a row, presumably by deleting the encryption key and generating a new one. After that, the drive requires erasure before it could be used again. Testing this, I can confirm that all files are completely obliterated in the process; I was unable to find a single scrap of data in my suite of file recovery software.
Backups by Dmailer
---
As stated earlier, the one feature that sets the Ultra Backup apart from SanDisk's other UFDs is it's backup button, similar to the one-click backup buttons traditionally found on a variety of external hard drives. This button is linked to the pre-installed SanDisk Backup application, serving as a positive reinforcement of performing on-demand backups more frequently. SanDisk Backup is actually a re-badged U3 version of Dmailer Backup v.2, but without AES encryption and the ability to backup to locations other than the flash drive itself. I personally would have liked to see the software encryption feature kept intact so backups stored on the drive would remain secure even if U3's password security weren't enabled, but alas this is not the case.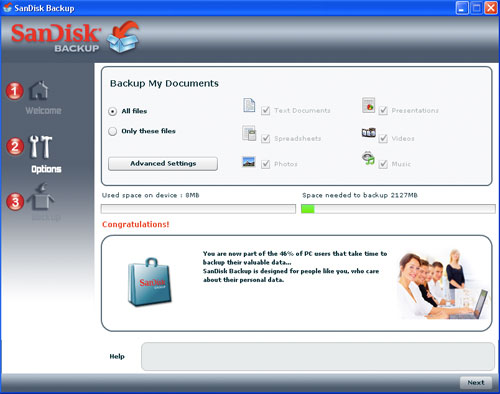 Configuration is a cinch; at a minimum, only the file selection needs to be configured for on-demand backups. Files and folders can selectively be included or excluded from the backup, and Dmailer has also included the ability to select files based on their modified date, file-type (music, photos, text documents, etc…) or explicit file extension. It's even possible to tell the program to include every file under a certain size, guaranteeing that a stash of funny videos won't preempt vital tax records from being backed up.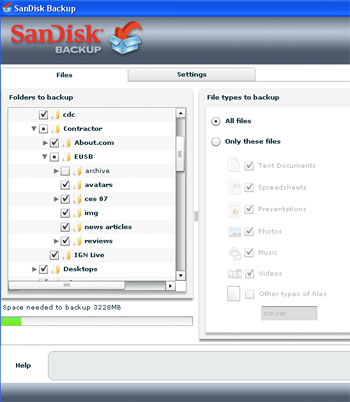 By default the program will only backup files on demand, however it is possible to configure SanDisk Backup to run a backup as soon as the drive is inserted. SanDisk Backup can also perform live backups that will actively monitor the file selection on the host computer and then back up those files as they're changed, one of my favorite features in backup software. File versioning is integrated into the software and enabled by default, so up to ten past revisions of a file are kept in case of corruption or accidental modification.
Restoring the most recent version of a backed up file can be done through Windows Explorer or the Dmailer interface, while older versions must be restored through the cumbersome Adobe Flash interface; only one file or folder may be restored at a time and the interface has a tendency to feel sluggish. Despite these setbacks, I feel that SanDisk Backup is one of the better backup utilities that I've tested when it comes to ease of setup and features that consumers will actively use.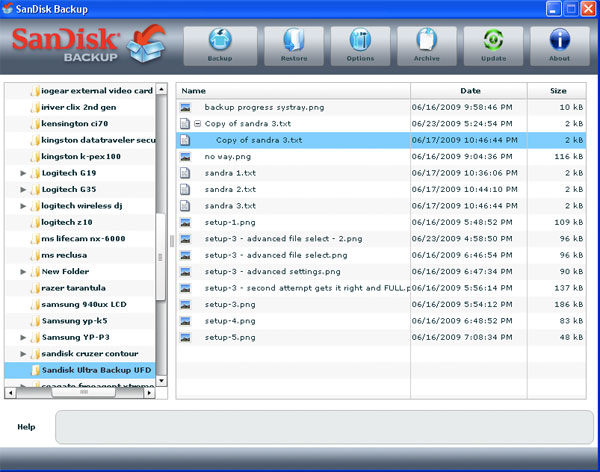 Performance
---
All benchmarking tests detailed below were conducted on drives connected directly to the computer, one at a time, with no other USB devices plugged in except the keyboard and mouse. My testbed consists of an Intel P35 motherboard with an ICH9 southbridge, a dual-core processor clocked at 4.0GHz, 4GB of memory, and Windows XP 32-bit with Service Pack 3. All drives are formatted as FAT32, the factory default.
Running the 32GB Ultra Backup through SiSoftware Sandra 2009's Removable Storage benchmark, I found the drive to have moderate read speeds and above average write speeds in all of the tests performed, peaking at 25.6MB/s and 17MB/s read and write speeds respectively. As could be expected, these numbers dropped during transfer of smaller files, respectively hitting 13.6MB/s and 1.1MB/s read and write speeds during the 32KB trial. Though not as fast as the smaller, premium flash drives on the market such as the Corsair Flash Survivor GT, these results show that SanDisk's Ultra Backup has more than sufficient horsepower where it counts – writing data.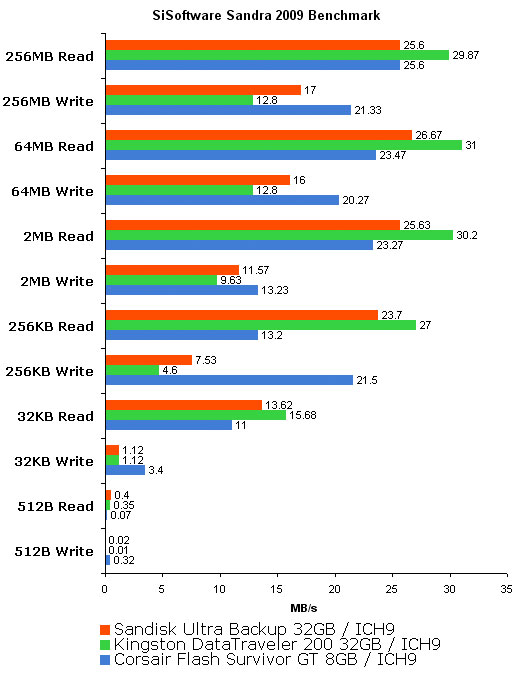 In a real world backup scenario, I found that the Ultra Backup took about 15 minutes to analyze and perform a full backup of all my important files. With over 3.2GB of data spread across 2,933 text documents, pictures and ZIP archives, that equates to roughly 3.6MB/s. Since all subsequent backups are differential in nature, in day to day use I discovered that I only had to wait on the drive when transporting large video clips or whenever the U3 launchpad was starting from insertion. No surprises there.
Recap
---
The SanDisk Ultra Backup USB flash drive benefits greatly from intuitive live backup software, fast write speeds, and a non-obtrusive design with a retractable plug. Though it's a bit of a gimmick, I did find the backup button to be a positive reinforcement of keeping my backups current. I also applaud the inclusion and speed of the drive's hardware AES encryption, but am disappointed to see it tied to U3's overzealous secure-all-or-secure-none feature since that renders the drive unusable outside of a Windows environment.
Moreover, it seems stingy of SanDisk to skimp out of including so much as a lanyard when the drive costs over $100 (price of 32GB as of this writing), and I can't help but feel sorry for all the users who would pay this outlandish cost when the same drive can be had for less than half the price online. Until SanDisk fixes their pricing and resuscitates U3, I can't say I recommend this one.