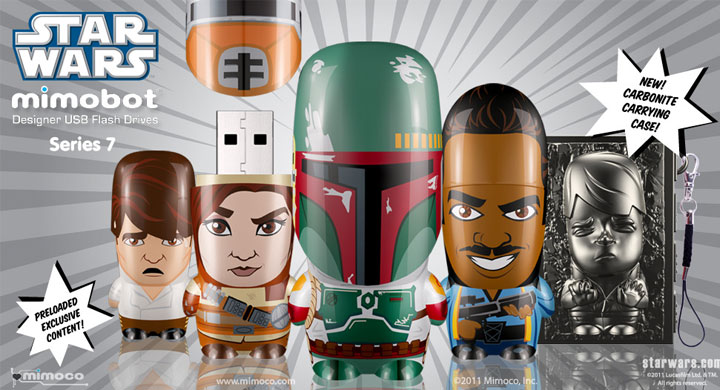 It seems that MIMOBOT's Star Wars collection just keeps getting better and better with each new series release. The recently announced series 7 not only ups the capacity range from a maximum of 16GB to 64GB, but also for the first time ever you can get some of the characters that are not part of the series until now.
One of the most iconic moments of the movie Return of the Jedi was Han Solo going for a Carbonite dip. Now, not only can you own a Han Solo MIMOBOT, but also put him in "Carbonite" whenever you wish as it comes with a special keychain accessory that encases Han Solo in a sculpted plastic protective case. Perhaps maybe it's plastic and not Carbonite, but it still is impressive nonetheless and should illicit a "Squee. " from any hardcore Star Wars fan that.
If you are more a Boba Fett fan, you too will love the fact that this character has finally gotten the recognition he deserves and has been reissued in Return of the Jedi styling, with a new battle-scarred suit and more upgraded scowl. For the lady Star Wars geeks, Mimoco has added Princess Leia disguised as the bounty hunter Boushh. Also included in this series are Lando Calrissian and bounty-hunter Bossk MIMOBOTs. All in all, these new characters are shaping up to be another great additions to the 4-year old Star Wars MIMOBOT series. They are available now with prices ranging from $22.95 (2GB model) to $119.95 (64GB model).