14 March 2016, Comments: Comments Off on Transformers USB Gadgets: More Than Meets the Eye
March 2016 Ian Chiu
Thanks to Hollywood, the revived Transformers franchise has brought overwhelming tie-in merchandise. You will find these gadgets – based on both the live-action films and the animated series – more than meets the eye.
Dinobots Transform into Mouse and Thumbdrive
---
This line of Transformers-inspired USB gadgets from Japanese-based company Takara Tomy is quite cleverly conceived. Mice and flash drives can actually transform into robotic beasts. There are 5 different models in total. The 2 mice are modeled after Grimlock and Trypticon while the other 3 flash drives are Ravage, Cheetus, and Tigatron.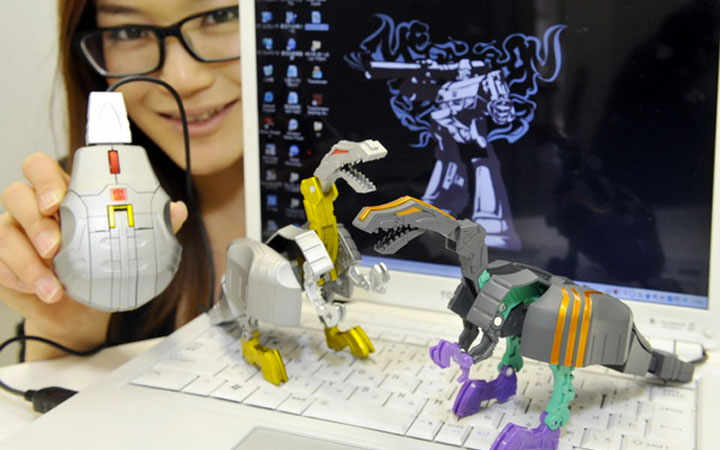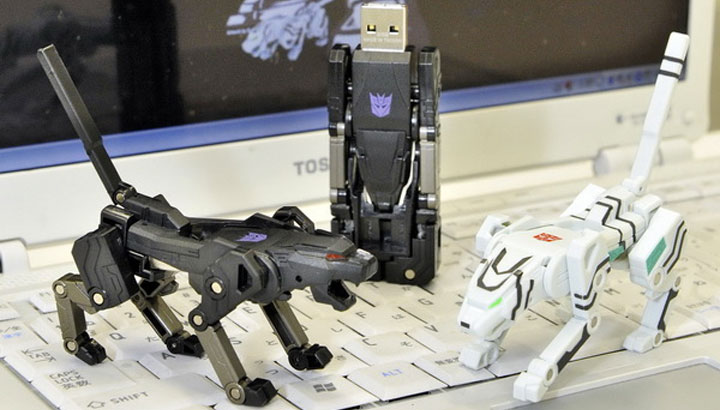 There's nothing more to be said. These are likely among the most highly collectible items. They all date back to 2009 and unfortunately, are long out of production. Trying to find one isn't going to be easy and even if you do, they probably won't come cheap. When they first hit retail back in the days, they were already listed for $60 each. Imagine how much they are now.
Show Your Love for Autobots
---
Having one of these in your room shows how much of a fan you are for Transformers.  In the distressed metal finish, the USB-powered LED in the form of an Autobot emblem stands out as a stunning bedside light, not to mention it gives a soft, ambient glow.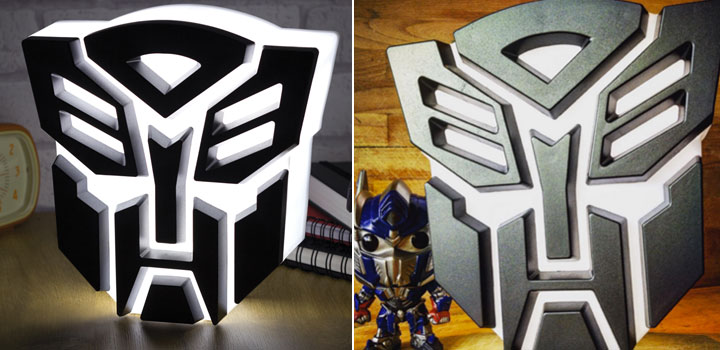 The approximate size of the light is 20 x 19 x 7cm.  Available at Paladone, the strikingly good-looking Transformers-inspired accessory retails for $14.99 but requires a minimum order quantity of 6.
Optimus & Bumblebee All Chopped Up
---
These four Transformers flash drives were conveniently timed with the theme of the Age of Extinction – the fourth installment in the Transformers' cinematic series.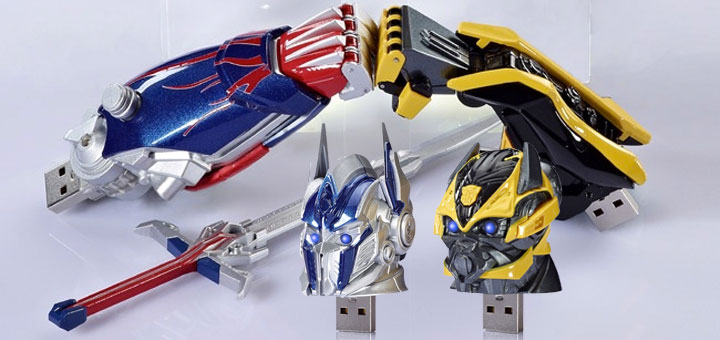 A good portion of the nearly three-hour snore-fest deals with humans cutting up Autobots for parts, so having these drives shaped like either the head or arm of Optimus Prime or Bumblebee actually makes twisted sense. When plugged, the pair of eyes turn into an activity light. None of them unfortunately is USB 3.0 so move on if you want something functional as well as decorative.
Bring Home Your Own All Spark
---
The one and only one All Spark is all but destroyed when Sam Witwicky drives the cube-shaped ancient alien artifact into Megatron's chest at the end of the first Transformers live-action film. The sequels, however, no longer show the cube being reconstructed. At least you can get your own All Spark USB hub (if you can still find it).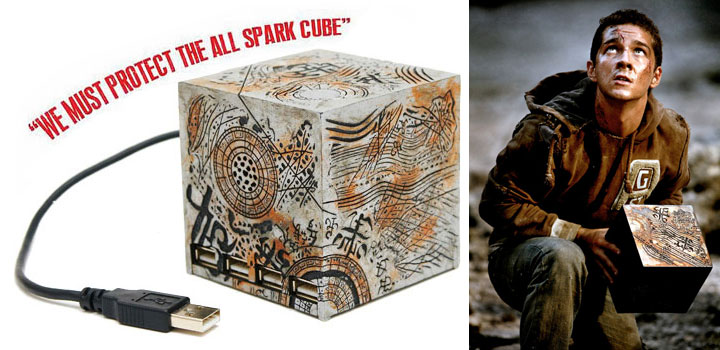 The 4-port hub – released in 2008 – is so oversized for what it does, but its shape and weight keeps the unit from tipping over. In addition to its great details, the hub will even spout off the phrase "We must protect the All Spark Cube" every time you plug in a USB device.
Autobots & Deceptions Double as Bottle Opener
---
Again from Infothink, this pair of drives aren't the most intricately detailed item we've ever laid eyes on. They are, however, may feel the best in your pocket with just about the right weight and die-cast metal body.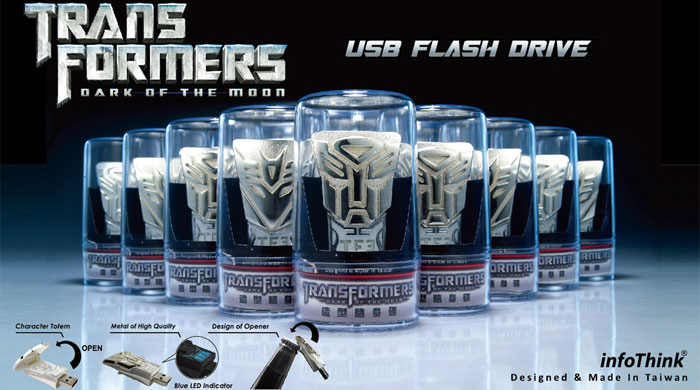 Design-wise, the top of the metal Autobot or Decepticon emblem flips up to reveal another insignia beneath. The body of the drive glows blue when the drive is being accessed. The rigid drive can also double as a bottle opener when needed. Both drives were shipped in 2011 to coincide with the film release of TF: Dark of the Moon.
Original Truck & Pistol x MIMOBOT
---
Our favorite themed flash drive maker Mimoco in 2011 launched a pair of frenemies on USB sticks, Optimus Prime and Megatron. This flash-back from the 80s immortalizes the original Truck and Pistol versions of the cartoon heroes prior to the movie reimaginings.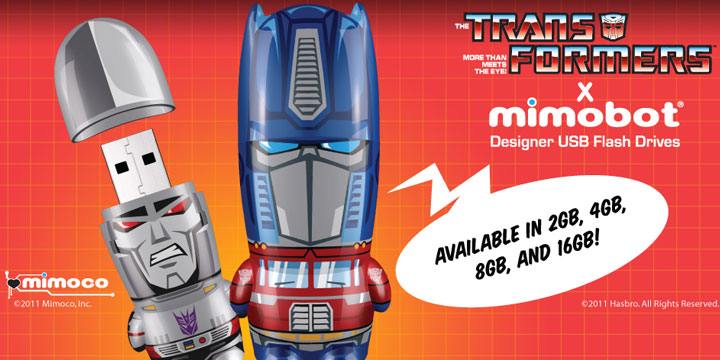 They also come loaded with Mimoco's most extensive distribution of digital content. Pre-loaded media includes screensavers, comics, icons, wallpapers, and more. The drives are still only USB 2.0 but flash drives that bring back such fond memories don't need to be fast.
If you enjoy this, make sure to check out other USB gadget round-up for Marvel, DC Universe, Star Wars and Star Trek.

USB Duplicators By Nexcopy
Nexcopy manufactures a variety of PC-based and standalone
USB duplicator
solutions.
PC based systems support advanced USB functions such as write protection, CD-ROM partition and multi-partition creation, while standalone systems are ultra-fast, high speed USB copiers duplicating gigabytes of data quickly and accurately.