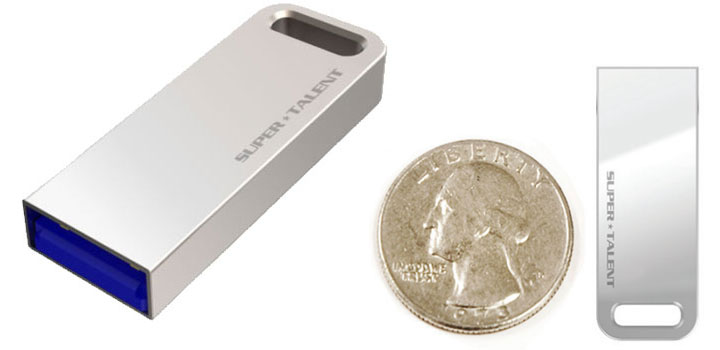 Ask any tablet owner in need of additional storage and they will tell you that 'miniaturized' USB flash drives have been around for some time now and that they are pretty much the epitome of a dime a dozen. There are, however, 3 things which make the Super Talent USB 3.0 Pico anything but mundane.
Firstly, most ultra-small drives have very limited capacities and finding any above 32GB is nearly impossible; the Pico, however, comes in 16GB and goes all the way up to 64GB. Yes, Super Talent has finally been able to offer mega-capacity drives without increasing the form factor. In fact, the USB 3.0 Pico – measuring at 4.6 x 12.3 x 33mm – is not much larger than a nickel.
Additionally, by combining as many electronic components as possible, Super Talent has been able to craft a pico-sized drive with equally impressive performance (72MB/s read). By themselves, these two features are sure to make the successor to the original Pico (USB 2.0) series a hit. Super Talent has also not skimped on the chassis.  Instead of plastic and an exposed USB port common to mini-drives, the new USB 3.0 Pico is fully enclosed in aluminum with a lanyard hole at the end so you can store it on your keychain, making it both durable and water resistant. The only potential sticking point is pricing and unfortunately that is an unknown at this time.