16 October 2022, Comments: Comments Off on Five Fastest USB 3.2 SSDs Compared
October 2022 Ian Chiu
External SSDs have rapidly overtaken HDDs as the preferred choice when it comes to mobile storage solutions for Macs and Windows PCs. Not only are they more durable compared to portable HDDs, but also competitively priced for their speeds and capacity. In this round-up, we have included five USB 3.2 SSDs from Crucial, Kingston, Samsung, Sandisk, and Western Digital. These 1TB USB 3.2 SSDs offer universal compatibility with every Type-A and Type-C port. At the same time, they deliver a combination of stellar performance and affordability unrivaled by even high-end thumb drives.
The Best USB 3.2 SSDs
---
Between these USB 3.2 SSDs, we have to pick Sandisk Extreme V2 for its exceptional performance consistency. The drive outperformed the rest of the pack in our stress test when other SSDs didn't fare so well after their respective SLC cache was saturated. Additionally, it comes with 256-bit AES full-disk encryption and is backed by a generous five-year warranty.
If you are fine with working within the limit of the SLC cache, both Crucial X8 and Kingston XS2000 offer better small file read performance than Sandisk Extreme V2. Kingston also is the most compact SSD of the pack and is capable of 20Gbps USB 3.2 Gen 2×2 connectivity provided you have a Type-C port that supports it.
Current State of USB SSD Market
---
Industry-wide adoption of USB 3.2 Gen 2×1 (10Gbps) means SATA-class SSDs maxing out at 550MB/s can no longer catch up to USB. Since 2020, we've seen the inevitable shift to blazingly fast NVMe on mobile SSDs.
As for 2022, nearly all shipping USB-based SSDs are now NVMe SSDs paired with a USB 3.2 Gen 2×1 to PCIe 3.0 x2 bridge chip. Our real-world benchmark shows the latest batch of USB 3.2 SSDs can handle heavy lifting with speeds of 700 to 800MB/s yet the external interface remains a bottleneck for PCIe Gen 3 NVMe drives. Nonetheless, the performance leap is still impressive.
While USB 3.2 SSDs are predominantly Gen 2×1, a rare few come with a Gen 2×2 (20Gbps) interface. But unless you are building your own rig, those ports are hard to come by. You're better off investing in a USB4 SSD if you are into future-proofing your equipment. In fact, it will be far easier to find a laptop with USB4 than one with USB 3.2 Gen 2×2 in a few years' time since USB4 is already baked into Thunderbolt 4 and the latest AMD Ryzen powerhouse laptops also come with the latest variant of USB.
Feature Comparison
---
Pricing is last updated by Amazon on 2023-06-02 at 22:06.  When you buy through Amazon affiliate links on our site, we may earn an affiliate commission.
Sequential Benchmarks
---
For the intended purpose of external SSDs, our focus was on sequential read and write performance as most users will primarily use these drives for moving large files.
Benchmark tests were carried out on Nodesoft's DiskBench to compare read and write speeds between different USB 3.2 SSDs on a 2018 15-inch MacBook Pro. The port being used supports Thunderbolt 3 with USB 3.2 Gen 2×1 (10Gbps) compatibility. Our test files comprised 40GB of MPEG-4 movies and 10GB of JPEG photos.
Three types of drives based on NVMe-, SATA- and UFD-based SSDs were tested. They belong to either of the first two categories. All the NVMe-based models are based on ASMedia ASM2362 USB-to-PCIe x2 bridge with support for USB 3.2 Gen 2×1 (10Gbps). Kingston XS2000, in contrast, employs Silicon Motion SM2320 single-chip USB 3.2 Gen 2×2 solution that eliminates a bridge controller to reduce cost and size. Hence, said SSD is classified as UFD, short for USB Flash Drive.
It's worth emphasizing Gen 2×2 (20Gbps) ports aren't commonly found on PCs. So, you might not be able to enjoy the performance boost of an SSD that supports the dual-lane USB 3.2 mode unless your PC comes with such a port. Likewise, if your PC only provides Gen 1 (5Gbps), those ports would also become a bottleneck when paired with any NVMe-based Gen 2×1 (10Gbps) portable SSDs.
Lastly, to get a sense of how fast these USB 3.2 SSDs have become, we also threw the last generation of SATA-based USB SSDs into the mix. The graph below labels the type of interface (i.e. NVMe, SATA, UFD) being used in each of the models so everything should be self-explanatory.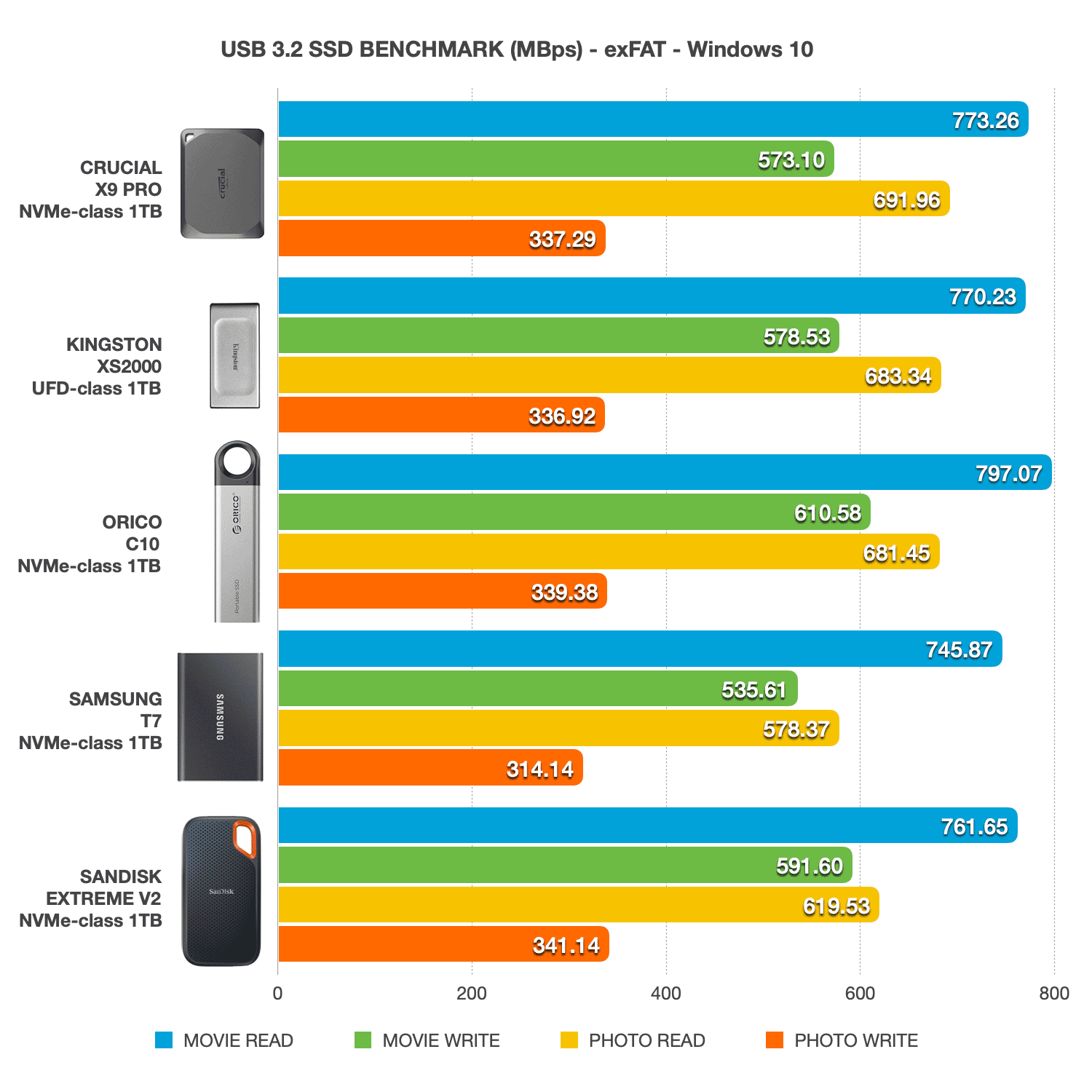 Comparing these sequential transfer rates, Crucial X8 and Kingston XS2000 apparently have an edge over Samsung T7. The difference is more profound in small file read operations. Sandisk Extreme V2 is also holding its own against competitors with a slight advantage in write performance. However, Western Digital WD_BLACK D30 – a console drive made for Xbox – comes in the slowest. That said, it probably wouldn't matter anyway due to the fact that the USB 3.2 Gen 2 SSD is bottlenecked by 5Gbps USB ports onboard Xbox Series X/S.
SLC Cache Stress Test
---
When it comes to flash storage devices, performance consistency is of paramount importance. These external SSDs only live up to their manufacturers' claimed write speeds when files are written into the drives' SLC cache. However, once the cache has been exhausted, incoming data goes directly into the native QLC or TLC area. For denser and slower NAND like QLC, this can wreak havoc on writing performance.
The size of the SLC cache varies from drive to drive. Even within the same model, larger capacity drives have proportionally larger allocations of cache than smaller ones. For that reason, it's worth putting the SLC cache size and the post-cache write performance of these SSDs into comparison. For the purpose of this test, we copied a 200GB folder with an assortment of movie files ranging from 5 to 10GB to our 1TB SSDs. We continuously monitored for any irreversible trend of performance loss during the course of the transfers. The results are organized in the table below.
Crucial X8 1TB has a proportionally larger SLC cache than the other tested external SSDs, and that's for a good reason. Being a QLC drive, it is inherently slower in native write performance as post-cache writes beyond the cache limit came in at just 90MB/s. Having a massive 180GB of cache certainly helps.
Kingston XS2000 1TB began at 550MB/s until post-cache write fell to 60MB/s after the 96GB mark. Its SLC cache did make partial recovery because write speeds started picking again and eventually hit 300MB/s. However, the drive fell into another cache cliff after what appeared to be another cache saturation. The cycle repeated itself until the completion of the transfer.
Samsung T7 1TB was able to maintain around 525MB/s up to the 40GB mark. After that, there's a noticeable drop in write performance to between 380 and 420MB/s.
Sandisk Extreme V2 1TB has a relatively small SLC cache followed by a steady direct-to-TLC write throughout the transfer process. The same can be said for Western Digital WD_BLACK D30 except there's still a noticeable cache cliff that dragged down performance by as much as 56%.
Build & Durability
---
Every drive featured here, save for Western Digital WD_BLACK D30, is compact enough to fit easily into a pocket. To put their relative size into perspective, Crucial X8 is twice as long as an Apple AirPod Pro case. The SSD is also half an inch and a full inch longer than Sandisk Extreme V2 and Samsung T7 respectively. As the smallest of the bunch, Kingston XS2000 measures just 70 by 33 by 13.5 mm.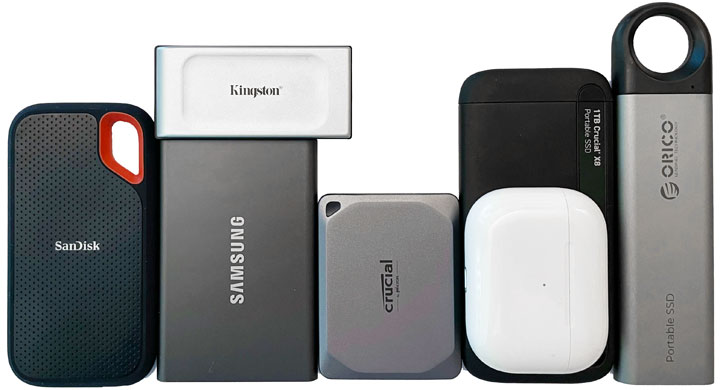 As for the WD_BLACK D30, Western Digital apparently designed the drive to complement gaming consoles so it wasn't built with portability in mind. WD_BLACK D30 curiously has a very thick body with its casing 5 times thicker than that of the Samsung T7. The company probably made that decision to give the SSD more room to dissipate heat.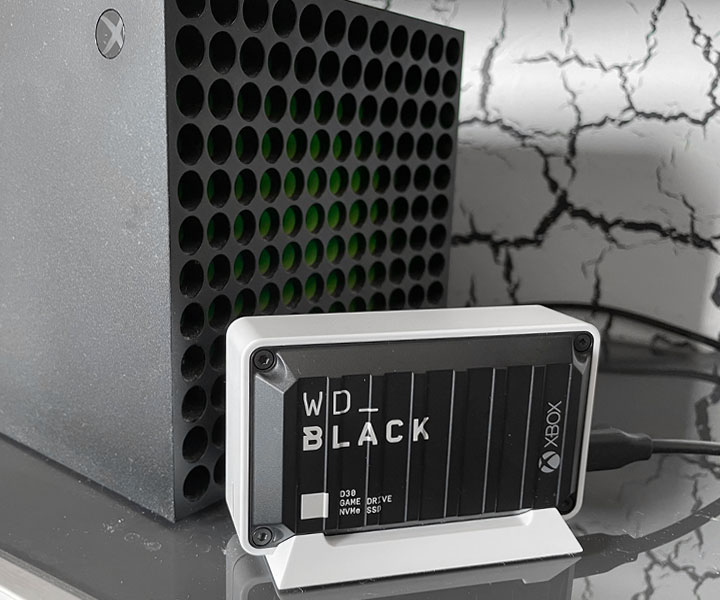 As far as durability goes, the tested drives fared similarly. Kingston XS2000 comes with a very reassuring rubber sleeve that wraps around the drive for drop protection while Sandisk Extreme V2 has a silicone coating that provides impact and scratch resistance. Not only will they survive a 2m drop, but also likely hold up without a dent or scratch. Our only gripe with Extreme V2 is the use of flimsy plastic on the front panel, which is certainly a weak spot structurally.
In comparison, Samsung T7 with its aluminum unibody case feels very durable on hand. The SSD is tested for drops of up to 2m; however, dropping it onto a hard surface will surely leave a dent in the body. The drive could use a silicone case or bumper that helps to hold up to everyday wear and tear.
Crucial X8 is enclosed in an anodized matte aluminum body with plastic end caps coated with a thin layer of rubber. Solid construction combined with shock absorbers ensures data survivability in case the drive is dropped (up to 3m) or stepped on. Having said that, the caps probably won't last for long if the drive is dropped repeatedly.
SSDs in general are pretty resilient to drops but they are still vulnerable to splash and dust. Kingston XS2000, Sandisk Extreme V2, and Samsung T7 are rated for IP55 so they have been tested for dust- and water-jet proof – to a certain extent.
We chose not to rate the durability of the Western Digital WD_BLACK D30 as it is an all-plastic affair. We made it an exception since it's meant to sit next to a gaming console and will probably stay there without the need to be moved around regularly.
Best SSD Deals Online
---
Pricing is last updated by Amazon on 2023-06-02 at 22:06.  When you buy through Amazon affiliate links on our site, we may earn an affiliate commission.

USB Duplicators By Nexcopy
Nexcopy manufactures a variety of PC-based and standalone
USB duplicator
solutions.
PC based systems support advanced USB functions such as write protection, CD-ROM partition and multi-partition creation, while standalone systems are ultra-fast, high speed USB copiers duplicating gigabytes of data quickly and accurately.