22 March 2020, Comments: Comments Off on USB Gadgets That Make Your Cubicle Life Easier
March 2020 Ian Chiu
We have gathered more than a dozen office accessories that will help you to keep cool during summer heat, to relieve your work stress, and to revamp your cubicle so you can get through the day easier.
Dual-head Fan
---
Many of us at work still very much rely on old-fashioned fans to keep ourselves cool. Let's face it. We can never reach a consensus when it comes to office temperature. It is for this reason USB fans continue to sell like hotcakes during every summer. Here's the latest generation, which in many ways are superior to anything out there to date.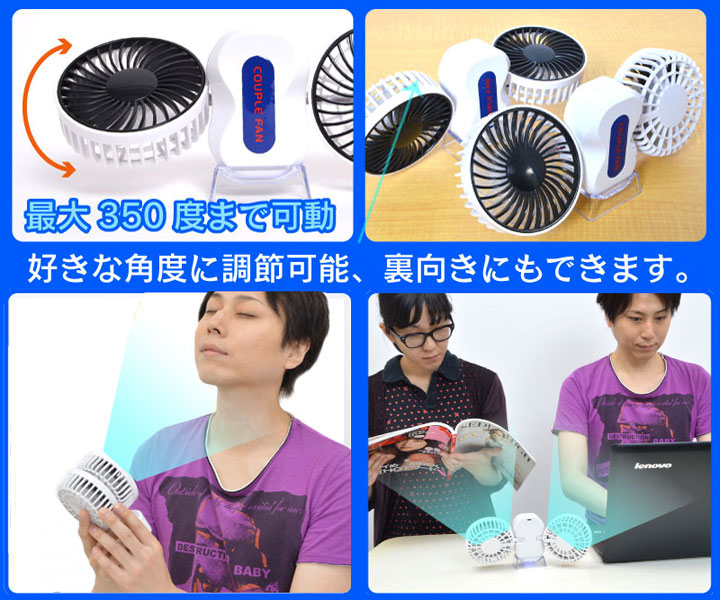 First and foremost, you will find two fans, which can be rotated independently. Your colleague sitting next to you can adjust the direction of the fan closet to him to his or her liking. You can also have one fan pointing front and the other facing back so the person sitting on the other side can also enjoy the light breeze. Better still, you can fold both fans together so you can get a stronger breeze. The 240g dual-head fan can be powered via USB, which at same time recharges the 1200mAh Li-ion battery. A full charge can last for 2, 3.5, and 5.5 hours at high, medium and low fan speed respectively.
Stress Ball
---
Stress level at work has gone through the roof? Don't freak out, let it out. Everyone needs a way to let off stress from time to time. Unfortunately, those little gel balls don't squeal when you squeeze them and those little whack-a-moles don't cry or do anything truly wrath-satisfying when you need it.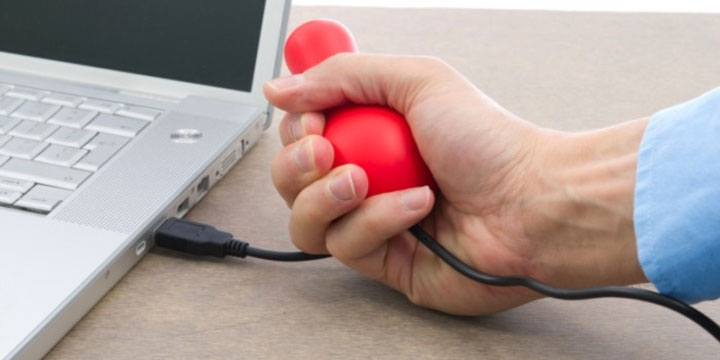 Dream Cheeky has something to help try and get your blood pressure just a little bit lower. The USB Stress Ball offers 2 more dimensions to vent your fury. This cubicle toy offers more than just a punching game you can strangle, smash, squeeze and twist it and see your power with some onscreen feedback of your strength and rage. So, if an hour of Halo isn't enough to calm your nerves plug one of these in before that big vein in your head pops.
Head Massager
---
While it may look like a helmet from the movie TRON, the latest crazy gadget from Thanko is, in fact, a USB-powered head massager. As the name suggests, this 434g plastic helmet wraps around your head and applies vibration therapy to the various pressure points on your forehead and scalp.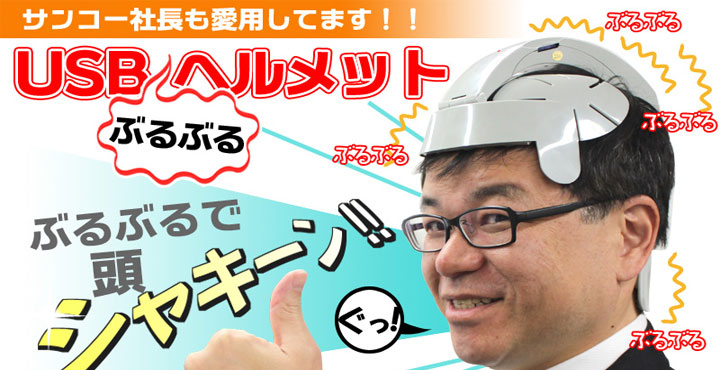 To power the built-in vibratory engines, all a user need do is either install 3 AAA batteries or simply plug the helmet into a free USB port. Since heads come in different sizes, the massager is height adjustable so as to fit as many different head as possible. Additionally, the intensity of the vibrations is customizable via the integrated dial so as to help create the perfect scalp massage.
Self-stirring Coffee Tumbler
---
Do you work in an environment that frowns upon having cutlery at your workspace? However, many tens of thousands of salarymen do have such restrictions. A spoon maybe hard to come by when you need to stir you coffee or tea. The mad engineers over at Thanko come to the rescue with a USB-powered self-stirring coffee tumbler.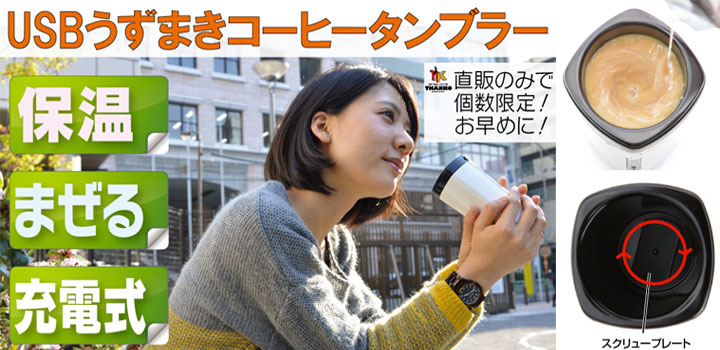 To begin, fill up the tumbler with coffee, add your cream and sugar, and press button to activate the whirring disc that stirs the contents to perfection. Better still, you don't even have to have to plug the USB all the time. The tumbler has two built-in 1000mAh batteries, which are good for 2 hours of continuous use per charge. It is also insulated and is able to keep drinks at 40 degrees for 2 to 3 hours.
Mini USB Fridge
---
While not the first USB beverage cooler to hit the market, Dream Cheeky's USB Fridge is one of the more attractive models to choose from, mostly because it looks like a bona-fide 1950's refrigerator. As such, not only can it prevent sunlight from warming the aluminum housing of our caffeinated goodness, but the magnetically sealed door can also keep the cold air close to the can instead of circulating it with the warm air blown from the back of a laptop.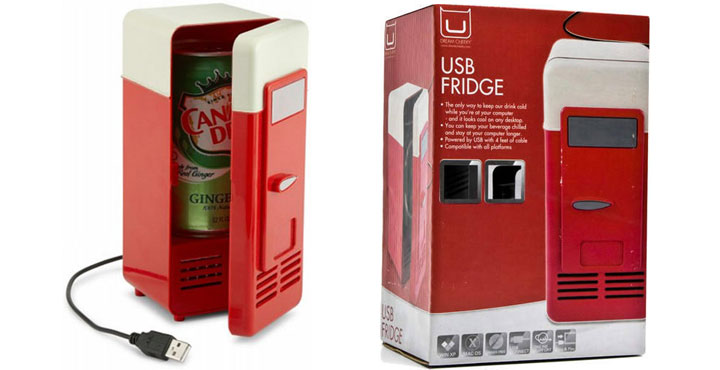 While this probably aids the cooling slightly, we wouldn't count on it being as effective as the traditional 6-can mini fridges since the walls and door lining aren't insulated. Another obvious downside to the enclosure is its inability to house any drinks larger than your standard 12oz can. This means you're going to have to just keep on fast-chugging your 500mL water bottles, 16oz "tallboy" energy drinks, 24oz "master cylinder" beer cans, 32oz plastic Taco Bell cups and 10oz glass Bawls bottles, unless of course you're willing to desecrate their sanctity with ice.
World's Smallest Microwave
---
The lines between household appliances and offbeat gadgetry seem to be getting slowly blurred with inventions. But have we gone too far with USB gadgets? This USB microwave oven co-developed by Heinz and GAMMA is actually a working prototype that uses phone radio frequencies to produce heat for cooking the food (tomato beans in this case, as shown in the picture).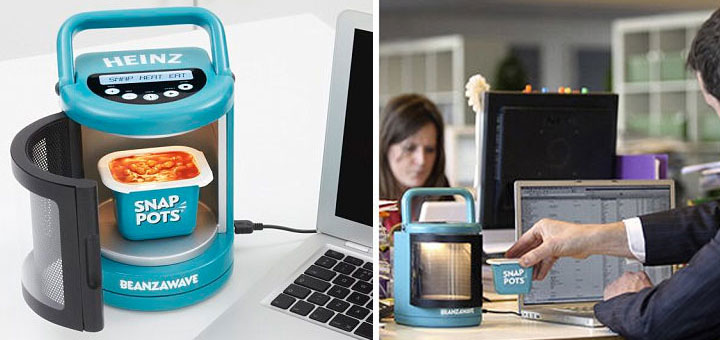 Heinz strongly believed there's a market for this as there's unfortunately no shortage of workaholics who have to spend their lunch time working in their cubicles. So, this computer-tethered microwave – already given a name, Beanzawave – could help with lunch preparation. The miniaturized USB microwave only worked with Heinz's "Snap Pots". If it didn't end up as vaporware, a retail Beanzawave unit will cost as much as $200.
[adinserter block="3″]
Lunch Bag with Warmer
---
It's a tradition white collars in Japan bring their own home-packed meal (aka. bento) to work instead of eating out. But when there are twenty colleagues lining up for a single microwave oven, it's time to seek other alternatives to heat up your cold lunch. This is where Thanko USB Lunch Bag comes in.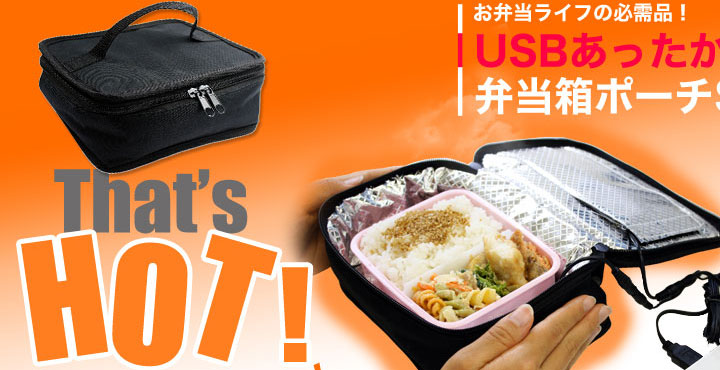 The lunch bag with an integrated heater that is powered by non other than a USB port can keep content warm at 60C while you are busy at number crunching. You now have hot food; it's time to get some chilling drink too with a USB fridge. As a safety reminder, make sure whatever bento box you put inside this bag meets the quality standard to prevent from harmful chemical leaks that could use potential health risk.
UV Air Purifier
---
Thanko USB UV Purifier – like any other of its kind – cleans the surround air of dirt and odours. It consists mainly of a 2 speed small fan with a number of thin filters that air is sucked through. However, USB fans are not known for their great CFM (cubic feet per minute) so don't expect it to work all that fast. The purifier does employ a six layer filter design capable of tapping particles as small as 3 micrometers, meaning it should do a fairly adequate job of keeping the air in your cubicle fresh and clean.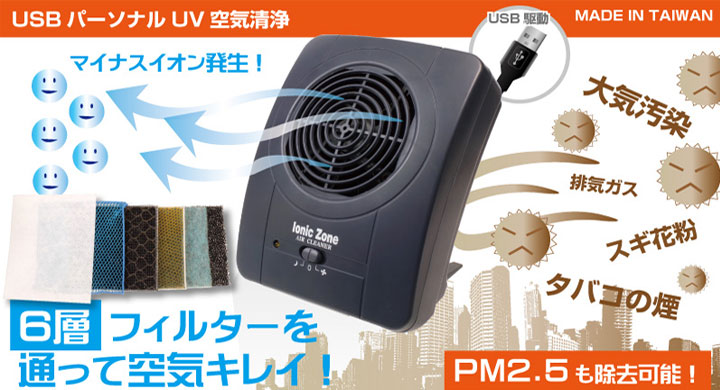 Interestingly enough, this purifier also has a built in ionizer. Whether or not you believe in the mood enhancing abilities of ionized air, one thing negative ions are great for is capturing dirt and allergens. So health benefits aside, this feature should help boost the abilities of this nifty little device. To further helping to clean the air, the Thanko also includes a UV light that can kill bacteria and germs.
Vacuum Cleaner Mouse
---
This is mainly an odd shaped mouse that can do double duty as a vacuum cleaner, but honestly given its weird shape and size, it probably doesn't do either one all that well. Besides the oddity factor, about the only thing the USB Vacuum Mouse is good for is creating Carpal Tunnel Syndrome in its users while also deafening them at the same time.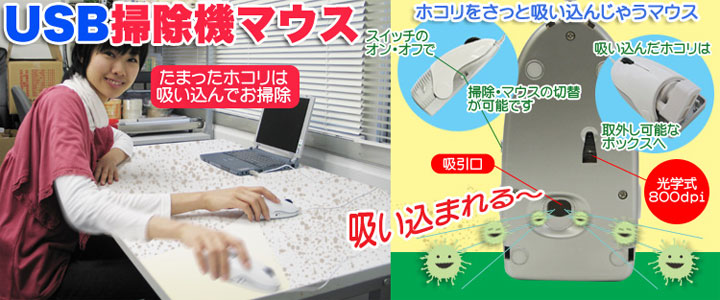 We say that as the chunky shape is rather short to create a lot of suction power, but that shape will not be what we would call overly ergonomic. Add in the fact that all reports indicate that when used as a vacuum it is rather loud and annoying and you have an 800-DPI enabled mess of a mouse.
Smart USB Light Dongle
---
For those who are glued to their computer screen all day, it could get irritating seeing alerts windows popping up all over when you are in the middle of something important. Wouldn't be nice if you have one simple status light that gives you notifications of only the things you care about?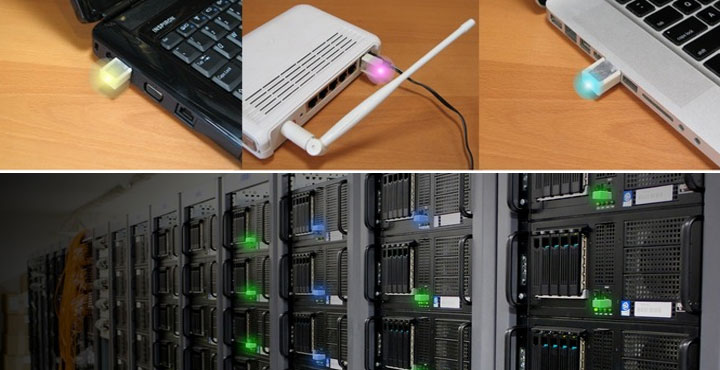 This is where blink comes in. blink is a tiny USB light dongle with a tiny HID controller inside that receives instructions from bundled open-source Windows, Mac or Linux software. With its cross-platform compatibility, you can install this in any environment. The light itself is one RGB LED with adjustable brightness, pattern and color.
So you could program blink glowing in blue based on Twitter user post or keyword search while flashing in amber red when something is wrong with one of the rack mount servers. blink's developers touted their USB light as hackable as you want it to be. Just imagine if you fill a USB hub with blinks. You could say the possibilities are endless.
LED Message Board
---
Have you ever wanted to own your own billboard but didn't have the room or money to justify it? Or maybe you are like most people and use, but loathe – post-it notes but can't find something better or easier to replace them with? Well then, the Dream Cheeky LED message board may just be tailored made for your needs.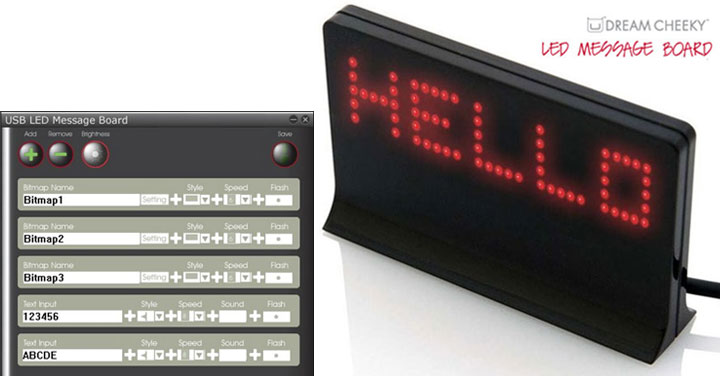 The message board may only be 5.5 x 8.5 x 2cm in size, but it is packed with kitschy goodness. Not only does this nifty board have room for up to 12 bitmap images (i.e. 12 custom messages) but you can also customize how those images appear via 5 scrolling modes, 8 speeds and even 3 brightness levels. With a price of only $24.99, this may just be what you need to get rid of those sticky little notes from hell.
USB Mailbox
---
Too bad this didn't come out when AOL was still relevant. One look at this and the "You've got Mail" wav comes screeching back into our memories. Dream Cheeky offers this that looks like your systray is trying to blink its way out of your computer. It's a gumball-sized USB device that is shaped like a classic red mailbox. It can check for new emails and let you know when you've got new mail by lighting up for you.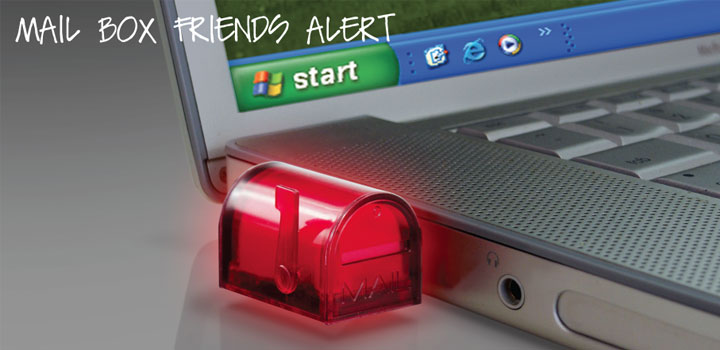 You can also set it to change colors based on which account you have new messages on. It will even tell you how many messages you have with a color scale system. Much better than loud clanging. It's also small enough to be left plugged in on a traveling laptop without much worry about it getting caught on something or needing a cord.  The software works with a dozen of popular free email services as well as FaceBook and IM support.
Travel Iron
---
As any business professional knows the importance of making a great first impression and showing up to meeting/interview/etc in a wrinkled suit is simply verboten. Unfortunately – and as any professional in a humid climate also knows – this is not always possible. In the time between you leave for the meeting to the time you arrive, a lot wrinkles can happen. This nifty USB gadget by eSupply has been designed to eliminate this issue.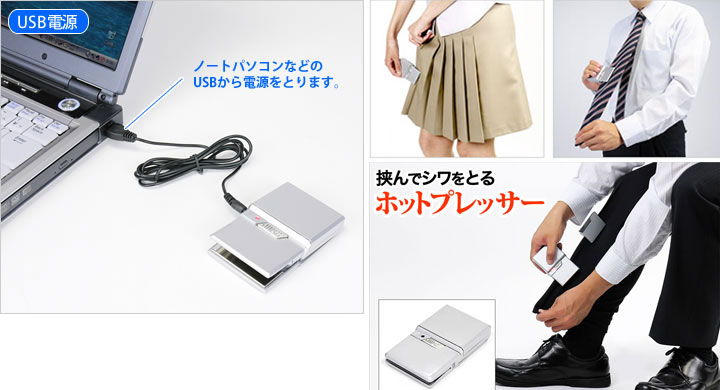 This palm-sized device is a battery- or USB-powered iron that folds small enough to fit into even the smallest shirt pocket. The rear half of the iron is where the three AA batteries and mini-USB 2.0 port are housed, while the forward half houses not one, but two heating element 'irons'. These two are on opposing halves of the front clamp and by simply turning it on and then sandwiching your clothing between the irons, even the most stubborn of wrinkles can quickly be eliminated.
Heating & Cooling Keyboard
---
Thanko during the summer has released a Cooler USB Keyboard for those with sweaty palms. As winter is faster approaching, they are now upgrading the keyboard with a heating function. The keyboard's aluminium chassis helps to distribute the heat evenly across the palm rest.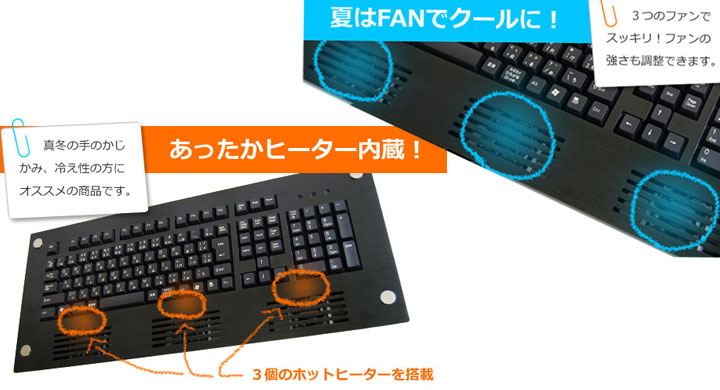 If that isn't enough, there're three fans available that can be activated by a switch on the back of the keyboard to blow the hot air on your wrists. The Thanko's USB Hot Cooler keyboard has now evolved into an all-season peripheral that keeps your hands cozy during the winter and cool during the height of the summer. Thanko wants 4980 yen ($51) for the keyboard, which occupies two full-powered USB ports.
Necktie Clip Cooler
---
Leave it to the Japanese to figure out a way to turn an archaic – yet required – fashion attire accessory like the necktie clip, and make it into a positive. Or at the very least, we think the Thanko's USB Necktie Clip Cooler has the potential for being something besides a waste of $35. We say this as we can actually see many a Salaryman thinking this is a great way to beat the muggy Tokyo heat while sweating away waiting for the next train to come into Shibuya Station.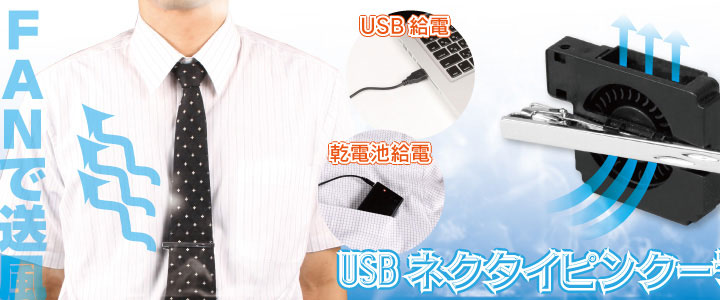 Weighing just 28 grams (sans battery pack which is included), the clip may just be a great way to help keep you cool while not ruining your professional appearance like some necktie coolers could. If you are stuck in an office that is "tightening its belt" by keeping the A/C low, a handy free USB port can also be used to power this interesting little invention.
Butt Cooler
---
This Thanko USB butt cooler sound like a pretty odd device, but if you are stuck in an office cube farm where the AC is either nonexistent or set to sweltering hot due to "cost cutting procedures", having a fan keep your butt from sweating may sound down right perfect.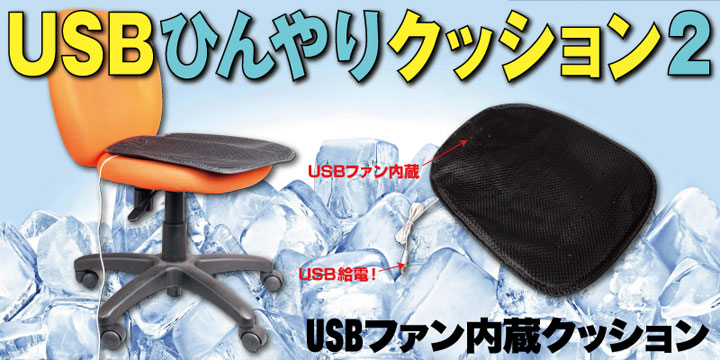 While it relies solely upon air movement to make you feel cooler, it can do just that by circulating fresh air over the one part of your body that usual sweats first when sitting in a chair: your butt. Where the fan is obviously a small 5V fan, don't expect it to work miracles. However, during hot days, even a little bit of air movement can help things a lot more bearable.
---
These are perhaps the first USB foot cooler sthat is meant to keep your sweaty feet dry and and cool. Thanko has managed to put together something that pumps air through a 33mm long tube using a 2-speed tubular fan. The tube would go into your shoe or sock.

One of the pictures on Thanko's site reveals the same tube can go under your arm to stop armpit sweating. We have a strong feeling the $26 USB foot cooler is going to be big hit when exhausting cubicle workers in Japan have already tried everything from necktie and butt cooler in humid and hot season.
Cubicle Greenhouse
---
If fresh or faux flowers sitting on your desk just aren't good enough, you might want to grow your own flowers at your desk. That's right… this USB Greenhouse from Dream Cheeky lets you grow your own plants. The greenhouse even includes marigold seeds to get you started.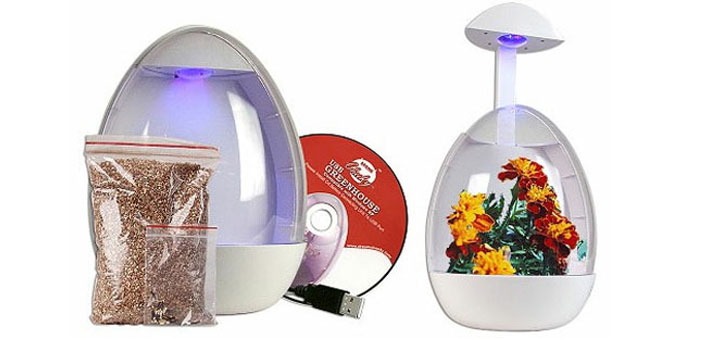 Artificial soil is included as well for planting your marigold seeds. Software is shipped with the greenhouse that you install on your Windows PC. It allows you to monitor the growth rate of your plants, and features a calendar, wallpaper and bookmark settings. An artificial sun lamp that is height adjustable allows the plants to grow in places with no sunlight. This desktop gadget measures in at 9 x 6.5 x 6.5 inches. So, when you aren't shooting foam missiles at your co-workers, you may want to consider this to grow some fresh flowers in your sunless cubicle.
That's it for now. If you enjoy this, make sure to check out other gadget round-up for DC Universe, Marvel Universe, Star Wars, Transformers. When you find anything else that belongs to this list, please let us know by leaving your suggestion or comment below.

USB Duplicators By Nexcopy
Nexcopy manufactures a variety of PC-based and standalone
USB duplicator
solutions.
PC based systems support advanced USB functions such as write protection, CD-ROM partition and multi-partition creation, while standalone systems are ultra-fast, high speed USB copiers duplicating gigabytes of data quickly and accurately.