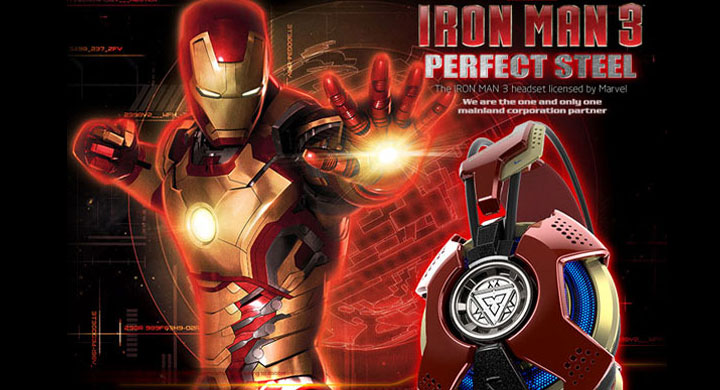 In an never ending desire to monetize every possible avenue of the Iron Man franchise comes word of a pair of headphones which actually makes sense. Most, even the most the unaware of consumers, will instantly tell it's a movie tie-in product inspired by the Marvel superhero film. This instant recognition is partially thanks to iconic red and orange color scheme, but also because of the large – but sadly non-functioning – Arc Reactor built into the side of each earcup.
Unlike the Iron Man mouse or flash drive, this combination of superhero and a gaming headset is a perfect match. Most hardcore gamers not only want to use high quality USB gadgetry but they want to look good while doing it. On this front, 'Iron Man' red & yellow is perfect for gaming enthusiasts. After all, it would be pretty awesome to play as Iron Man.
Of course, gaming enthusiasts may indeed prize aesthetics but they do also value quality. With large 50mm stereo drivers and 117dB impedance specification, these cans should have you covered in even the most demanding of audio environment. Add in the special collector's box and the limited edition nature of the Stark Industries headset and we can see many fans wanting one; or at least until they realize it will set them back $210 plus shipping. Then only hardcore collectors or fans of the Iron Man franchise will actually considering it. In either case, this is one of the better Iron Man branded devices available on the market today.