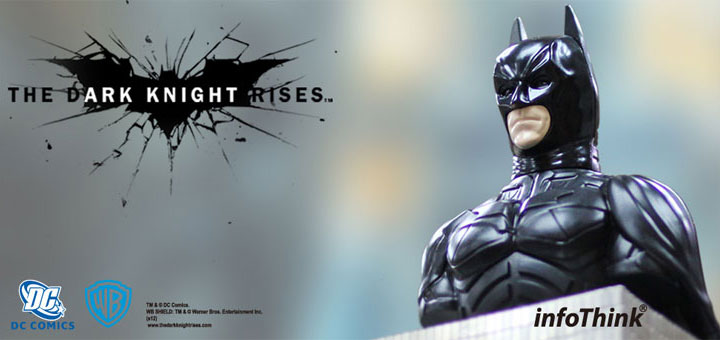 Infothink – the same company that brought us the Avengers and Transformers thumbdrives – just revealed its Batman USB key to coincide with the recent release of the Dark Knight Rises on Blu-ray. Just like the collection consisting of Thor's Mjollnir, Hulk's gamma green fist, Iron Man's helmet and Captain America's Vibranium-Adimantium shield, Infothink's designers chose to make a bust of the Caped Crusader for it is the most recognizable by fans.
Made of ABS/PVC, the Batman bust is about 10cm in height and the head – the drive itself – can be separated from the chest. The eyes and the logo on the suit will light up as soon as they receive power from a USB port. So, it would appear that the chest portion is also a USB dock for the 16GB flash drive.
And for the geeks who are wondering, this product officially licensed by Warner Brothers and it is shipping in limited quantity with each piece carrying a unique serial number that can be read from a smartphone with NFC. Lastly, novelty always comes with a price: $86.99 (with free shipping).