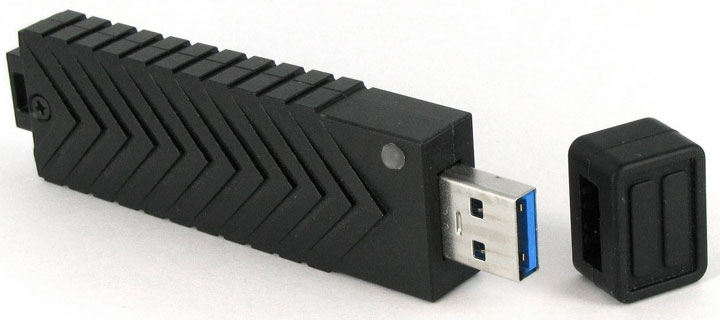 At this year's Flash Summit, Mushkin showcased their all new Ventura Ultra USB 3.0 flash drives, and they certainly caused a stir amongst attendees. Mushkin is not a newcomer to the high-performance SSD market, and it has built a sterling reputation for delivery on their promises.
This is why when they stated that their new Ventura Ultra "will really change the nature of the game. They will be among the fastest USB 3.0 drives available for professionals, gamers, innovators and creative producers", we – like many enthusiasts – took note and rushed to see what made the Ventura Ultra special.  Simply put, the Ventura Ultra is expected to come in sizes ranging from 60 to 240GB, and perform at up to 450MB/s read and 445MB/s write speeds. While this alone is jaw-dropping but the fact that they were able to do this and make it not much bigger than thumbdrive is certainly impressive.
To put this in perspective, the Ventura is about 73 x 20 x 9mm in size yet will outperform both a LaCie Porsche SSD and an OWC Envoy Pro EX, both of which are, however, downright massive in comparison. To put that another way, the Ventura Ultra is about the same size as a Super Talent RC4 yet will deliver about 4 times the performance. Any way you slice it, this little drive is going to be packed with power that will be great for Windows To Go and alike. While the MSRP is not known at this time we fully expect this high performance product to come with an equally high price tag.