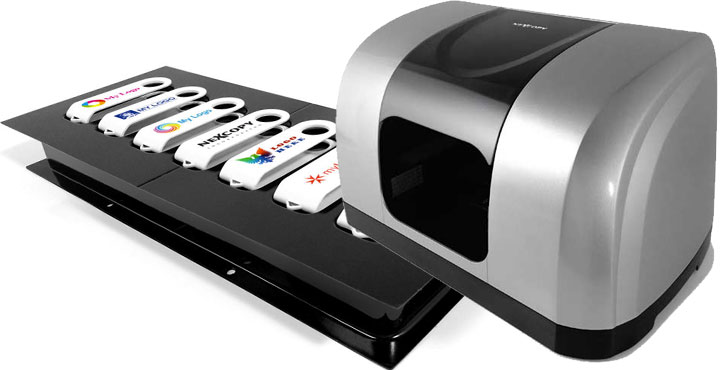 So you find out most of your USB drives given out at trade events are being formatted as soon as they get them. The obvious answer is to brand the freebies so that even if the people who get them never read the content before formatting the drives, they will always know who gave them.
The fact is that custom printed drives are costly per unit if you don't purchase in bulk, not to mention there's turnaround time. So, if you only plan on preparing these in small quantity at moment's notice, Nexcopy has an affordable yet simple solution. The 11 lb. printer, based on HP Inkjet 1000 engine, allows you to print up to 7 clips with identical or different full-color images at a time in just 35 seconds. These waterproof clips in matte finish will fit on all swivel USB keys which are usually the first choice when it comes to generic drives.
Simply use the included software to upload your BMP or JPEG (at up to 4800-by-1200 resolution) and 15 to 35 seconds later you will have custom coverings to go with your drives. The secret to the USB7P is that it only prints on rather cheap USB housing 'clips' instead of printing to a thumbdrive. This means that you don't have risk a drive being 'inked' during the print process. Keep in mind these clips are only available in white and from Nexcopy only. At $1800, it's not something for everyone but small PR firms may appreciate the simplicity of the printer.