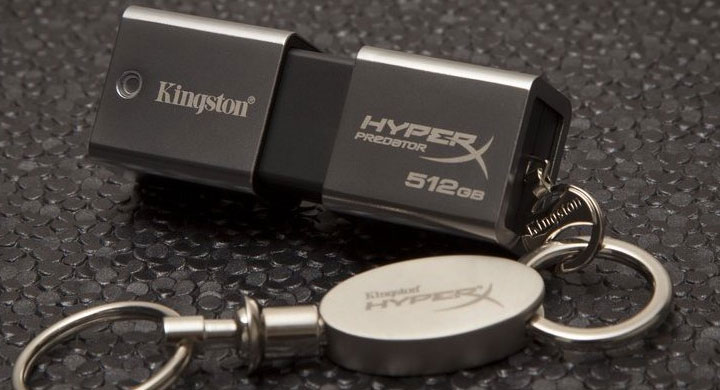 While double-speed USB 3.0 was the one of the highlights at CES, Kingston also grabbed tech headlines with the DataTraveler HyperX Predator 3.0 – the world's largest capacity flash drive ever made. And it has the price to match its monstrous storage: $1750 ($874 street) for the 512GB and god-knows-how-much for double the capacity (due later Q1). If Kingston is looking to make our jaws drop, mission accomplished.
This thumb drive – which costs an arm and a leg or as much as 2 iPad mini 32GB – belongs to Kingston's HyperX line which is traditionally reserved for its high-end gear. The fact that the Predator has more space than most SSD-equipped Ultrabooks can offer suggests the drive is an overkill for single-purpose dumb storage. If you are looking to backup, a 2TB portable drive would last you for a while.
The HyperX Predator does offer some speed advantage, rated for 240MB/s read and 160MB/s write – thanks to its 8-channel controller architecture and USB 3.0. Fans of Windows To Go may find this drive to be a godsend. Still, having 512GB on your keychain seems like you put too many eggs in the same basket even though the Predator itself is protected by a zinc alloy metal chassis and 5 year warranty. One thing to keep in mind is that the oversized dongle (21mm thick) won't fit into your laptop's USB port directly so you'll need to carry the included extension cable with you at all time.