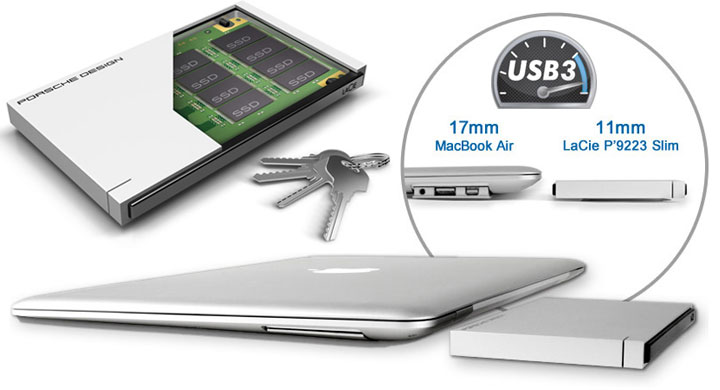 Slim drives are in the spotlight lately, with Seagate, Western Digital and Toshiba jumping onto the bandwagon with their own single-platter 500GB portables. But if you are willing to give up some storage capacity in exchange for speed, LaCie has a wafer-thin 120GB SSD that is also easy on your wallet.
The $149.99 Slim Drive P9223 by LaCie, powered by none other than USB 3.0, follows the same minimalist design set by Porsche Design. It has a thickness of a mere 11mm; to put this into perspective, MacBook Air is 17mm thick. The drive isn't the thinnest but a few millimeters don't make that much of a difference anyway. Its chassis is made of solid aluminum which doubles as a heat sink for fast dissipation of any heat build up from the NAND chips.
This particular model has a top speed of 400MB/s, 4 times as fast as the hard drive version (7mm 500GB internal). To reach this speed, however, you need a Mac or PC with USB Attached SCSI (UAS) – a protocol that overcomes performance and latency weaknesses of the aging bulk-only transport that has been around since 1999. Proud owners of USB 3.0-equipped MacBooks won't have to find out as their laptops come with UAS natively. As for PC, users have to check with the motherboard manufacturer or laptop maker.