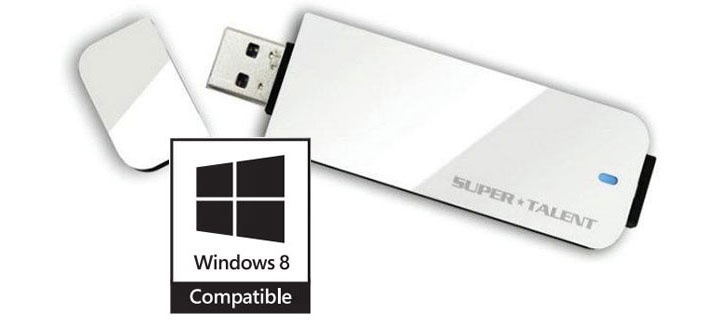 Super Talent's Express line of USB 3.0 flash drives have been perennial favorites of consumers since its inception. The original Express was one of the first relatively affordable, high performance USB 3.0 drives available to consumers and the second generation Express RC8 continued and improved upon the philosophies of the Express drive. Recently, SuperTalent announced their third generation drive: the Express RC4.
Unlike the RC8 model which is driven by a 8-channel LSI SF1200 controller, the new RC4 makes use of a JMicron controller and utilizes only four channels. On the surface of things, this would make it slower at handling small files; however, the SF1200 series controller was rather old so the new – mostly likely JMF66x series – JMicron controller may in fact be able to do more with fewer channels. This in all likelihood is what has happened as, while the sequential write performance is 100MB/s slower at 'only' 120MB/s, the read performance has been increased from 270MB/s to 320MB/s. Just as importantly, Super Talent states that this drive is ~14% faster at OS load times than the RC8, which does point to improved small file handling abilities.
This last piece of information is actually very important as the RC4 is only Super Talent's second flash drive – and one of only a few- to be Windows To Go certified. For Windows To Go flash drives, faster boot times is critical to an excellent end user experience. This certification makes the RC4 great for professional and enthusiasts alike who wish to load Windows 8 on their flash drive and take it anywhere. For consumers looking for an aluminum clad, fixed port USB 3.0 flash drive which won't break the bank, the RC4 may be an excellent option. Prices start at $79 for the 32GB model and go up from there.