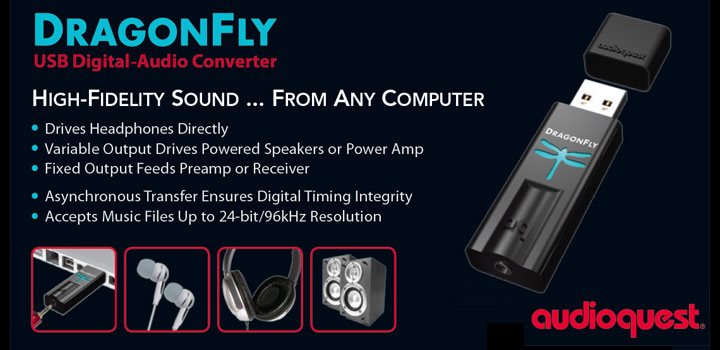 AudioQuest's DragonFly USB DAC/amp – a new unit catered towards computer-based audiophiles on the go – seems to have caused a splash in audiophile circles. The most remarkable feature about the device is its incredibly small design. No larger than your standard USB thumb drive, the DragonFly packs a high resolution 24-bit/92kHz ESS Sabre DAC chip – one of the more renowned DAC chips available at the moment.
In addition to the high quality DAC, the DragonFly offers asynchronous USB data transfer, which in a nut shell, eliminates timing errors which cause jitter (or otherwise unwanted distortion that occurs during playback). Just make sure you are running Windows 7, 8 or XP as Vista is incompatible with the DAC as of this writing.
The amp onboard the DragonFly is primarily aimed toward driving low impedance, high sensitivity earbuds and headphones (hence the 3.5mm output jack), but is reported to be able to drive larger more demanding full sized headphones quite decently as well. Bearing in mind that the DragonFly is powered via USB as well as its small size, it accomplishes quite a bit. Audioquest's DragonFly in a diminutive package will surely please audiophiles desiring a discreet, yet elegant-looking solution to their mobile needs; however, general consumers to whom sound quality is not of paramount importance should look elsewhere to spend a hard earned $250.