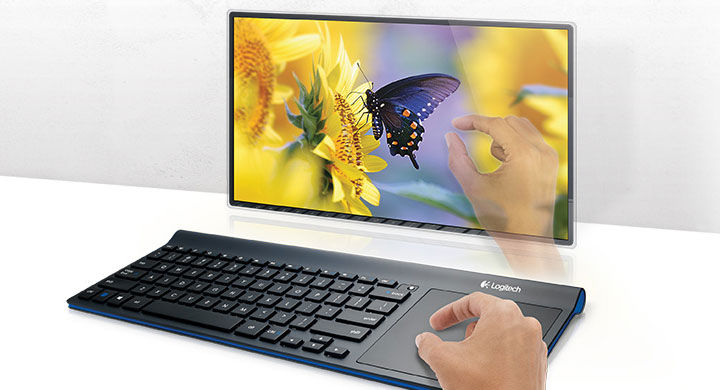 For anyone who has ever used the Logitech K800 keyboard and the T650 touchpad, their all new TK820 will sound like a brilliant idea. Logitech basically has taken the K800 wireless keyboard; upgraded its aesthetics; and added the T650 to the side. The end result is certainly a larger hybrid device – 409.5 x 145.3 x 21.7mm – but one that is packed with a lot more features than either can offer on their own.
On the keyboard side of the equation, Logitech has carried over their wonderful incurve-shaped keys with underlying PerfectStroke technology. As with all PerfectStroke keyboards, these keys are rated for 5 million actuations and have a whisper quiet noise rating of only 55 dBA. On the touchpad side of things, the TK820's large 106 x 106 mm touchpad area not only recognize up to 4 points of contact but also supports 13 different Windows 8 multi-touch gestures.
The TK820, following Logitech's tradition, is part of the company's Unifying technology with a range of 10m via 2.4Ghz wireless USB dongle. Also like most, the TK820 can be used while plugged in and recharging its 4 AAs which last up to 6 months on a single charge. Expect the spill-proof TK820 to hit retail shelves soon for a MSRP of $99.99.