November 2018 Ian Chiu
Thanos' Infinity Gauntlet Got USB Treatment (2018)
---
Thanos has definitely stolen the spotlight from all the other protagonists in the latest Avengers movie.  It seems a no-brainer that Infothink would come out with a miniature replica of Thanos' infinity gauntlet in the form of a flash drive.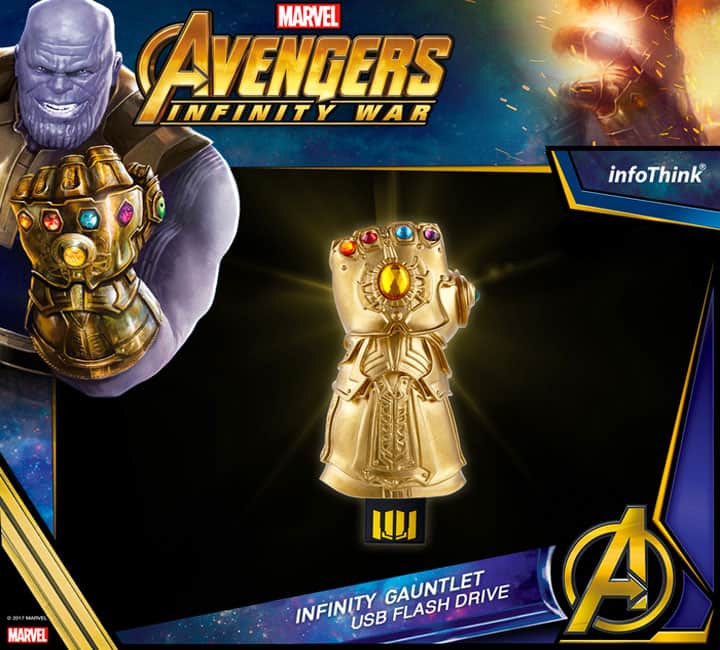 Infothink has a long, colorful history of success with Marvel character-themed drives, which are regarded as fan favorites.  Taiwan-based manufacturer didn't skimp on its own version of guantlet with a metal body and detailed finish.  This eye-catching drive definitely dwarfs all the other Marvel flash drives we've seen in every possible way.
Victorinox Swiss Army "Knife" with Pivoting USB-C Drive (2017)
---
Adding a dual-headed USB-C drive to the classic "Swiss Army knife" seems like a natural progression for Victorinox and this is exactly what you can find in Jetsetter@work. After all, when a pocketknife cannot have blades of any kind in order to get TSA approval, perhaps USB data storage might keep this century-old folding multi-tool relevant for business travellers in the digital era.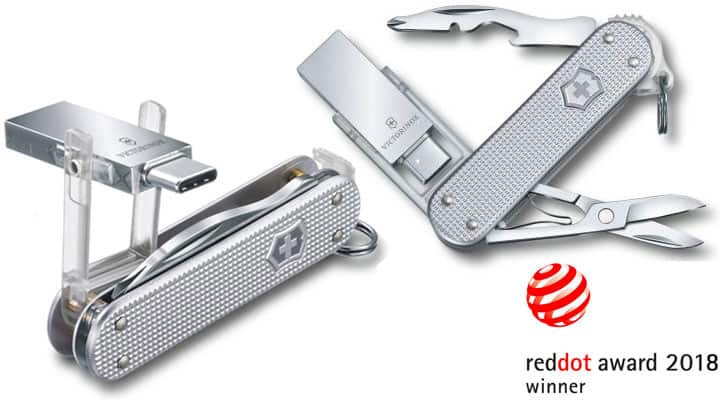 In addition to the said 16GB USB 3.1 drive, the multi-functional pocketknife also comes with a pair of scissors, a bottle opener and a wire stripper as well as a magnetic screwdriver. The pivoting thumb drive is detachable to make it more practical for everyday usage; its speeds are reportedly at 115MB/s read and 25MB/s write. You will find this Jetsetter@work available for around $60 in the States.

nVidia Manages to Squeeze A.I. in a Flash Drive (2017)
---
Hardcore gamers rejoiced after nVidia turned an April's fool joke into reality when it actually made a replica of the GeForce GTX graphics card in the form of a USB drive.  Originally, the gag was to fool us into believing that the drive – when plugged in – can learn your playing style through the use of artificial intelligence, and can also fill in for you when you need to take a leak or answer the door.  This was, of course, not the case.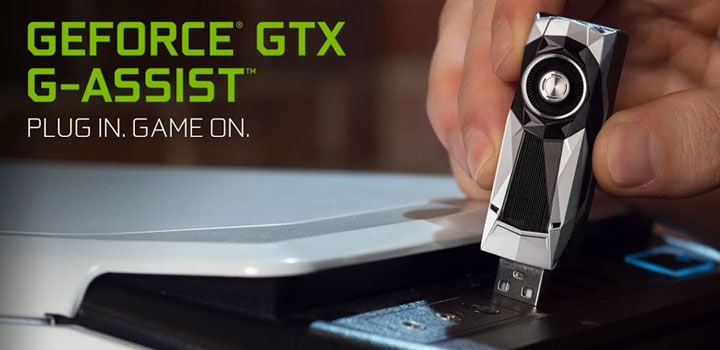 Only 1080 of these limited edition thumb drives were made, and were given out to press during 2017 E3.  Incidentally, that odd number is actually the model of highest-end GPU in the GeForce 10-series.  There are still a couple eBay listings for the GeForce GTX G-Assist 64GB USB 3.0 drive if you are interested.

Official Canon… Flash Drives (2015)
---
Shutterbugs have been known to be in love with scaled replicas of their beloved cameras ever since Canon first introduced thumb drive version of their flagship digital SLRs. These USB drives were originally handed out to media as freebies during the product launch events. Given their limited quantity, they should be as rare as hen's teeth by now.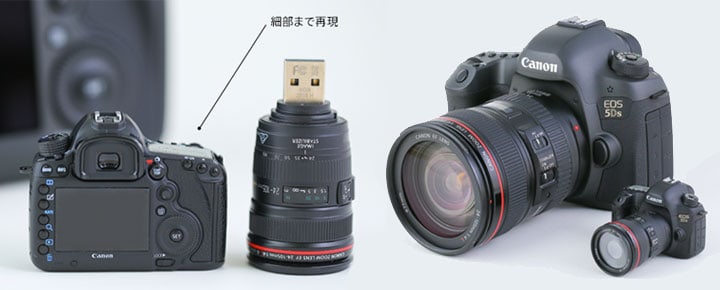 The renowned Japanese camera manufacturer has shipped a miniature version of the EOS 5DS, EOS 1DX and the vintage Rangefinder IVSb.  As far as we can tell, the attention to details on these collectibles is nothing short of amazing.  A USB connector is revealed when the lens section is detached from the EOS models.  As for the Rangefinder, the USB plug slides out from the side.  All three are apparently still available on Canon's official site as well as on eBay. Our advice is grab them before they are gone.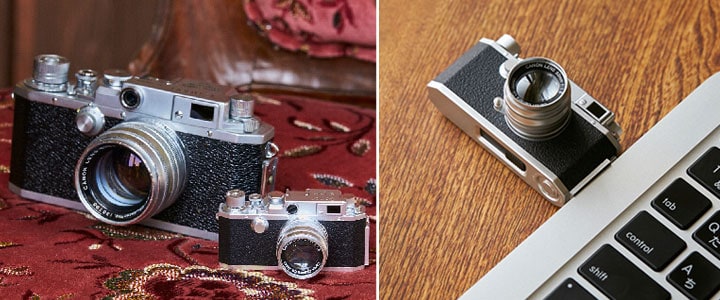 Flash Drive Disguised as a Vintage Vacuum Tube (2014)
---
This novelty flash drive that resembles a vintage vacuum tube looks like a relic from early 20th century. As a matter of fact, the tubes themselves were manufactured in early 1980s in then USSR and the drives are assembled in Latvia, also formerly part of then Soviet Union.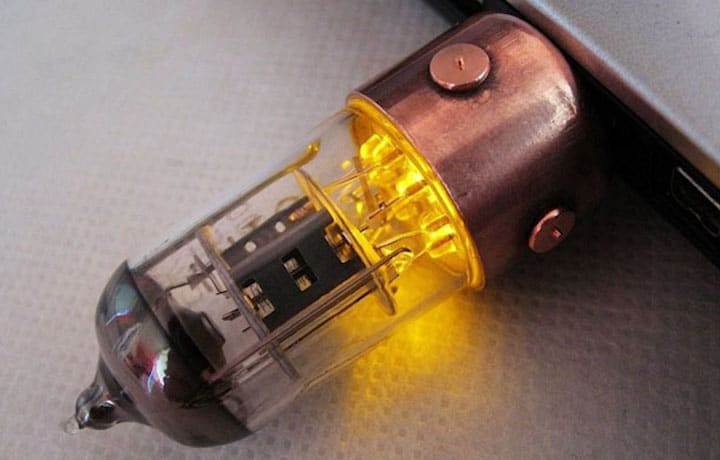 When plugged in, the orange LED lights up inside the transparent vacuum tube and even flickers when there's drive activity. These handmade drives from Slavatech contain Sandisk USB 3.1 flash drives inside in case you actually want to use for storage. There's also a cap that attaches to the drive magnetically. If you are fond of vintage designs, you will certainly find the workmanship of Slavatech's novelty drives to be quite impressive.

LaCie's "Wobbling" USB Drive Doubles as a Photo Holder (2014)
---
Like a high tech version of Japanese Daruma dolls, the new LaCie Culbuto combines both old world Zen appeal with new world technology.  The Cullbuto wobbles from side to side when gently nudged as the base has been weighed to make the center of gravity very low.  In fact, such comparisons to roly-poly dolls are completely intentional as internationally-renowned designer Constance Guisset wanted to create a USB drive which was unlike anything else on the market.  Even the name itself is a wink at French version of the roly-poly doll and the designer full expects you to poke it and play with this storage device when not in use.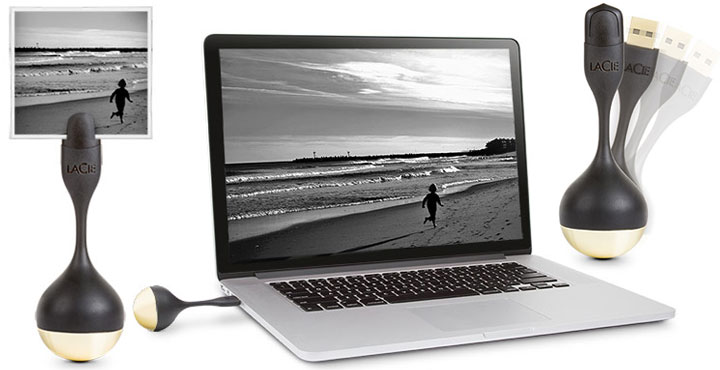 The key to understanding this high tech toy is that LaCie is once again trying to do something radically different and they want to think outside the box.  In this instance, Culbuto consists of a spherical, solid metal black and yellow-colored base with a long rubber stem which hides a USB 3.0 flash drive.  Even the end cap is unique as it has a slit which customers are meant to use as a business card or photograph holder.  Despite Culbuto's novelty status, its relatively low MSRP ($49 for 16GB & $79 for 32GB) isn't just going to appeal to nouveau riche but people like us.  Having said that, the LaCie is certainly a conversation starter, not to mention a toy to help break the monotony of a long day.
Mini Cooper in All Kinds of USB Styles (2010)
---
These USB drives from Hong Kong-based Zero Basic are made for Mini Cooper fans of which there are many. The attention to details is fantastic. Front and rear license plates that read "MINI COOPER" along with headlight and taillights are visible from a distance. Getting even closer, you can see the door handles, windshield wipers and the front grill.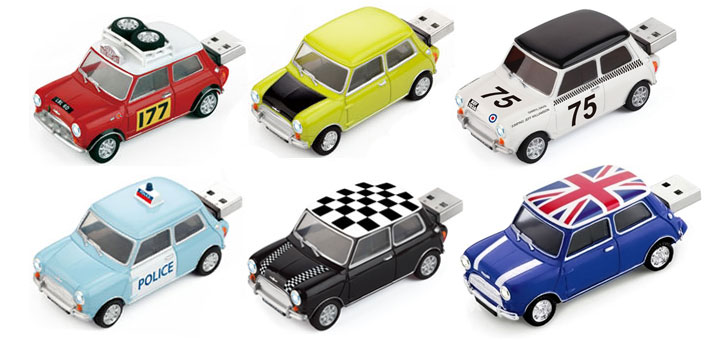 The undercarriage is also detail rich, showing outlines of the drive train and spare tyre well. Probably the most unexpected detail is found on the rubber tyres. The tiny tyres actually have tread on them. The only details notably missing are the side and rear view mirrors.
They are a little too large and may cramp your style trying to plug them into some locations. The flash memory is also a bit on the slow on the slow side but not much slower than most people are used to anyway. They do seem to be built very well and should hold up to being played with and used for a long time. Even if the rear cover were to fall off, it would take very little away from this very cute flash drive.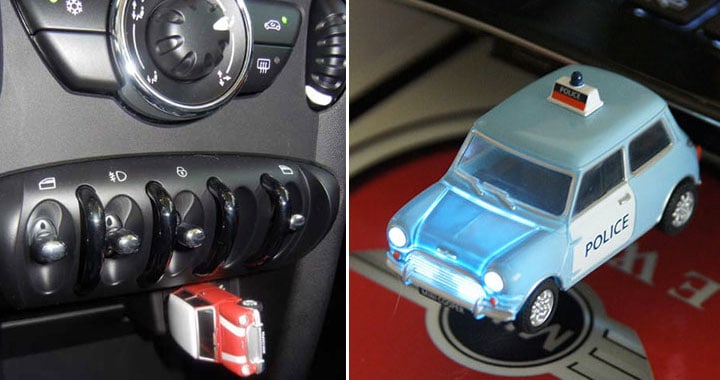 All in all, just like the car itself, these drives are fun. Mini lovers may never store files on these but seeing the headlights flash when plugged in is enough to make almost anyone smile. Even without the ability to store data, these are reasonably priced just as desk decoration.

Lady Gaga, USB Style (2008-2011)
---
Lady Gaga's first three hugely successful albums (i.e. Fame, Fame Monster and Born This Way) came out alongside their USB siblings between 2008 and 2011. The drives themselves are humorous representations of the diva, which are reminiscent of the original album art design.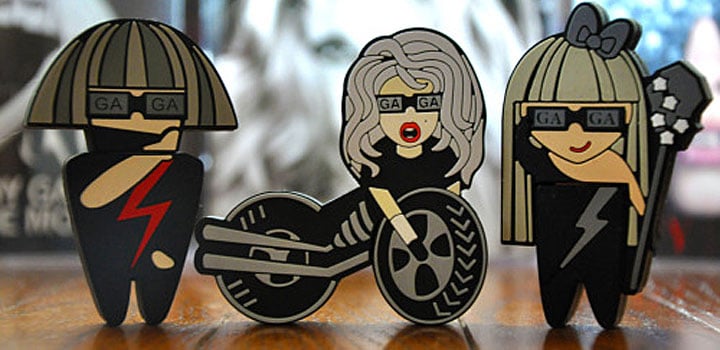 In terms of content, all the limited edition albums contain all of the songs on the original release plus a handful of remixes, digital booklet and MVs. The Born This Way album in particular comes with 4 episodes of Gaga Vision, which seems to be some semi-intimate outtakes from various parts of the music diva's Rock'n'rollercoaster life. It's, however, too bad that Artpop – Lady Gaga's third album – hasn't received a similar treatment.
The Beatles' Ultimate USB Album (2009)
---
You say you want a revolution? There's no question that the Beatles were a revolution, changing the face of music and arguably the world in their wake. It's no surprise to see a one-of-a-kind USB drive loaded with the band's entire recorded works.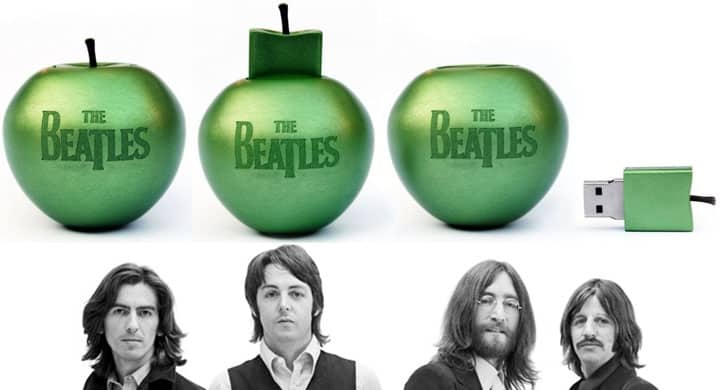 The 16GB drive inscribed with the band's name includes all 14 digitally remastered LPs in 24-bit 44.1kHz FLAC and 320kbps MP3 format along with 13 mini-documentary films and liner notes. Only 30,000 of these apple-shaped drives were made in total when Apple and EMI cooperatively released this $280 album in December 2009.
Kingston Chinese New Year Drives – Collector's Edition (2011)
---
Traditionally, Kingston has released themed USB drives annually to coincide with Chinese New Year beginning with the year of rabbit in 2011. The novelty drives – produced in limited quantity – were comically inspired by the animal zodiac signs, but they were all made in plastic.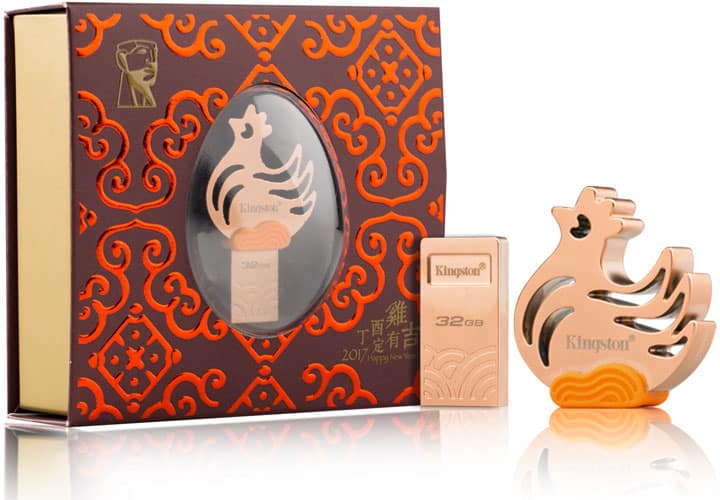 Beginning with the year of monkey in 2016, Kingston has switched to metallic finish for the Chinese Zodiac drive line-up. The 2017 rooster model is even more aesthetically pleasing and durable with its laser cut-out unibody design. The drive in rose-gold hue comes inside a elegant box, and the package would make a great gift for people who regard their Chinese zodiac sign as a good luck charm.
Bruce Lee x MIMOBOT Flash Drive (2010)
---
There is no doubt that Bruce Lee still remains one of the classic iconic figures of both martial arts and movies. Not only did he "invent" Jeet Kune Do, the legend also helped break the Hollywood Asian leading man barrier. He literally blazed a trail for Jackie Chan, Jet Li and a host of other talented actors could follow in.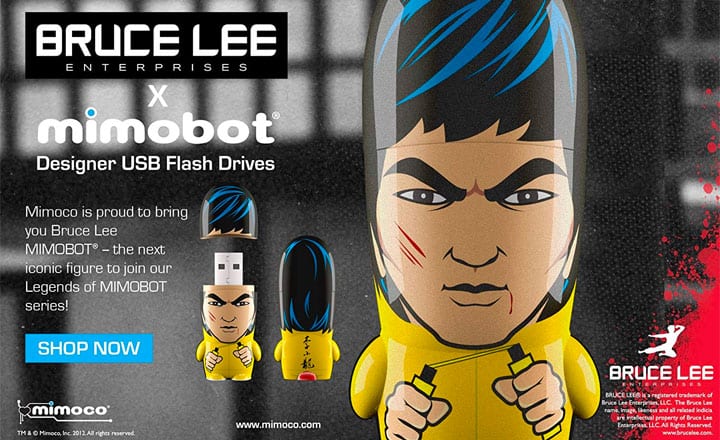 Thus it comes as no surprise that there is a huge Bruce Lee memorabilia market and one that is as varied and flexible as the man himself. This memorabilia from MIMOBOT combines style (both funky and sophisticated) with practicality in the form of a very distinct Bruce Lee-themed flash drive. The 2.25″ drive also comes pre-loaded with bonus content (i.e. wallpapers, sound bytes, screensavers and avatars as well as icons) for desktop and smartphone personalization.
Resident Evil Chainsaw Drive for Zombie Fans (2009)
---
Get out your boomstick and start fragging. New Resident Evil 5 for Xbox 360 bundle comes with a custom USB chainsaw to flash your Zombie killing fetish.  This limited edition 2GB flash drive will let everyone know that you are backing up your data preparing for the inevitable zombie apocalypse.  Don't be a fool, go vigilante immediately.  While you are honing your survival skills against the undead hordes don't forget to pack a lot of ammo.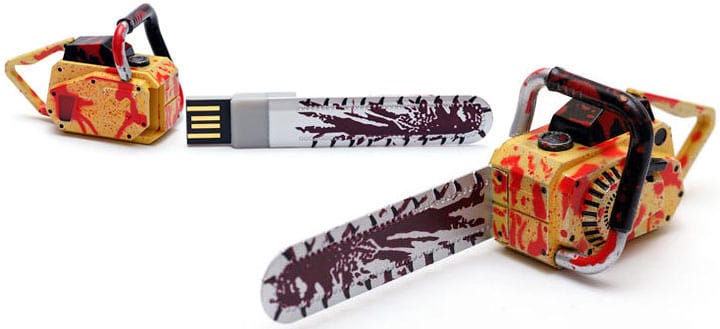 That's probably the one employee benefit that Umbrella corporation needs to spring for since it just can't seem to keep from converting folks into ravening masses.  Seriously, a case of 12 gauge shells should come with your ID badge and phone extension.  The game pack comes with a 3 DVD 'making of' feature and the flash drive.  Since not everyone who loves zombie thrashing on the XBox needs a flash drive, you can pick them up on eBay if you hunt for them.  Get one for your Valentine or your Alice.
That's all for now.  Hope you like our latest thumb drive round-up.  If you happen to know any limited edition flash drives we should have added in the first place, please let us know in the comment section below.

USB Duplicators By Nexcopy
Nexcopy manufactures a
variety of USB Duplicators
which are PC based or Standalone Systems.
The PC based systems use our exclusive and feature rich Drive Manager software with advanced functions. Standalone systems are ultra-fast, high speed copiers duplicating gigabytes of data quickly and accurately.