November 2017 Ian Chiu
Official Canon… Flash Drives (2015)
---
Shutterbugs have been known to be in love with scaled replicas of their beloved cameras ever since Canon first introduced thumb drive version of their flagship digital SLRs. These USB drives were originally handed out to media as freebies during the product launch events. Given their limited quantity, they should be as rare as hen's teeth by now.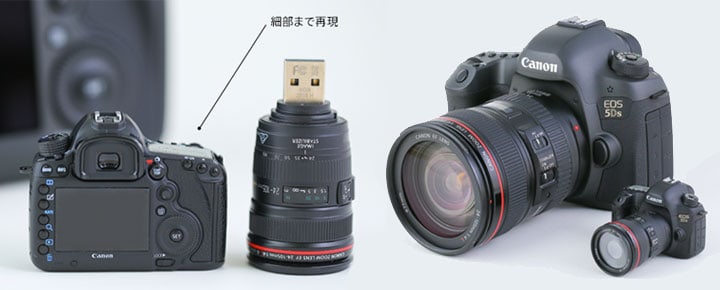 The renowned Japanese camera manufacturer has shipped a miniature version of the EOS 5DS, EOS 1DX and the vintage Rangefinder IVSb.  As far as we can tell, the attention to details on these collectibles is nothing short of amazing.  A USB connector is revealed when the lens section is detached from the EOS models.  As for the Rangefinder, the USB plug slides out from the side.  All three are apparently still available on Canon's official site as well as on eBay. Our advice is grab them before they are gone.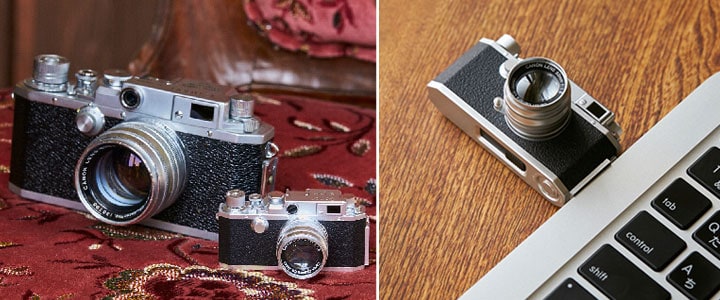 nVidia Manages to Squeeze A.I. in a Flash Drive (2017)
---
Hardcore gamers rejoiced after nVidia turned an April's fool joke into reality when it actually made a replica of the GeForce GTX graphics card in the form of a USB drive.  Originally, the gag was to fool us into believing that the drive – when plugged in – can learn your playing style through the use of artificial intelligence, and can also fill in for you when you need to take a leak or answer the door.  This was, of course, not the case.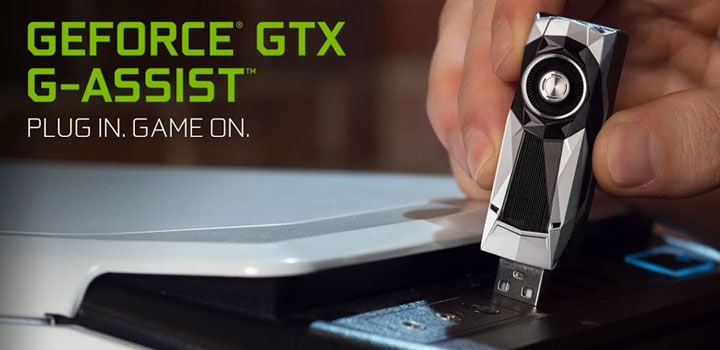 Only 1080 of these limited edition thumb drives were made, and were given out to press during 2017 E3.  Incidentally, that odd number is actually the model of highest-end GPU in the GeForce 10-series.  There are still a couple eBay listings for the GeForce GTX G-Assist  64GB USB 3.0 drive if you are interested.
Marvel Flash Drives by Infothink (2010 – )
---
Infothink has periodically rolled out flash drives inspired by Marvel's army of superheroes to coincide with the release of MCU movies.  The first batch was launched the release of The Avengers in 2012, and comprised of four USB 2.0 drives that resemble Captain America's trademark shield; Hulk's first; Iron Man's Mark VII helmet; and lastly, Thor's Mjolnir.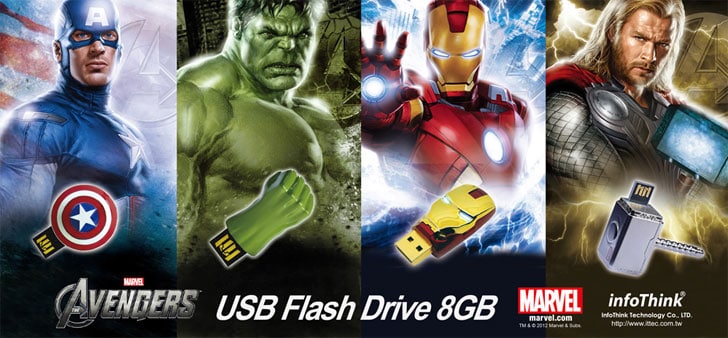 During the release of Iron Man 3, there was a complete overhaul of Iron Man flash drive line-up.  The miniatured gauntlets – available in left and right hand version –  are particularly interesting as the fingers have movable joints so you can enjoy some extra fun with sign language.  When plugged in, the palm's repulsor lights up.  The other two models – Mark 43 helmet and arc reactor core – can also light up as soon as it's inserted into a USB port.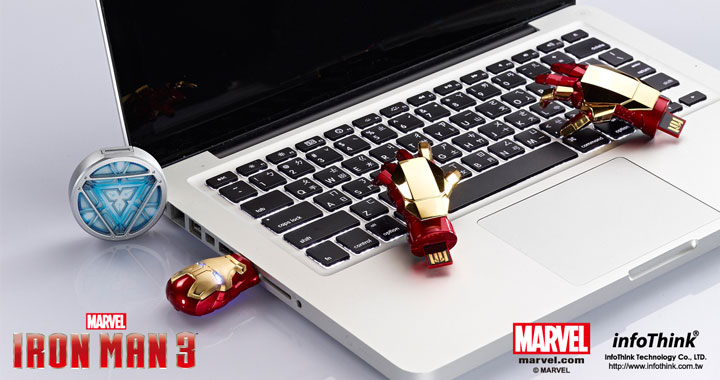 In addition to Mark 43, we also saw flash drives available in the form of War Machine's and Iron Patriot's helmet.  They are made in metal alloy and are waterproof as well as shockproof.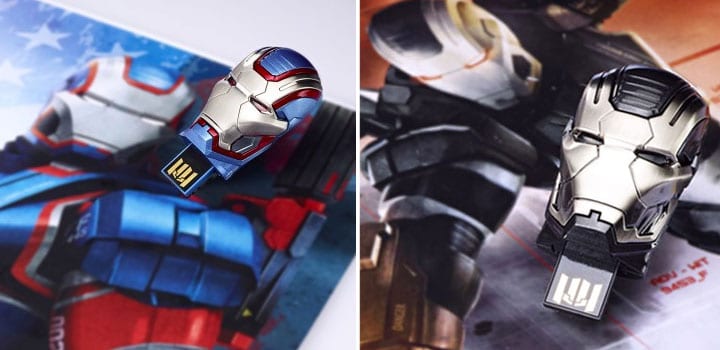 When Civil War hit the big screen, Infothink followed up with the third generation of Cap's flash drive.  While it continues to be modeled after the Cap's signature shield, the circular drive now has a slimmer profile and more refined details.  Furthermore, it has received a better paint job in the familiar red, white and blue pattern.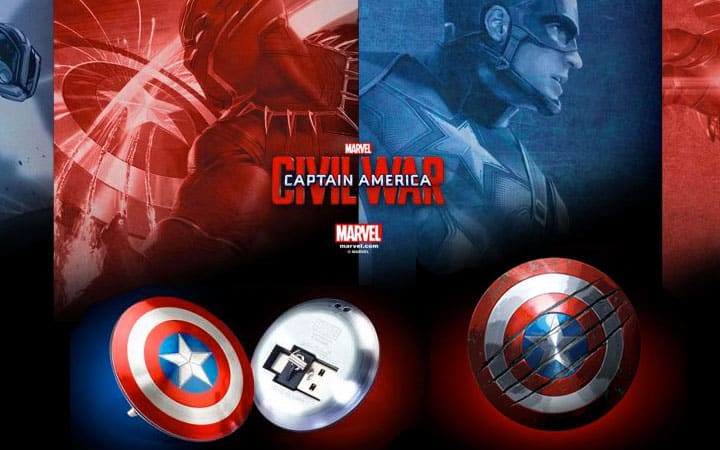 USB-C is also introduced for the first time to this line-up as a future-proof feature, and there's a regular USB 3.0 Type-A for speedy file transfer (up to 120MB/s).  The drive is tethered to a retractable cable that is attached to the back of the shield.  This design is in contrast to the retractable USB mechanism seen in the last model.  There's even a battle-damaged version with claw scratches on the shield inflicted by none other than the Black Panther.

The Awesome Mix OTG drive is easily recognizable as the old fashion cassette tape seen in Guardians of the Galaxy Vol. 2.  It serves as a regular USB flash drive in addition to mini-USB storage for Android phones.  Granted, most modern handsets have already dropped mini-USB in favor of USB-C but the drive should remain as a collectible item for years to come.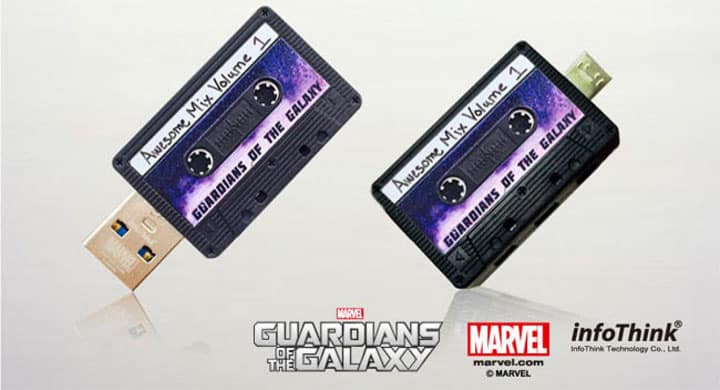 As for fans of the Marvel TV series, Infothink has two USB OTG drives that are the insignias of Marvel's S.H.I.E.L.D. and HYDRA organization respectively.  The HYDRA with its serpent-like creature with a skull head stands out a lot more than S.H.I.E.L.D.'s version that is often seen in the title card of ABC's TV series Agents of S.H.I.E.L.D.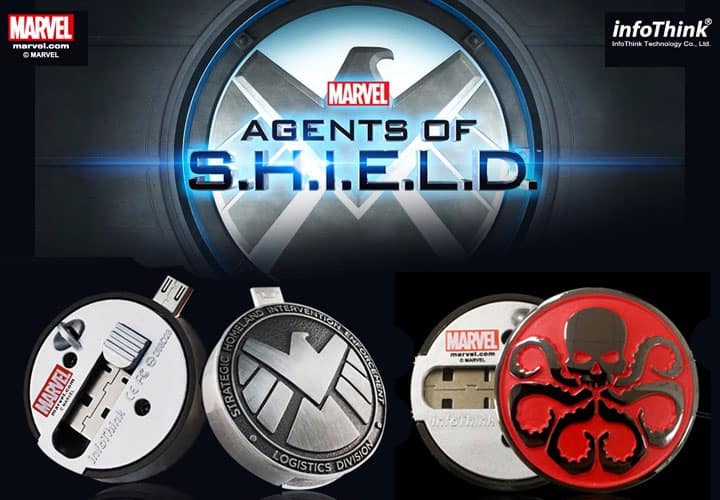 Saving the best for last, it's a no brainer for Infothink to release a thumb drive that takes form of the Thanos' Infinity Gauntlet – especially with all six Infinity Stones filled.  This eye-catching drive completely dwarfed all the other Marvel flash drives we've seen in every possible way.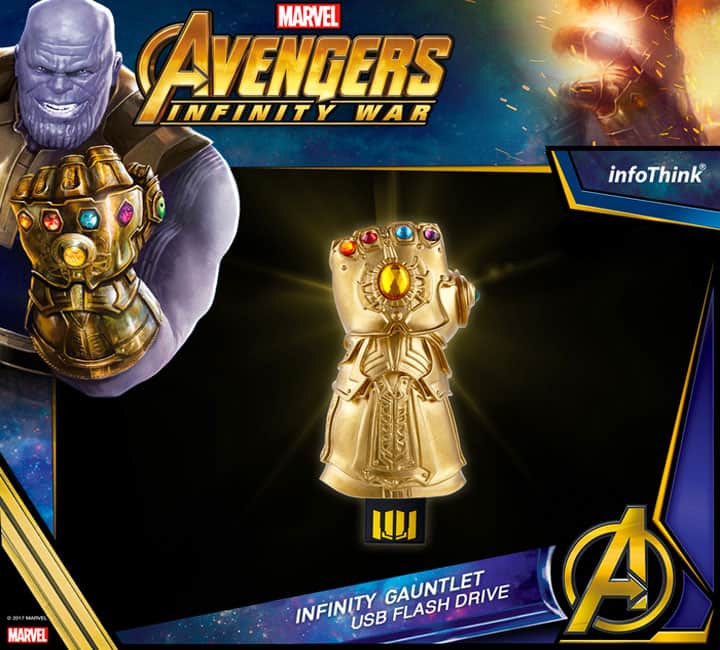 I'm Batman… Flash Drive (2012)
---
Infothink – the same company that brought us the Transformers thumb drives – has a limited edition of Batman USB key to coincide with the release of the Dark Knight Rises on Blu-ray. The Taiwanese designers chose to make a bust of the Caped Crusader for it is the most recognizable by fans.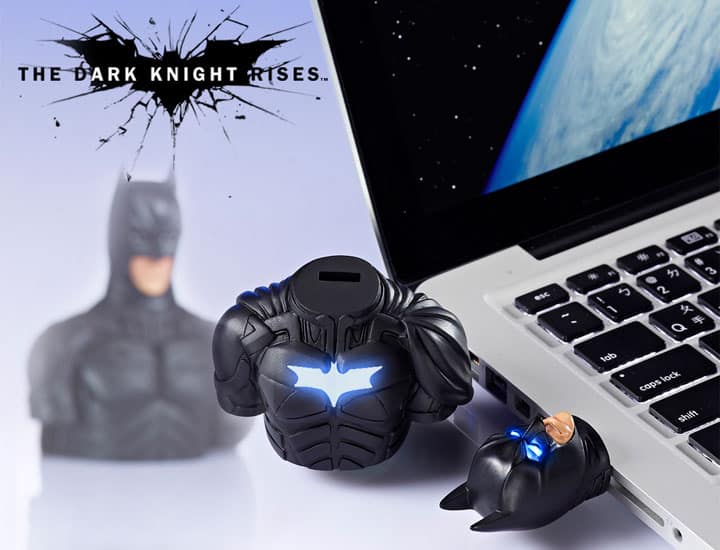 The unit is about 10 cm in height and 12 oz. in weight. The head can be separated to reveal the 16GB USB drive. The eyes and the logo on the suit will also light up as soon as they receive power from a PC.
Lady Gaga, USB Style (2008-2011)
---
Lady Gaga's first three hugely successful albums (i.e. Fame, Fame Monster and Born This Way) came out alongside their USB siblings between 2008 and 2011. The drives themselves are humorous representations of the diva, which are reminiscent of the original album art design.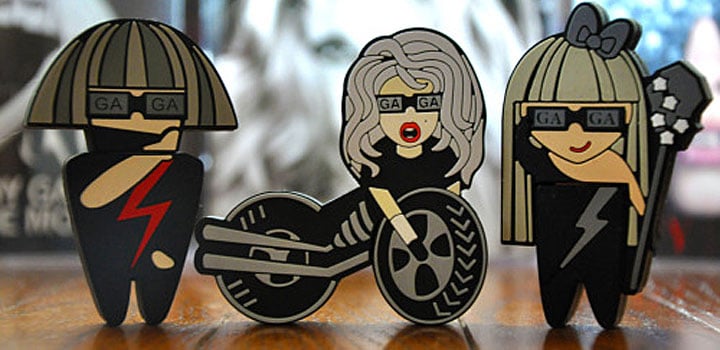 In terms of content, all the limited edition albums contain all of the songs on the original release plus a handful of remixes, digital booklet and MVs. The Born This Way album in particular comes with 4 episodes of Gaga Vision, which seems to be some semi-intimate outtakes from various parts of the music diva's Rock'n'rollercoaster life. It's, however, too bad that Artpop – Lady Gaga's third album – hasn't received a similar treatment.

The Beatles' Ultimate USB Album (2009)
---
You say you want a revolution? There's no question that the Beatles were a revolution, changing the face of music and arguably the world in their wake. It's no surprise to see a one-of-a-kind USB drive loaded with the band's entire recorded works.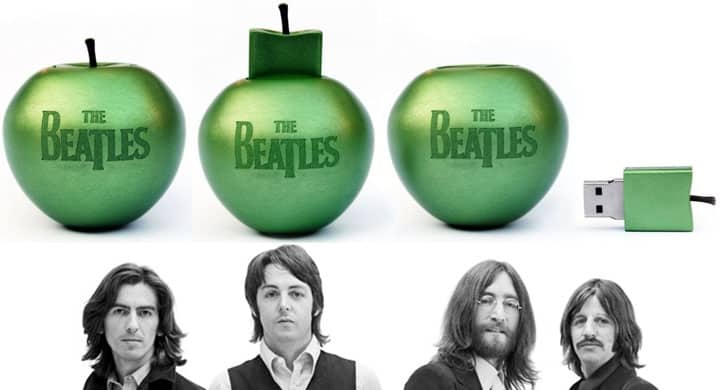 The 16GB drive inscribed with the band's name includes all 14 digitally remastered LPs in 24-bit 44.1kHz FLAC and 320kbps MP3 format along with 13 mini-documentary films and liner notes. Only 30,000 of these apple-shaped drives were made in total when Apple and EMI cooperatively released this $280 album in December 2009.

Mini Cooper in All Kinds of USB Styles (2010)
---
These USB drives from Hong Kong-based Zero Basic are made for Mini Cooper fans of which there are many. The attention to details is fantastic. Front and rear license plates that read "MINI COOPER" along with headlight and taillights are visible from a distance. Getting even closer, you can see the door handles, windshield wipers and the front grill.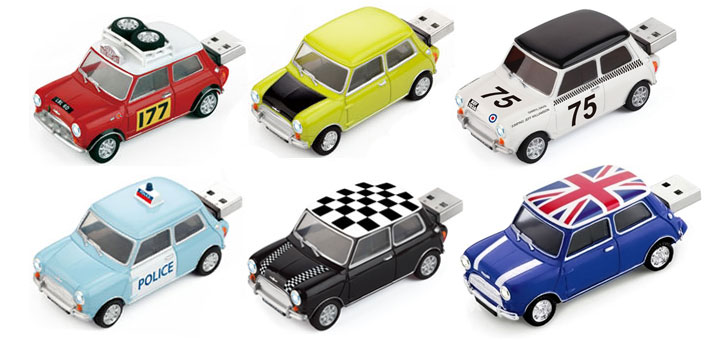 The undercarriage is also detail rich, showing outlines of the drive train and spare tyre well. Probably the most unexpected detail is found on the rubber tyres. The tiny tyres actually have tread on them. The only details notably missing are the side and rear view mirrors.
They are a little too large and may cramp your style trying to plug them into some locations. The flash memory is also a bit on the slow on the slow side but not much slower than most people are used to anyway. They do seem to be built very well and should hold up to being played with and used for a long time. Even if the rear cover were to fall off, it would take very little away from this very cute flash drive.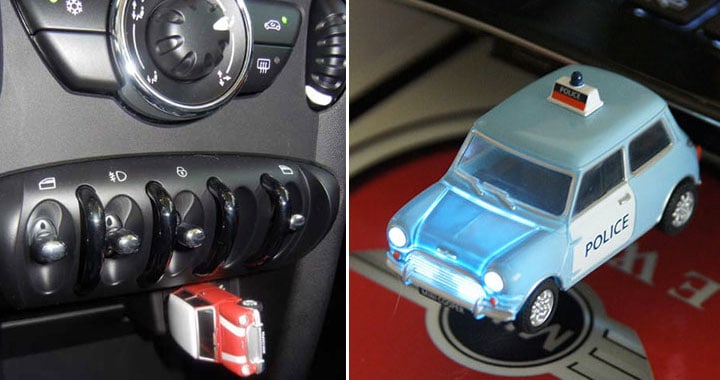 All in all, just like the car itself, these drives are fun. Mini lovers may never store files on these but seeing the headlights flash when plugged in is enough to make almost anyone smile. Even without the ability to store data, these are reasonably priced just as desk decoration.
Resident Evil Chainsaw Drive for Zombie Fans
---
Get out your boomstick and start fragging. New Resident Evil 5 for Xbox 360 bundle comes with a custom USB chainsaw to flash your Zombie killing fetish.  This limited edition 2GB flash drive will let everyone know that you are backing up your data preparing for the inevitable zombie apocalypse.  Don't be a fool, go vigilante immediately.  While you are honing your survival skills against the undead hordes don't forget to pack a lot of ammo.
That's probably the one employee benefit that Umbrella corporation needs to spring for since it just can't seem to keep from converting folks into ravening masses.  Seriously, a case of 12 gauge shells should come with your ID badge and phone extension.  The game pack comes with a 3 DVD 'making of' feature and the flash drive.  Since not everyone who loves zombie thrashing on the XBox needs a flash drive, you can pick them up on eBay if you hunt for them.  Get one for your Valentine or your Alice.
Star Wars x MIMOBOT Flash Drives (2006-2012)
---
For every year until 2012, a new series of MIMOBOT USB storage in the form of character-based Star Wars figures was released.  There were 31 of themed drives made in total with an additional 9 limited editions handed out exclusively to the attendees of San Diego Comic-Con.
The original series comprised of R2-D2, Darth Vader, Chewbacca and Imperial Stormtrooper. They, unfortunately, all shared the same artistic flaw in that none of these characters have pointy ears. It was for this reason why Mimoco updated all these in subsequent series.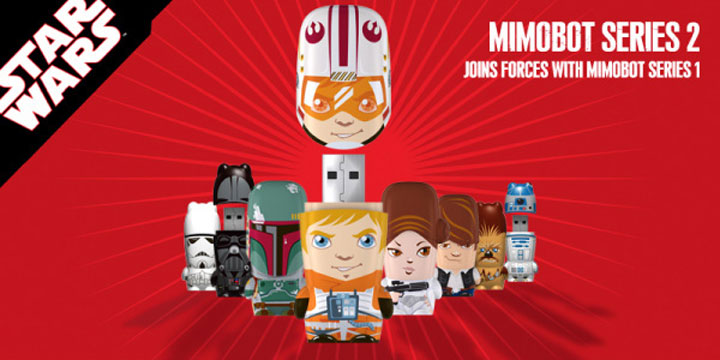 The second series saw the release of Luke Skywalker in his X-Wing pilot suit, Princess Leia, Han Solo and Boba Fett. This was the first time Mimoco adopted the nifty design that removing cap would reveal the character's true face behind behind his helmet.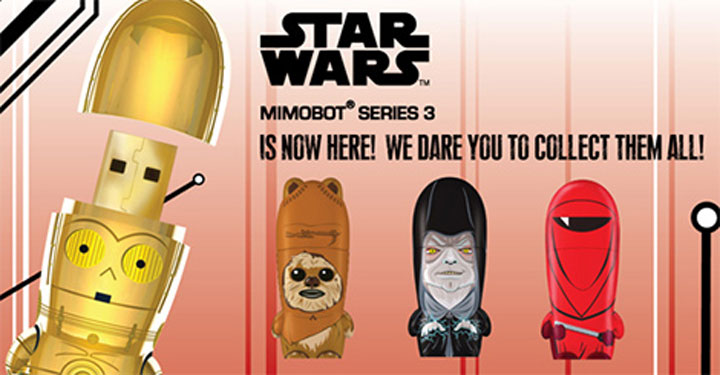 In the third series, Mimoco rolled out Wicket the Ewok, Emperor Palpatine (a.k.a. Darth Sidious), Imperial Royal Guard and C-3PO. The pointy years on the Wicket returned but for the right reason.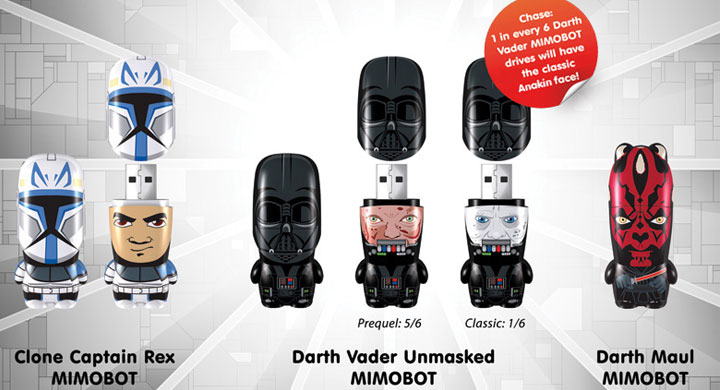 The fourth series brought the return of Darth Vader which had its ears finally removed. There was also an interesting twist. Unmasking the Darth Vader would reveal the scarred countenance of Anakin Skywalker, as played by Hayden Christensen. One in every six Vader's would have the classic Anakin face. Clone Captain Rex from the Star Wars animated series and Darth Maul were also part of this collection.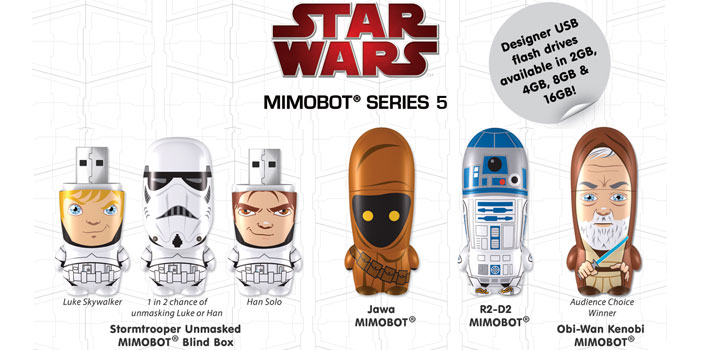 The fifth set from Mimoco introduced characters from A New Hope. Additions included Stormtrooper suited Luke and Han; Jawa; R2-D2 (finally without ears); and the venerable Ben Kenobi. This was a relief for fans who wanted to replace the R2-D2 with an improved version. And like the previous year edition, there's a chance to get either Luke or Han with the Stormtrooper Blind Box.

Sixth series of MIMOBOT was mostly characters from The Battle of Hoth with Wampa and Snowtrooper making first appearance. Luke Skywalker has a new Hoth outfit. Fans were also delighted to see Yoda MIMOBOT with its big pointy ears in the right place and almost in right size.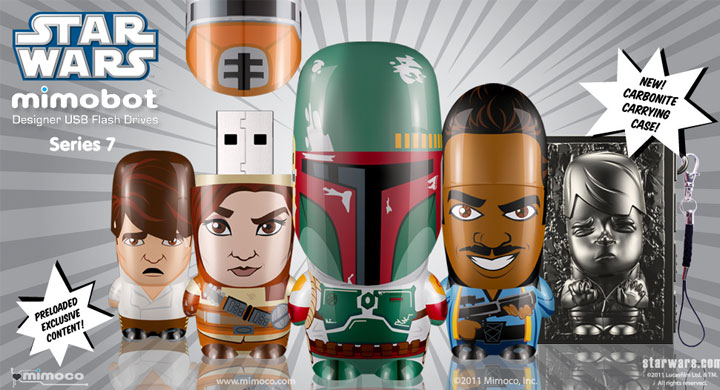 By popular demand, Boba Fett was brought back to the seventh series alongside with Han Solo in carbonate carrying case; Lando Calrissian; and Boushh. The bounty hunter turns out to be posthumously impersonated by Leia. Obviously, you wouldn't know until you remove the drive cap.

The 2012 series of Star Wars-themed flash drives featured characters from Return of the Jedi. This time, Luke is now the Jedi Knight looking all serious and stuff. Leia is the slave, wearing her ironic metal bikini. There's also the intergalactic crime lord Jabba the Hutt but Mimoco didn't give him special size treatment. Admiral Ackbar – the fleet commander of the Rebel Alliance – joined MIMOBOT as well, prominently featuring his signature squid-like face.
Throughout the years, Mimoco unveiled several limited editions of Star Wars MIMOBOT. They included Darth Vader (2009); Lobot (2010); Starkiller from The Force Unleashed II game (2010); Bossk (2011); Darth Maul (2012); Biker Scout (2012); Jar Jar Binks (2013); R2-A6 (2013); Chewbacca with C3-PO (2013).
Kingston Chinese New Year Drives – Collector's Edition (2011-ongoing)
---
Traditionally, Kingston has released themed USB drives annually to coincide with Chinese New Year beginning with the year of rabbit in 2011. The novelty drives – produced in limited quantity – were comically inspired by the animal zodiac signs, but they were all made in plastic.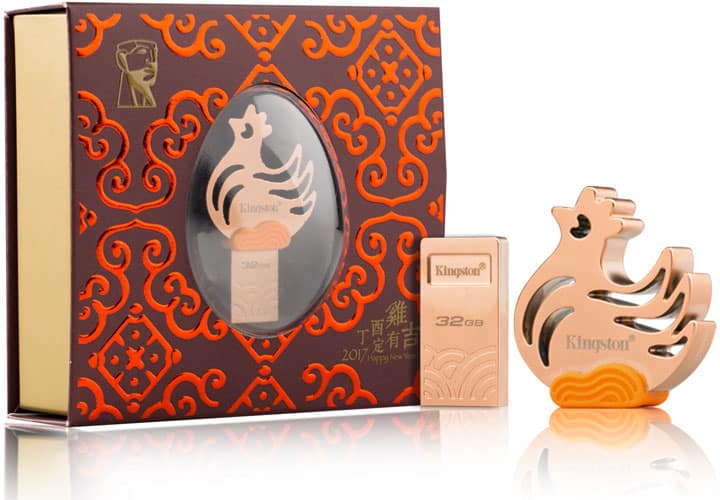 Beginning with the year of monkey in 2016, Kingston has switched to metallic finish for the Chinese Zodiac drive line-up. The 2017 rooster model is even more aesthetically pleasing and durable with its laser cut-out unibody design. The drive in rose-gold hue comes inside a elegant box, and the package would make a great gift for people who regard their Chinese zodiac sign as a good luck charm.
That's all for now.  Hope you like our latest thumb drive round-up.  If you happen to know any limited edition flash drives we should have added in the first place, please let us know in the comment section below.