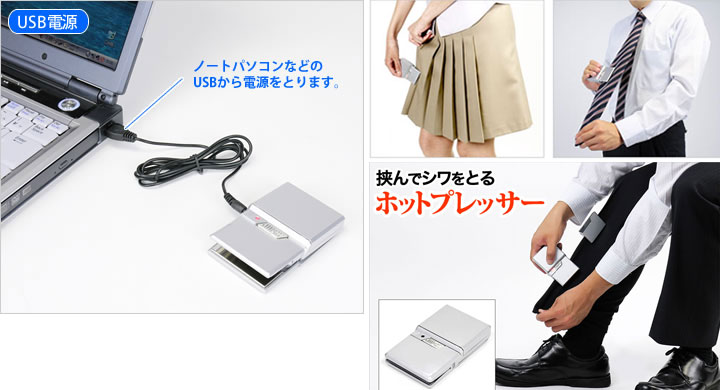 As any business professional knows the importance of making a great first impression and showing up to meeting/interview/etc in a wrinkled suit is simply verboten. Unfortunately – and as any professional in a humid climate also knows – this is not always possible. In the time between you leave for the meeting to the time you arrive, a lot wrinkles can happen. This nifty USB gadget by eSupply has been designed to eliminate this issue.
This palm-sized device is a battery- or USB-powered iron that folds small enough to fit into even the smallest shirt pocket. The rear half of the iron is where the three AA batteries and mini-USB 2.0 port are housed, while the forward half houses not one, but two heating element 'irons'. These two are on opposing halves of the front clamp and by simply turning it on and then sandwiching your clothing between the irons, even the most stubborn of wrinkles can quickly be eliminated.
While you wouldn't use this gadget for an entire suit of cloths, for minor wrinkle removal it should get the job done. If you are a road warrior, 'salaryman', etc., this $10 device may just be up your alley.