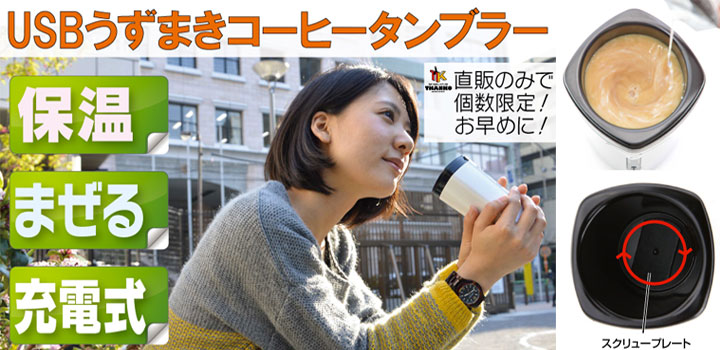 Do you work in an environment that frowns upon having cutlery at your workspace? Yeah us neither; however many tens of thousands of salarymen do have such restrictions. In fact, when you consider the average toilet is cleaner than a keyboard, having a spoon laying around to stir you coffee or tea doesn't sound like all that a great idea.
The only alternative is to either drink you coffee black, or do what we do – eat the coffee beans whole. This, however, is not for everyone. Those mad engineers over at Thanko seems to agree as they have just release the USB powered self-stirring coffee tumbler.
To begin, fill up the tumbler with coffee, add your cream and sugar, and press button to activate the whirring disc that stirs the contents to perfection. Better still you don't even have to have to plug the USB coffee tumbler in every time. The tumbler has two 1000mAh batteries built in which are good for 2 hours of continuous use per charge. Add in the fact that it is insulated, comes with a lid, and is able to keep drinks at 40 degrees Celsius for 2 to 3 hours, and the Thanko seems pretty nifty. The only fly in the soup is the fact that the Thanko is only shipping in limited quantity, not to mention it's only available in Japan.
If you don't mind sourcing out special shipping, the $25 USB coffee tumbler may just make a neat gift for a cube-farm friend. In fact where it is available in black, white, silver, and brown you can get four for of them for friends – and probably get a deal on shipping.