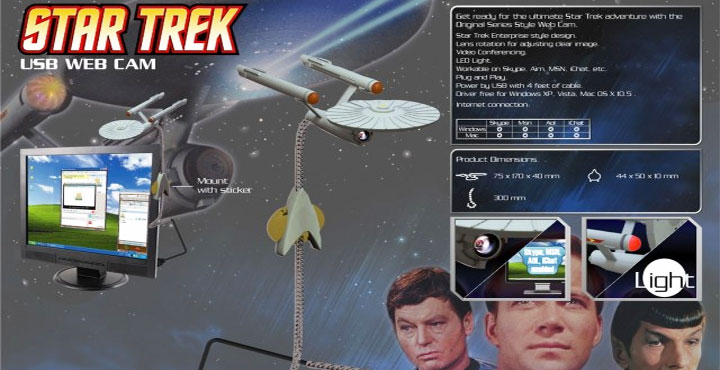 Well there's nothing discrete about this. You set one of these up on your desk and you are proclaiming "I AM THE BIGGEST STAR TREK FAN". Not even Philip J. Fry is going to challenge your knowledge of the original series.
This NCC-1701 replica houses a standard, no driver needed, webcam compatible with just about any video chat service you'd care to use (Skype, MSN, Yahoo, etc). Pair it with the Star Trek Communicator and you've got the most immersive Ship to Ship communications package this side of the Orion Nebula. Only someone with a real Borg implant is going to be able to one-up this setup.
The camera features adjustable focus and lighted Nacelles (the red engine things for the uninitiated). It has a bendy adjustable flex arm for free posing or it can be mounted to the side of a monitor with the adhesive Star Fleet uniform insignia. While there's no word on release date or price, Dream Cheeky is pretty prompt with their releases so expect it shortly. We hope they hurry, over uncoded channels hours could seem like days.