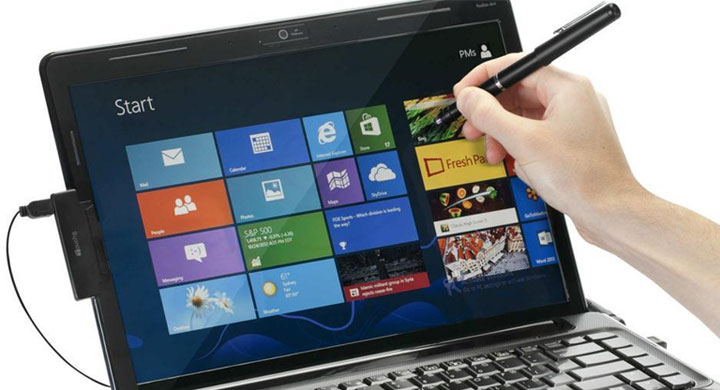 Early adopters who upgraded their regular laptops to Windows 8 may find themselves missing out on the touch features. If you are one of them, and are looking forward to trying out the new UI based on tiles and grids without shelling out for a brand new machine or a IPS touchscreen, Targus has a nifty USB add-on just for you. (Those with an iMac can check out the Zorro Macsk instead.)
The Targus Touch Pen is reportedly the first of its kind that simulates finger gestures with an included paintbrush pen. As soon as you start swiping or tapping with the stylus, the USB receiver which must be attached to the left side of the screen will begin registering the pen's position. There's a also button on the pen that enables two-finger mode. Though, it's not certain how pinch-to-zoom gesture would work as that requires two points of contact simultaneously.
The Touch Pen only requires an one-time calibration during which the receiver checks the boundaries of the screen. It's worth noting the accessory is designed exclusively for laptops because the Touch Pen won't work any monitors larger than 17″. Nationwide availability is expected by the end of this month for $99.99.