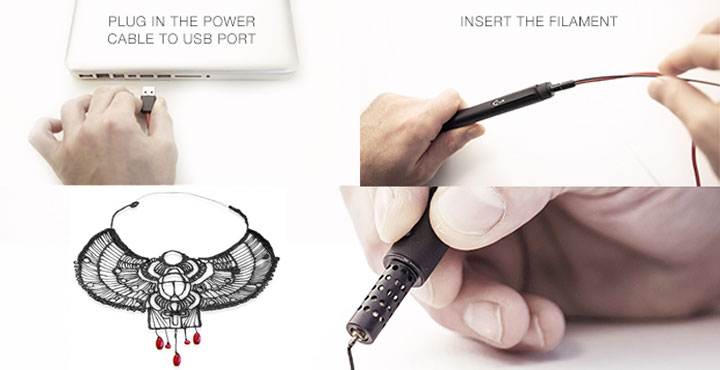 If you are like us and every time you hear the old saw 'You would not download a car' and immediately go 'YES ! would!', then the Lix 3D Pen may just be right up your alley. It certainly will not allow you to create your own car – or even download the latest Hollywood FX extravaganza – but it can actually help you make things that you would otherwise have to leave the house to buy. Yes, the future is (almost) here and it certainly looks cool.
Unlike most 3D printers that are big and boxy affairs, the Kickstarter-backed Lix 3D Pen promises to be the smallest, lightest weight 3D "printer" available. Instead of relying upon CAD or similar schematic diagrams upon which to build a physical copy, the Lix instead allows you to 'doodle in air'. It also opens up a whole new world of art as you can literally sculpt in the air and have no limits on how big you make your art.
This certainly will limit its appeal to consumer joe who might only be interested in 'downloading a car'. For professionals and hobbyists who quickly want to create a mockup and make an idea 'real', the Lix will be the fastest tool possible.
The only real issue is the refill filaments will only last for 5 minutes worth of painting. However when a bag of 30 12-inch ABS/PLA rods only costs $10, this really shouldn't be that big a deal. Also on the positive side the Lix 3D Pen is made from anodized aluminum, requires only a free USB 3.0 port for power, and heats up to operating temperatures within a minute. In the end, this certainly is not a gadget that will be right for everyone but it does give a peak of things to come – and boy we can't wait until we can pirate…err… download a car.